Working Backward
Following are a few thought-starters from Georgia Tech to help make the working backwards press release a reality.
Georgia Tech has been exploring the Next in Education with a Commission that will soon issue a final report. This visionary effort seeks to invent the University of the Future, but particularly the Science and Engineering Centric Research University of the Future.
The commission anticipates a near-future world of higher education with shifting demographics, reform in K-12 education, learners who by choice follow multiple career paths over their lifetime and workplaces where the churn of knowledge must be continually renewed. This is not the traditional world of undergraduate education that caters to 18-24 year olds who graduate college with a degree certifying they have acquired skills to carry them through their working lifetimes.
The universities that will lead in this world will provide episodic, agile and intense engagements that begin before high school and continue throughout a lifetime.
This means new products, experiences and technologies.
This is Georgia Tech's "Lifetime Vision" – long-term and personalized investment in the success of students and citizens of Georgia, the nation and the world.
Following are a few bold ideas that will launch this vision:
Data and AI for Advising for the new era:
In this new and complex world of educational pathways, learners of all ages will need a reinvention of what advising means. In Georgia Tech's Lifetime Vision, this reinvention involves increasingly sophisticated use of very large educational data sets, predictive analytics and AI to provide personalized guides, Sherpas, A Personal Board of Directors, advisors, counselors and mentors who associate with Georgia Tech. Georgia Tech and Georgia State are internationally known for their work in this area that demonstrates the value of this kind of data/AI informed advising.
Blockchain-based market for educational credentials and achievement:
The traditional college transcript has limited value in this new world. Learners will combine degrees, certificates, portfolios and networks of collaborators in complex ways. This evidence of what an individual knows and has accomplished needs to be shared beyond confines of a college registrar and assigned value by employers in a way that traditional third-parties like accreditors cannot. Technologies like blockchain offer the hope of decentralized, open, market-based transcripting that will allow, for example, students to sign emails with e-credentials that are better representations of what they know and have accomplished. Georgia Tech is in the process of assembling a multi-institution demonstration of how such a market place might quickly emerge.
Distributed Presence:
Learners of all ages seek out and value personal engagement. This engagement has always been the purpose of the physical college campus, but, increasingly, Georgia Tech learners do not have access to a vertically integrated, facilities-based version of the Atlanta campus.
No longer tied to buildings filled with books, university libraries are being deployed as services. No longer tied to classrooms, students consume course content online, replacing lecture halls with blended networks of learners who, by interacting with instructors and each other, construct unique learning experiences. Virtual and augmented reality provide cost-effective immersion in sophisticated laboratories. Advising is augmented by data intensive AI. But face-to-face meeting in a convenient location still has great value for the educational experience and is a useful way to identify new educational products and offerings. These and many other services can be delivered, not by facilities-intensive campuses housing large numbers of professors, but by technology-enabled specialists in lightweight distributed store fronts that serve as hands-on portals into the Georgia Tech educational experience.
Georgia Tech estimates, for example, that 70 percent of the online master's students and many others in the future can be served by ten such "pop-up" experience centers at a tiny fraction of the cost of more campus-like facilities. Georgia Tech is planning to pilot such a retail presence in collaboration with design partners soon.
More on Georgia Tech:
From its inception in 1888, Georgia Tech was a "campus of tomorrow today" through its shops and foundries, inventing a new approach to engineering education. Georgia Tech lives its vision of defining the technological university of the 21st century:
A campus-wide institute focused on people and technology (IPaT).
A campus-wide focus on the 21st century university (C21U).
Leading online Master of Science degrees in Computer Science and Data Analytics with nearly 7,000 students enrolled, which could scale by several orders of magnitude.
The development of the first "Virtual Teaching Assistant," Jill Watson, which has been incorporated into a number of Georgia Tech's regular classes.
Campus living laboratories like the Aware Home, the first 24x7 experiment in living in a ubiquitous computing environment.
Globally leading initiatives like the maker movement, CREATE-X, the InVenture Prize.
20+ years of leading edge STEM programs in K-12 schools across the state that can collaborate with and complement Amazon's STEM camps and Girls Who Code initiatives.
Leading faculty made up of thought leaders who, over the past 20 years, have significantly led pathfinding work in virtual reality, online presence and gaming, psychology of learning and of work, including:

Thad Starnes, longest serving technical/lead manager on Google Glass.
Blair McIntyre, Aware Browser, integrating virtual reality with the real world
Ian Bogost, gaming.
Janet Murray, author of Hamlet on the Holodeck, seminal work about future technology and literature.

One of the most innovative entrepreneurial approaches in the U.S. that builds on:

The nation's first university-led business incubator, the Advanced Technology Development Center.
VentureLab program to help faculty and students create start-ups.
Partnerships with more than 20 Fortune 500 Companies to create a vibrant innovation ecosystem (Technology Square) that is growing rapidly and attracting the world headquarters from a multitude of companies from around the country and world.

A campus networking infrastructure that, via its affiliated company, Southern Light Rail, provides internet connectivity to universities across the Southeast. Leadership of the world-wide smart city movement using the Georgia Tech campus as a testbed. Development, expertise and collaboration in the Health IT and FinTech industries. Alma mater to 14 US astronauts.
In addition, Georgia Tech currently has several forward-looking initiatives with Amazon, including:
The Amazon Retail Store in Technology Square that recently became second highest grossing University Store in the country.
The installation of the Amazon "Firestick" in one of its residence Halls to incorporate Amazon's Alexa in conjunction with Echo Dot to access campus services, tutorial programs and virtual study groups through the interactive voice system.
The services at Georgia Tech available via the Amazon "Firestick" include paying bills, checking calendar, seeking information on campus activities and more.
Amazon Love
Like the rest of the world, Atlantans have been inspired by Amazon's obsession with customers and its commitment to Day One – always inventing, always experimenting, always planting. The residents here are early adopters who embrace Amazon's innovations and admire its commitment to community and its impact on the region's economy. Metro Atlanta is proud to be home to Amazon employees, partners, investors and shareholders alike.
Simply put, Atlanta has a long history of Amazon love. From fulfillment centers across the region to 3,000 Georgia-based employees and nearly 200 Georgia Tech alumni who proudly walk Amazon's Seattle campus today, the connection is deep and meaningful. Georgia has three Amazon Prime Now hubs and three Amazon fulfillment centers. Over the years, NCR, Carter's, UPS, WestRock, Veritiv, and Delta Cargo have been counted among Atlanta-based companies that are also Amazon suppliers. In addition, Amazon works closely with companies that have an Atlanta presence and are leaders in the material handling industry, including Dematic, Intelligrated, Knapp, and Interroll.
Following are a few additional examples:
In 2005, Atlanta-based MFG.com, the world's largest online manufacturing marketplace, raised $4.22 million of Series A funding from Bezos Expeditions. MFG.com is headquartered in Marietta, Georgia.
In 2007, MFG.com raised $3.99 million of Series C funding from lead investor Bezos Expeditions. Explore Holdings and European Founders Fund also participated in the round.
In 2008, Amazon acquired Atlanta's Fabric.com, the world's leading online fabric store. They are currently located in Kennesaw, Georgia, just 28 miles outside of Atlanta.
In 2015, Amazon Home Services expanded its services to major cities including Atlanta, bringing custom and pre-packaged services to customers.
In 2016, Atlanta's Luma, whose co-founder and chairman is Paul Judge, raised $12.5 million of Series A venture funding led by Accel Partners and Amazon Alexa Fund, as well as other investors. Luma is the world's fastest and most reliable home WiFi system that only takes minutes to set up. Luma Surround WiFi can be voice controlled by Amazon Alexa.
In 2016, Amazon's A9.com acquired Atlanta-based visual search startup Partpic and opened an Atlanta office earlier this year. The Atlanta A9 team continues its focus on visual search applications and technologies. Jewel Burks, Amazon's team lead for visual search, calls Atlanta home.
In 2016, Amazon became an equity holder in Atlanta's cybersecurity startup Ionic Security, joining a $45 million combined investment from Amazon, Goldman Sachs, and hedge fund Hayman Capital. Amazon Web Services also struck a partnership with Ionic on top of the funding deal, integrating its offerings with the company's cloud infrastructure.
In 2016, Atlanta-based Funding University, a provider of student lending for career-driven undergraduates, raised $1.01 million of seed funding from Bezos Expeditions.
In 2016, Amazon@GeorgiaTech opened for package pickup in Atlanta's Tech Square, providing a safe and secure location for Amazon customers to receive packages at their convenience.
Georgia Tech and Amazon joined forces in 2016 to help shape and develop the Institute's Stewart School of Industrial & Systems Engineering (ISyE) master's degree in supply chain engineering. By developing fulfillment systems analysis and design curriculum, Amazon and Georgia Tech are attracting and recruiting minorities to this field.
Quotes from University Leadership
All of us here at Georgia Tech are very excited about the possibility of partnering with Amazon to create the University of the tomorrow, today. This idea is entirely consistent with our strategic plan developed several years ago the establishes a goal of "Defining the Research University of the 21st Century."
Nowhere else except in Atlanta can you find a Spelman College with 2100 brilliant, tech savvy, engaged and engaging women of color ready to be Amazon's future employees, inventors, entrepreneurs and leaders.
Atlanta means business. And it also means brains. Our research and academic community stands head and shoulders above the competition. Emory is an educational and discovery powerhouse that draws top-notch students from around the world. Along with regional partners, we are changing the way business, medicine, and technology are conducted in the Southeast and well beyond. Most of all, Atlanta's an international city. For us, diversity isn't a slogan, it's real. You will not find a more creative, more inclusive, or more vibrant international home for Amazon than you will find here in Atlanta.
Georgia State University, one of the largest universities in America with more than 50,000 students, is widely recognized as the national leader in fostering student success through innovative initiatives that have markedly increased graduation rates for students of all races, ethnicities and economic backgrounds. It graduates more African-American students than any college or university in the country. Business leader and philanthropist Bill Gates has said, "No other university has accomplished what GSU has in the last decade." U.S. News & World Report has ranked the university with Stanford and MIT among the nation's most innovative universities and eighth among institutions with the best undergraduate teaching. Georgia State has increased its external research funding 252 percent over the last six years.
SCAD is the preeminent art and design university, a distinction earned by providing our students with only the most sophisticated and engaged education and career preparation, in the world's most creative and compelling locales — like Atlanta, home to one of our four global locations. Atlanta has been ranked one of the nation's fastest-growing large cities (WalletHub), dubbed one of the best cities for young entrepreneurs (Forbes), and been named a global knowledge capital (Brookings Institution). Plus, an added bonus for students and professionals: 80 percent of the entire U.S. consumer market is within a two-hour flight of Atlanta. Business and design thrive in Atlanta. Just ask our SCAD graduates, who enjoy a 98% employment rate, with more living and working in Georgia than any other U.S. state.
Quotes from Atlanta Movers and Shakers
Atlanta employees stand out from other regions through creativity, hardwork and team orientation. Atlanta companies act for the betterment of the community because they understand the community is the foundation for good business and always will be. Is there an Atlanta business spirit? Yes, it is entrepreneurial and built to last. Customer satisfaction comes first, second and third.
I am originally from California, but I grew up here in Atlanta. I have never known any other city as well as I do Atlanta. When I left the city to go to college, I never thought I would want to move back, yet here I am. Atlanta is constantly growing, changing and full of opportunities. Everywhere I look something is being built or renovated.
Atlanta is a vibrant and growing international city with a diverse culture. We will use the region's transportation network and deep pool of talent to deliver ASOS' best-in-class service to U.S. customers.
Today's the day where we bring our 127-year history, and we plant our flag here in Atlanta, Georgia. People ask me why and I say, 'Well really it's not just one thing, it's all the things added up. It's the business environment, it's the quality of life, it's the infrastructure.' Atlanta is a premier city which provides the perfect foundation to write the next chapter of our success story here in the U.S.
Atlanta is on my shortlist of places to look for careers because it's much more diverse than other cities I've lived in, and there's always so much going on. This Thursday I'm hosting a diversity mixer, and then over the weekend I'm going to the Afropunk Festival, so there's really something always going on, and that's why this place feels so vibrant and alive. There's a lot of opportunity – something I've actually recently realized – and the cost of living is reasonable. It's a great place for young people to build a life.
Atlanta has a confluence of digital media companies, startup culture, top-notch higher education and city size unmatched anywhere in the world. Atlanta was our choice because we valued the ability to network with technology and video game industry innovators, to recruit top tier talent and access to a major travel gateway.
Innovation and Entrepreneurship
The Power of Invention
Atlanta knows how to invent. Metro Atlanta put the chicken sandwich on the map (Chick-fil-A) along with the world's most popular beverage (Coca-Cola) to wash it down. The Waffle House was born here, too, and continues to help FEMA gauge disaster recovery. And one of the metro area's own took grilling to a whole new level when the Big Green Egg emerged on the outdoor cooking scene. But Atlantans don't just excel in food and beverage. The innovative minds in the region and across the state were also the first to give women the opportunity to obtain degrees (Wesleyan College in Macon) and the first to give women full property rights. And Atlanta invented the 24-hour news cycle when Ted Turner launched CNN and changed the way the world received information forever.
This curious and inventive spirit continues to permeate our state and especially the metro region. Over recent years, Porsche and Mercedes-Benz have relocated their North American headquarters to Atlanta as they innovate the automotive industry.
And over the last decade metro Atlanta has evolved from its traditional retail, industrial and real estate roots and reinvented itself as a digital hub.
This thriving innovation and entrepreneurial ecosystem is continuing to drive a transformation. Recent locations and expansions from companies like GE, Honeywell, NCR, First Data, VMware, and Anthem have solidified the metro's position as a digital leader as these corporate powerhouses locate their newest, most technologically advanced business units in Atlanta.
Successes like Internet Security Systems have helped create a fertile environment for new company formation and growth in the cybersecurity space. AirWatch, OneTrust, and Pindrop are some of the Atlanta companies that have developed innovation solutions to protect enterprises against cybercrime. Atlanta has also made a name for itself in the marketing technology industry, where companies like Silverpop, MailChimp and Pardot got their start. And the entrepreneurial minds behind these successes are giving back by establishing hubs like Atlanta Tech Village (the nation's 4th largest tech hub) and TechSquare Labs for founders to connect with talent, capital and expertise.
Deals Happen Here
Metro Atlanta's innovation ecosystem has been driving a strong culture of private investments and multi-million dollar deals for the last decade. In the past 10 years, Georgia companies raised $6.4 billion of venture capital, attracted $128.7 billion of private equity, and M&A deals were valued at $251 billion. The region has also been edging out and closing the gap among the nation's innovation regions. In fact, Atlanta outpaced Austin, San Diego, the Research Triangle and Denver-Boulder in attracting private investment dollars and total number of mergers and acquisition (M&A) deals in recent years. Venture Atlanta, the region's largest venture conference, connects startups with the resources, network, clients, partnerships, and talent they need to grow.
Corporate Innovation
In addition to building some of the world's most recognizable brands, metro Atlanta's corporate giants, like Delta Air Lines, Coca-Cola, UPS, The Home Depot, GE, Honeywell, AT&T, Cox Enterprises, and others, have completely plugged into our region's startup ecosystem. These companies are working with other large companies and universities (especially Georgia Tech) as well as startups and public and private sector firms to fuel innovation, develop new technologies and spur job growth in several ways: establishing corporate innovation centers adjacent to university campuses/talent (Georgia Tech's Tech Square), investing in and mentoring new companies, and through initiatives like Engage Venture, The Bridge, Boomtown/The Farm, Techstars and more.
Corporate Innovation Centers
Anthem Innovation Studio
AT&T Drive Studio
AT&T Foundry
Boeing Manufacturing Development Center
Carter's Innovation Center
Chick-fil-A Innovation Centers
Coca-Cola One Services North America (CONA) Development & Innovation Lab
Concurrent Innovation Center
Deloitte iLab
Delta Air Lines "Hangar" Innovation Center
Elavon Mobile Innovation Center, AKA "The Grove"
Emerson "Helix" Innovation Center
Envistacom Engineering and Innovation Center
First Data Learning & Innovation Center
GE Smart Grid Technology Center of Excellence
General Motors IT Innovation Center
Georgia-Pacific Innovation Institute
Home Depot Technology Center
Honeywell Industrial Cyber Security Lab
Honeywell Data Center (coming soon)
Keysight Technologies Software Design Center
KPMG Ignition Center
Microsoft Innovation Center
NCR Hosted Solutions Lab
NCR Innovation Lab (2018-2019)
Novelis Global Research & Technology Center
Panasonic Innovation Center
PGi Innovation Lab
PolyOne Innovation Centers
Siemens Data Analytics and Applications Center
Shaw Industries Create Center
Southern Company Energy Innovation Center
Stanley Black & Decker Digital Accelerator
SunTrust Innovation Branch
thyssenkrupp Elevator Americas Research Innovation Center
UCB Solution Accelerator
WorldPay Innovation Center
In addition to the corporate innovation centers, initiatives are in place to help young B2B firms gain access to the right customers, thereby sparking continued growth. One such initiative, Engage Ventures, launched earlier this year with 10 major corporations backing the effort. In the first cohort, eight companies will begin the program, which serves to connect the largest group of corporate players in one independent fund. Based at the Advanced Technology Development Center (ATDC) at Georgia Tech (one of the longest-serving incubators in the country at 37 years), Engage was launched in partnership with the City of Atlanta, the Atlanta Committee for Progress, and Tech Square Ventures. Its corporate backers each gave $1.5 million towards the total $15 million fund (AT&T, Chick-fil-A, Cox Enterprises, Delta Air Lines, Georgia-Pacific, Georgia Power Foundation Inc., Intercontinental Exchange (ICE), Invesco Ltd., The Home Depot and UPS). Additionally, these companies are offering mentoring and direct access to decision-makers in each company.
Georgia Centers of Innovation
Exclusive to Georgia, the Centers of Innovation provide over 1,500 businesses each year the technical industry expertise, collaborative research, and partnerships to help the State's strategic industries connect, compete and grow globally. The Centers of Innovation provide valued-added services that assist companies in Georgia's key industries to develop new products, services and markets through partnerships with state, federal and private institutions that comprise Georgia's Innovation Ecosystem. This ecosystem contains a large and diverse array of participants and resources, including the state's universities and technical colleges, which contribute to and are necessary for ongoing innovation in the state's modern economy.
Support for Entrepreneurs
Entrepreneurial innovation is driven by unrestricted collaboration and inventive problem-solving. Atlanta offers multiple incubators and accelerators that support the work of startups and scale-ups around the region. Additionally, entrepreneurial workspaces throughout metro Atlanta are helping to build the environment that inspires entrepreneurs to create, transform and shake up the marketplace. See "Startup Ecosystem" for more details.
Our region's entrepreneurs are driving science and technology with the help of the Georgia Research Alliance, which expands university research capacity by seeding and shaping startup companies. Through the Eminent Scholars program, the Georgia Research Alliance partners with Georgia's research universities and private donors who create permanent endowments for every scholar.
Recent Rankings
#2 next big tech hubs that are still affordable – Realtor.com, 2017
#2 metro for quality of engineering universities – Wallet Hub, 2017
#3 city for minority entrepreneurs – Expert Market, 2017
#3 city poised to become tomorrow's tech meccas – Forbes 2017
Connectivity
The following maps represent cellular phone coverage from AT&T, T-Mobile, Sprint and Verizon Wireless, the four largest wireless providers in the Atlanta region.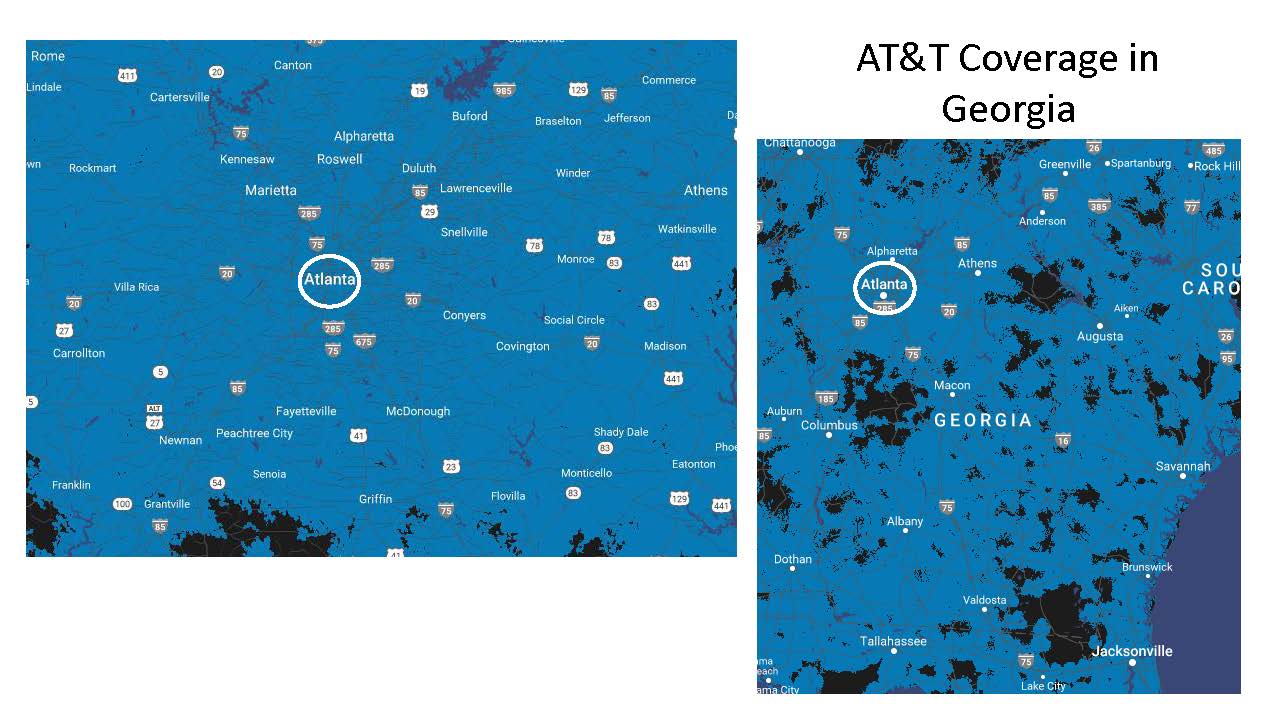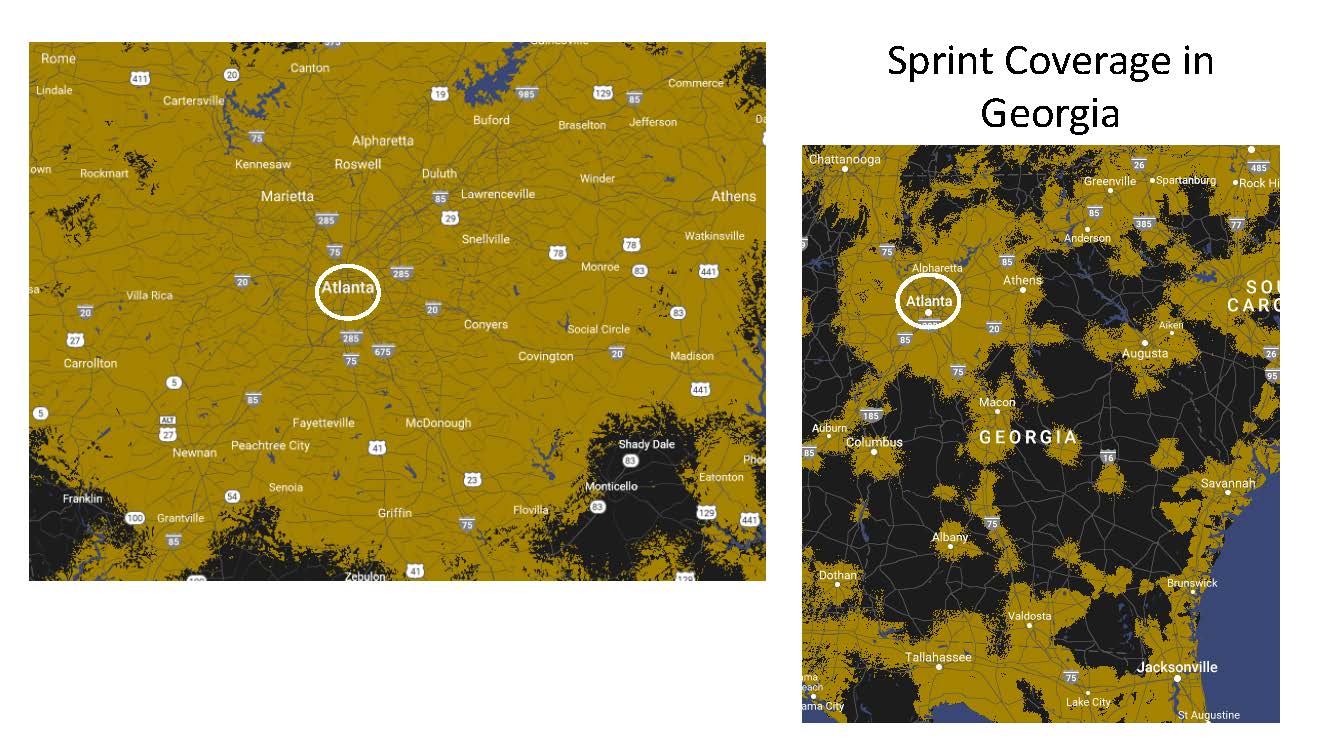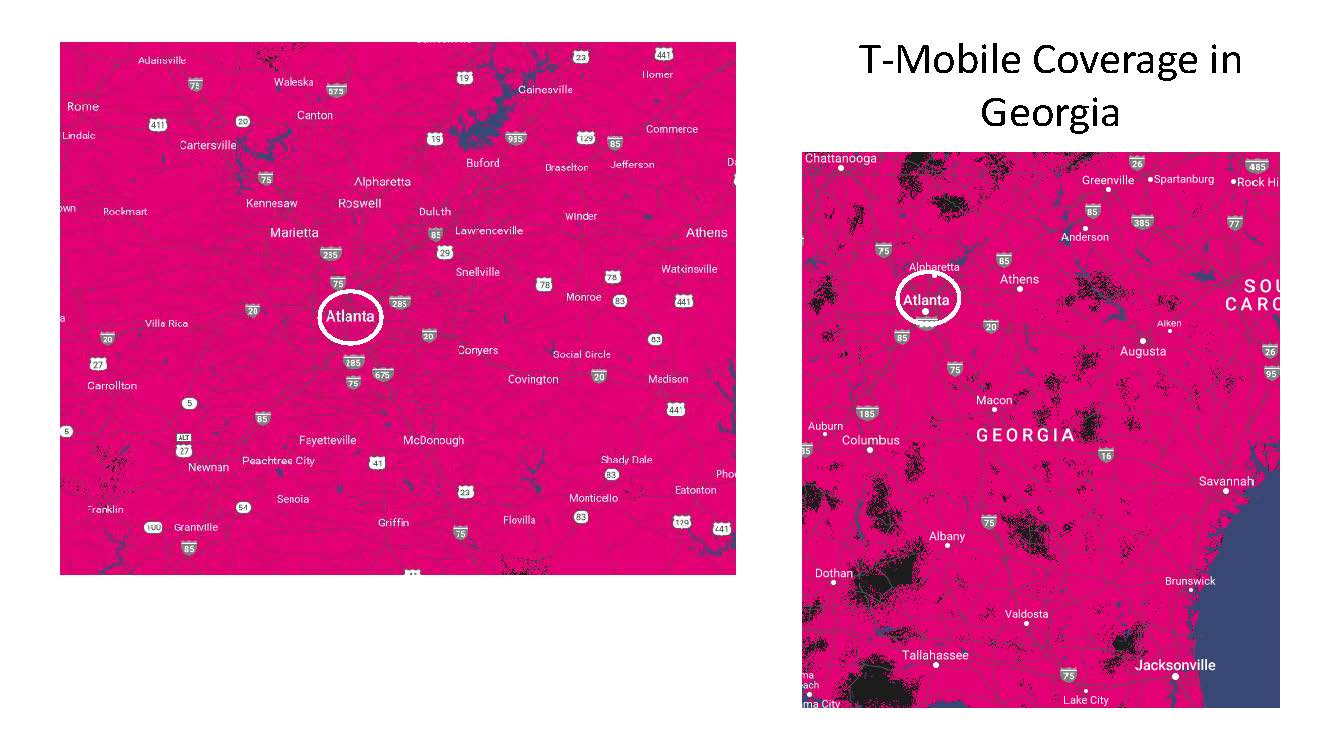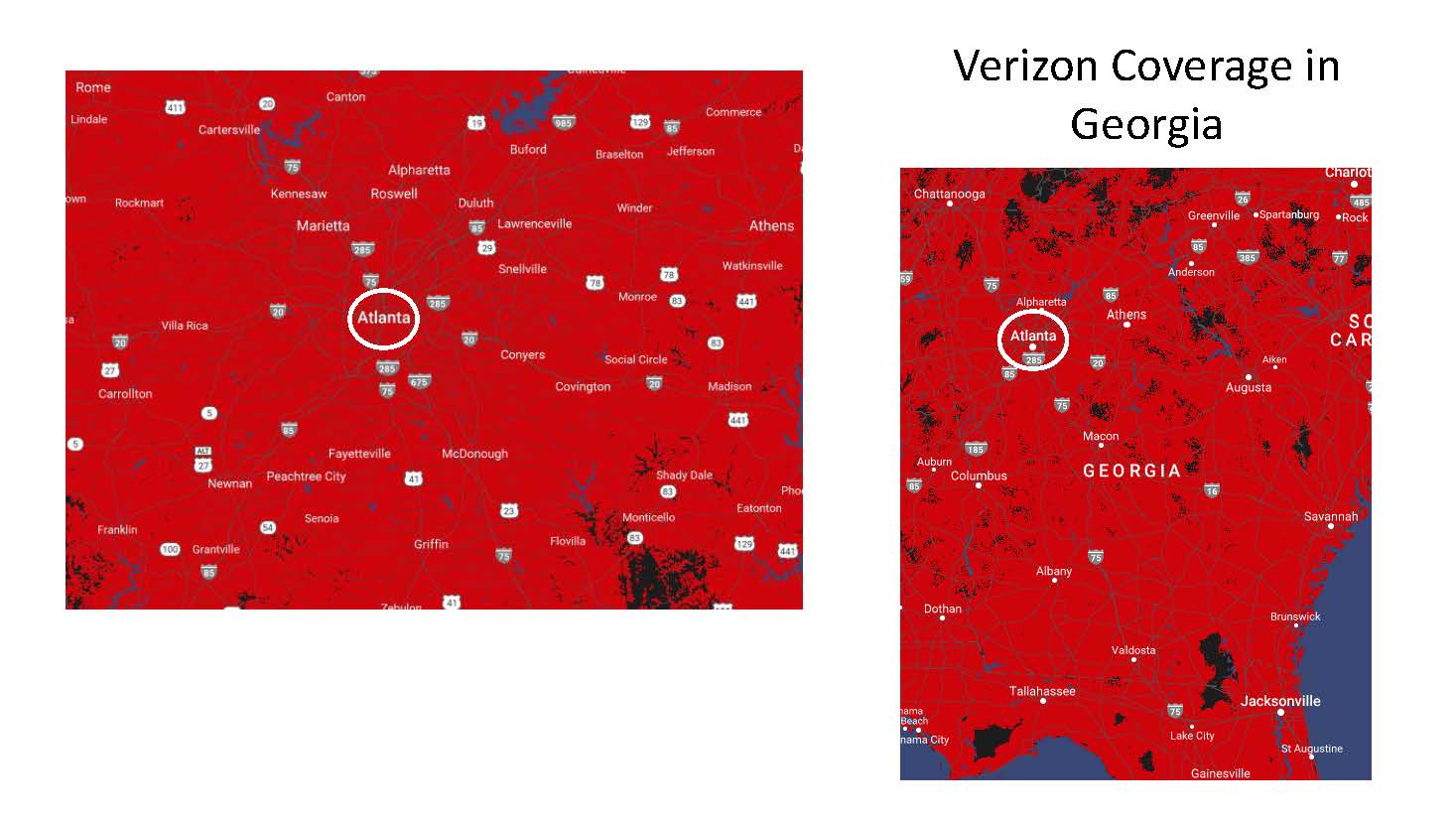 Sustainability
At A Glance
This year, the Atlanta City Council approved a resolution directing the Atlanta Office of Sustainability to develop a plan by January 2018 to meet a 100 percent renewable energy goal across all city operations by 2025 and community-wide by 2035.
In 2015, the City of Atlanta adopted the Commercial Buildings Energy Efficiency Ordinance, which aims to see a 50 percent reduction in CO2 emissions from commercial buildings by the year 2030.
Water conservation is a priority in sustainability efforts for metro Atlanta—water use has dropped by more than 10 percent during a time when more than one million people were added to the region's population.
Atlanta is home to Mercedes-Benz Stadium, the newest NFL and MLS stadium in the country and the first to be certified LEED Platinum.
Sustainable Growth
Atlanta-based companies have worked with industry and community leaders to grow a city while developing sustainable practices, with the goal of making Atlanta one of the greenest cities in the country. The city of Atlanta alone has more than 111 million square feet within more than 600 buildings participating in the "Atlanta Better Building Challenge" (ABBC). ABBC is the most successful program in the Department of Energy's Better Building Challenge. Also, part of the Better Building Challenge, the City of Atlanta pledged to cut energy and water consumption by 20 percent by 2020. (Source: "Atlanta ranks third in the nation for environmentally friendly, 'green' offices," Atlanta Journal-Constitution, July 10, 2017)
Three of the four largest commercial real estate transactions in Atlanta last year took place in LEED-certified buildings, including almost 295,000 square feet of LEED Gold-certified space housing the Georgia Department of Transportation.
Atlanta is also a regular on CBRE's Green Building Adoption Index study, consistently ranking in the top five over recent years. And as of 2016, more than half of the commercial space in the metro area holds an Energy Star label or LEED certification. With almost 25 percent of buildings displaying the Energy Star label.
Atlanta has the second highest market total for Energy Star buildings and nearly double the national average, trailing only Manhattan (CBRE, 2017).
This year, the Atlanta City Council unanimously approved a measure that establishes a community-wide goal of transitioning to 100 percent renewable energy by 2035. The resolution also directs the Atlanta Office of Sustainability to develop a plan by January 2018 to meet the 100 percent renewable energy goal across all city operations by 2025 and community-wide by 2035.
In 2015, the city adopted the Commercial Buildings Energy Efficiency Ordinance, which aims to see a 50 percent reduction in CO2 emissions from commercial buildings by the year 2030.
"Atlanta is honored … to be recognized as a leader for showing the way forward for a more sustainable future," Mayor Kasim Reed said in a statement. "We are fully committed to working with local business leaders to reduce our carbon footprint to spend less on energy and to push toward a stronger local economy and healthier community for all of us."
The city is also on track to become a Smart City by focusing on five core pillars of multi-modal transport: public safety, environmental sustainability, city operational efficiency, citizen engagement, and business engagement. In the heart of Midtown Atlanta, North Avenue has been selected as Atlanta's first Smart Zone. The project will bring smart vehicle mobility, smart pedestrian mobility, V21 autonomous vehicle pilot, smart vehicle crash predictions, smart street lights, smart environmental sensor array, and smart water to the people and businesses in the area. As part of the Smart Zone project, Atlanta became one of the largest urban areas in the world to test autonomous vehicles.
Atlanta's Smart Cities commitment goes from roadways to waterways. The city's plan for sustainability is designed to reduce the volume of waste to be landfilled, improve resource recovery through recycling and production of a degradable or combustible residue, and stabilize all waste residuals that end up in landfills.
And as one of our nation's major technology hubs, Atlanta is the first city to partner with technology company, Rubicon Global, to use their app to improve how the city picks up the local garbage by tracking routes and schedules. (Source: SmartATL, 2017)
Landmark Sustainability
Atlanta is home to Mercedes-Benz Stadium, the newest NFL and MLS stadium in the country and the first to be certified LEED Platinum. The sustainability initiatives within the stadium are as impressive as the players who take the field for the Atlanta Falcons and Atlanta United. Working with local businesses and organizations, the stadium incorporated inventive solutions for sustainability, including:
680,000-gallon cistern for water recapture and reuse
1.1 million-gallon storm water vault
48 electric cars charging stations
4,000 solar panels, generating 1.6 million kW hours per year
Edible landscaping
Public transit, pedestrian paths and a bicycle network
The stadium will save almost 30 percent in energy usage and use almost 50 percent less water.
Flying into Atlanta, visitors participate in the region's sustainability efforts without even knowing it. Hartsfield-Jackson Atlanta International Airport is the world's most-traveled airport and is working to become zero-waste by the year 2030.
The more than one million visitors who come to Atlanta for a conference or event at the Georgia World Congress Center annually are walking the halls of the largest LEED certified convention center in the world.
Atlanta is also home to innovative leaders in sustainability, committed to having a positive impact on both the global marketplace and local community. Companies like Southern Company, TOTO USA, WestRock, and UPS are becoming known for integrating sustainability into their business models, and Atlanta-based Southface Energy Institute promotes sustainable workplaces, homes, and communities through education, research, advocacy, and technical assistance.
Riding Circles Around Sustainability
Amid Atlanta's treetops and skyscrapers, visitors and residents explore the city on the Atlanta BeltLine. It is the brainchild of Ryan Gravel who, while at Georgia Tech for grad school in 1999, looked at the city's historic railroad corridors and saw an opportunity to create a sustainable redevelopment project that would transform the region.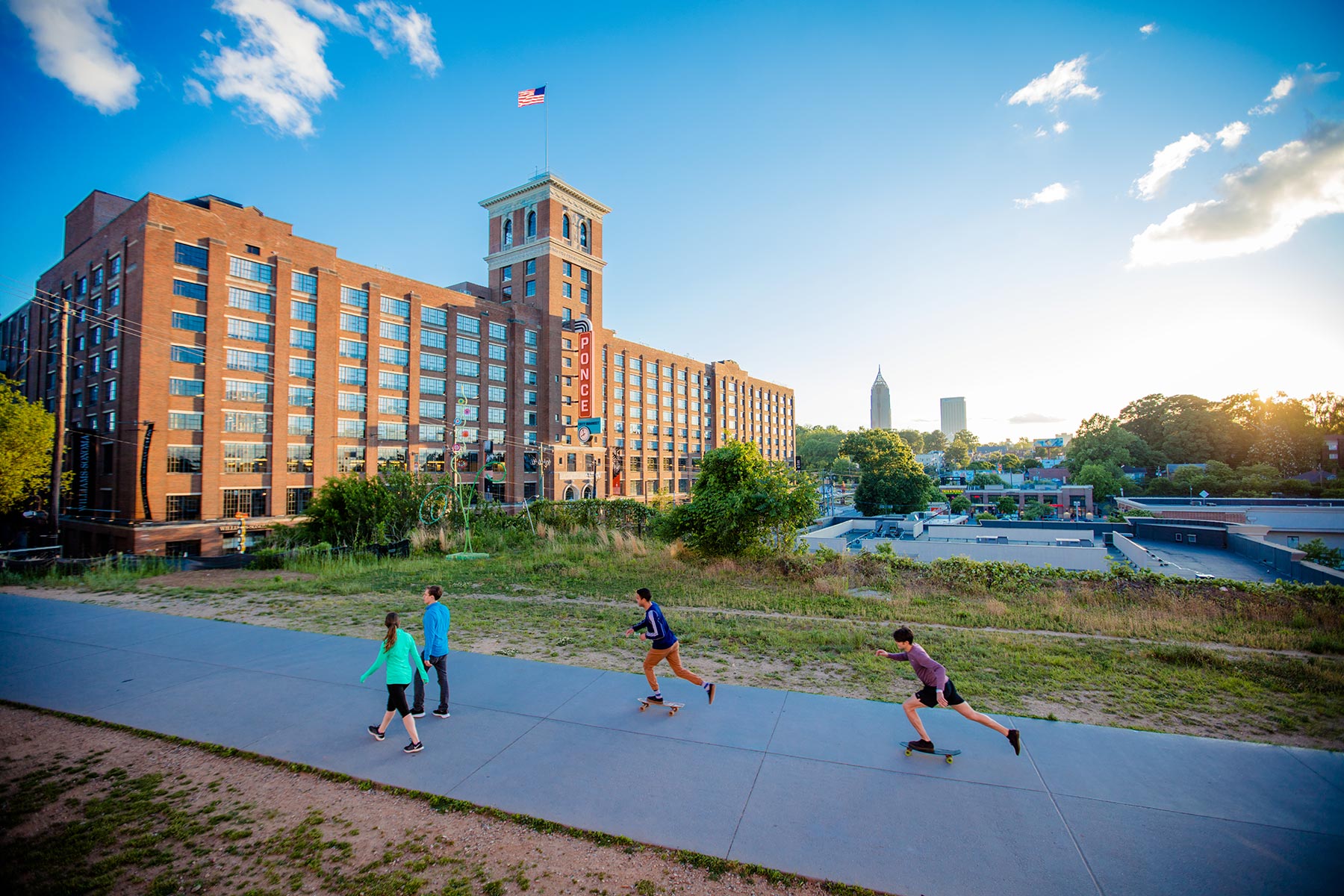 The Atlanta BeltLine is the most comprehensive transportation and economic development effort ever undertaken in the City of Atlanta and among the largest, most wide-ranging urban redevelopment programs currently underway in the U.S.
This 22-mile transit greenway circles the city and will connect people and places along its path using light-rail transit, parks and trails. To date, 11 miles of trail have been developed and are open to the public. The BeltLine protects not just our environment, but also our quality of life by supporting affordable housing, economic development, job creation, public health, streetscapes, public art, environmental clean-up and historic preservation – all with an eye towards sustainability.
With a plan in place to guide the implementation of the BeltLine project through 2030, sustainability remains the foundation for each step toward completion. Some highlights include:
Redevelopment of 1,100 acres of brownfields
Preservation of water resources
Organic land care that eliminates irrigation and pesticides
Energy neutrality that includes solar panels and LED lights
Green materials design and construction
Atlanta BeltLine Accolades:
Institute for Sustainable Infrastructure (2016), Envision Gold Award for Historic Fourth Ward Park
InterBike's Places for Bikes Award (2015), Atlanta BeltLine
Phoenix Award for Excellence in Brownfield Development (2015), Eastside Trail/Historic Fourth Ward Park
Brownfield Renewal (2014), Sustainability category for Historic Fourth Ward Park
EPA's Overall Excellence Award for Smart Growth Achievement (2013), Eastside Trail & Historic Fourth Ward Park
Source: Atlanta BeltLine, 2017
In addition to expansions of the existing network of paths and bike lanes, Atlanta also offers a bike share system to help people get from place to place. To make sure that cycling in Atlanta is a smooth ride, the City of Atlanta hired its first Chief Bicycle Officer (CBO), who oversees a wide range of activities related to bicycle transportation, including new projects and upkeep of existing ones. Source: City of Atlanta, 2017
The Academics of Sustainability
The Georgia Institute of Technology not only produces inventive students, like Ryan Gravel, but it also develops leading sustainability solutions in everything from academics to research and operations.
In fact, Georgia Tech wrote the book – literally – on sustainable building practices. The "Georgia Tech Yellow Book" was created to help architects and engineers meet the Institute's strict sustainability criteria for building on campus, which includes LEED Gold standards. The university has also incorporated more than 4,000 solar panels on buildings across the urban campus and continues to rack up recognition for its achievements in sustainability:
Climate Action Plan for carbon neutrality in 2050
43 percent of commuters to campus use modes other than driving alone
400 acres worth of 11,900 trees earned the school Level II Accreditation by the ArbNet Arboretum Accreditation Program and the Morton Arboretum
40 percent of their produce originates from Georgia or a bordering state
28 cisterns to store and manage storm water runoff for reuse
Going with the Flow for Water Conservation
No region in the world has taken more aggressive steps towards water conservation than metro Atlanta. Since 2001, water use in the region has dropped by more than 10 percent as more than one million people were added to the population.
The Metro North Georgia Water Planning District (MNGWPD) implemented one of the most comprehensive regional water management plans in the country, making sure that the region's water supply is secure and reliable for the next 50 years. The plan includes incentive pricing for consumers, modernization of the infrastructure and more effective watershed protection. Gwinnett County has also invested more than $1 billion in water treatment facilities, which supports the cleaning and return of water to Lake Lanier. Every day, more than 33 million gallons of water return to the lake, cleaner than before they were withdrawn.
Powerful Partners in Sustainability
Georgia Power and its Fortune 500 parent company, Southern Company, are leaders in renewable energy. With nearly 1,500 megawatts (MW)* of renewable capacity online, Georgia Power continues to grow the largest voluntary renewable portfolio in the nation. Through continued expansion of solar resources at Georgia military bases and the implementation of new solar projects and programs, more than 1,600 MW* of additional renewable capacity will be added by 2021.
Georgia Power helps customers connect to renewable energy resources that are good for them and good for the environment. Options for large energy users include:
Commercial & Industrial (C&I) REDI Program: designed for qualified existing commercial or industrial customers with renewable energy goals and a need for renewable energy credits (RECs). Georgia Power will buy up to 200 MW of renewable resources on behalf of program participants, providing participants with a fuel credit based on the renewable energy production.
Simple Solar Program: available to all customer classes, this program allows participants to support solar generation and buy solar renewable energy credits to offset all or a portion of their energy usage for an additional 1 cent per kilowatt-hour (kWh) and as low as .5 cents per kWh.
Atlanta's industries contribute to the region's overall leadership in renewable energy by installing renewable generation at their facilities. Georgia Power works with these customers to buy 100 percent of the energy produced or to offset energy purchases.
Georgia Power is also involved in industry-wide water conservation efforts. The company, along with the Electric Power Research Institute jointly opened a Water Research Center at Georgia Power's Plant Bowen, just north of Atlanta. The center focuses on water-dependent technologies associated with power generation and how to better preserve water resources.
Together, Georgia Power and Southern Company are building the future of energy through investment in new ideas and technologies related to advanced renewables and energy innovation. In the past decade, they've invested more than $800 million in R&D. As the only utility with a proprietary R&D function, some results of their investment include:
National Carbon Capture Center, the nation's only facility for testing technologies to reduce greenhouse gas emissions
Mercury Research Center, the nation's first center focused on ways to reduce mercury emissions
Collaboration with Applied Plasma Arc Technologies to evaluate a waste to energy plasma arc solution
Southern Company's Energy Innovation Center at Georgia Tech is another industry-leading facility where companies and inventors work together to provide renewable and efficient business solutions around energy and help commercialize products. They work on next-generation products and services in electric transportation, home automation, energy efficiency, renewables, indoor agriculture, and biopharma.
*EC Disclaimer: Every megawatt hour of electricity produced by an eligible solar generation resource creates a Renewable Energy Credit (REC). Georgia Power purchases only the null energy output from some renewable generating facilities that have contracted to sell that energy to Georgia Power. Ownership of the associated RECs is specified in each respective power purchase agreement. The party that owns the RECs retains the right to use them.
Creative Culture
At A Glance
Georgia has been named the #1 feature film location in the world.
Atlanta has been named the "hip-hop center of the universe" with countless Atlanta-based artists known around the world for their influence on this music genre and pop culture.
Atlanta is home of Dragon Con and proudly welcomes the quirky and peculiar fandom embodied by the thousands who attend the annual event.
From grassroots to global influence, Atlanta is a provenance for creative and cultural pioneers. The region is home to a campus of Savannah College of Arts and Design (SCAD), which offers more degree programs and specializations than any other art and design university, and the Woodruff Arts Center, the third largest arts organization in the US, behind only Lincoln Center and the Kennedy Center.
At the same time, Atlanta has been named the "hip-hop center of the universe" and plays host to the outrageous world of Dragon Con.
When it comes to culture, Atlanta is on the cutting-edge with creatives who are reimagining industries and transforming entertainment in the U.S. and around the world.
Film and Television
Georgia has been named the #1 location for highest-performing U.S. feature films, according to the 2016 feature film study by FilmLA. The state has surpassed industry powerhouses, California and New York, and is ahead of Canada and the UK. The film industry is a vital economic driver in Georgia, and from "The Walking Dead" to "Spider-Man: Homecoming," Georgia has served as the backdrop for major television and film for decades.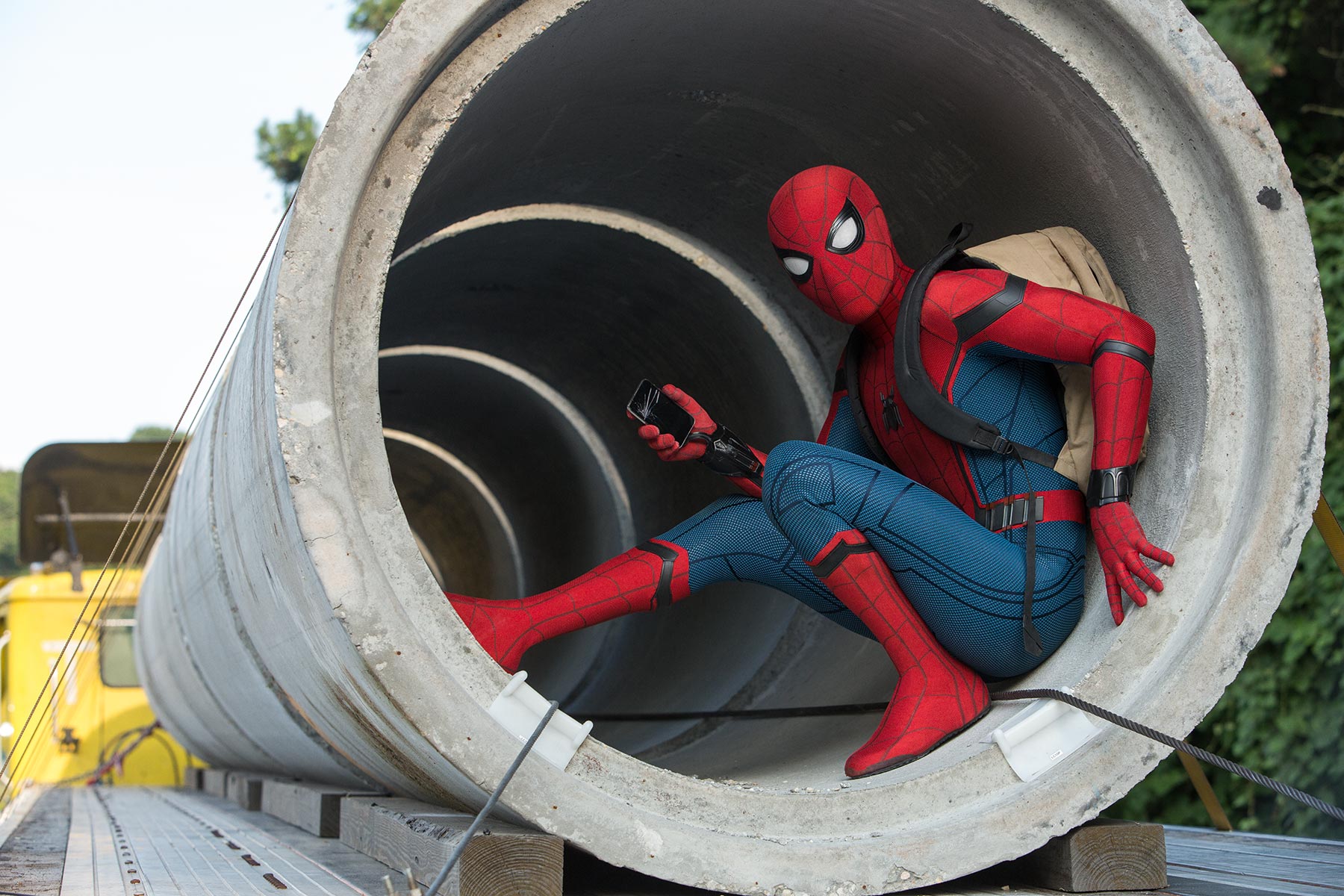 There are nearly 2,790 motion picture and television industry businesses in Georgia, including 1,962 production-related companies. That's why big names like Will Packer and Tyler Perry choose Georgia for their filming locations. Literally hundreds of new companies have located or expanded in Georgia since 2010 to support the burgeoning industry, including numerous soundstages. The film industry not only creates jobs and investment in Georgia, but it has created a thriving film tourism industry that draws fans who want an up-close look at where their favorite films or television shows have been shot.
No state has seen the kind of investment that Georgia has seen in this industry, and these facilities enable many thousands of jobs in the state each year. Pinewood Atlanta, now home of the Marvel films, is the largest U.S. soundstage complex outside of California, consisting of 18 soundstages plus one built for rental to the Georgia Film Academy. As a direct result of the growth, Atlanta has become known for having some of the best crew talent in the industry, and an increasingly number of creative talent have decided to call Atlanta home.
Music
We're proud to remind the world that Atlanta is the "hip-hop center of the universe," home to rap and R&B legends like Outkast, T.I., Usher, Ludacris and Jermaine Dupree, while also cultivating the next generation of hip-hop and alternative soul artists including Childish Gambino, Migos, Janelle Monae, 2 Chainz and D.R.A.M. In 2017, Billboard named Atlanta-based creative agency and recording label LVRN (whose name is short for Love Renaissance) as the #1 tastemakers for the next generation of hip-hop. Through the A3C (All 3 Coasts) Festival & Conference, Atlanta helps to engage and inspire artists, entrepreneurs and creatives that shape hip-hop culture. As hip-hop became the most consumed music genre in streaming around the world in 2017, the future of music clearly rests in Atlanta's hands. It's no wonder that big music players such as Interscope and Spotify have recently established a larger footprint in Atlanta.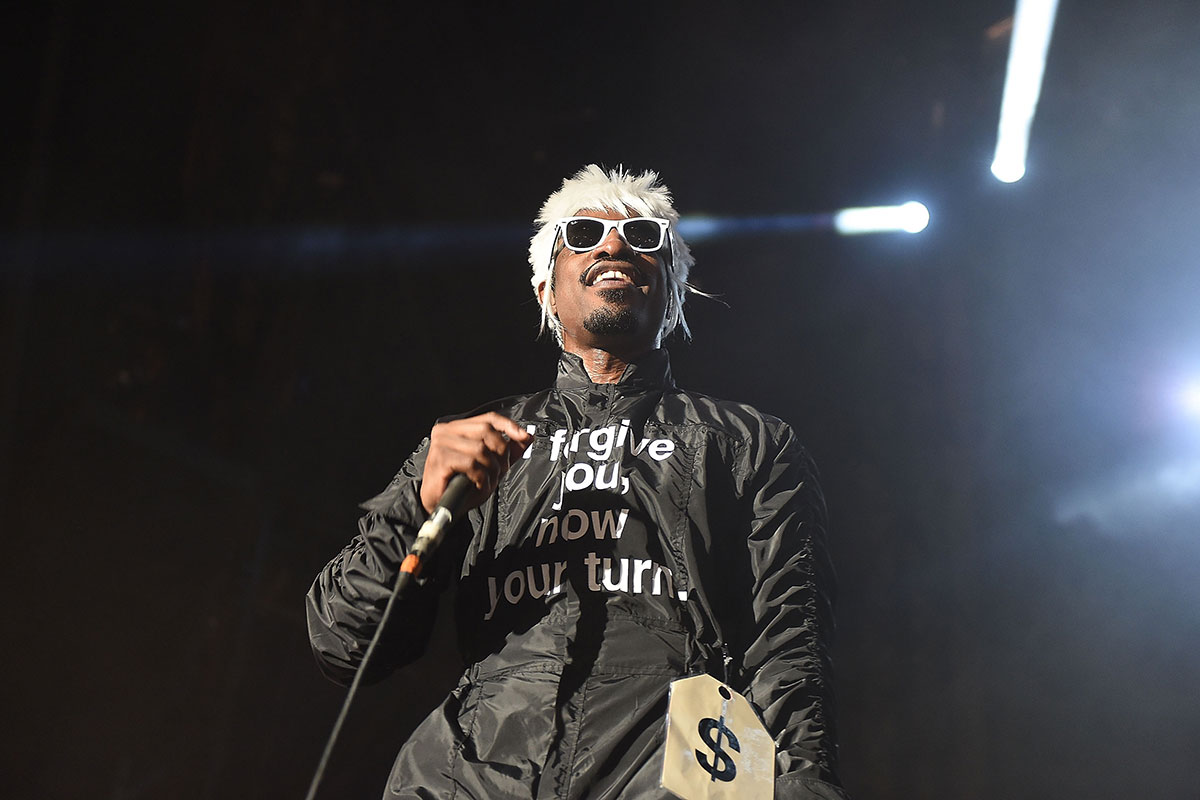 But it doesn't stop at hip-hop for Atlanta. Our region also carries a steep history in being home to a chart-leading scene for indie-rock and country. From Deerhunter to the Black Lips, the Black Crowes to John Mayer, and Kenny Rogers to Zac Brown Brand, for decades Atlanta has been an eclectic showcase of music that serves as the launching pad for the most popular artists around the world.
Much of this flows from the live music scene that beats throughout the city every night of the week.
Atlanta is home to over 60 music venues and 30 festivals.
Including the renowned Music Midtown festival, the Atlanta Jazz Festival and Shaky Knees and Beats festivals. Electric Dance Music, or EDM, has also grown rapidly to become a part of the music scene of Atlanta. Thousands of people flocked to the Atlanta Motor Speedway to attend Imagine Music Festival, a three-day concert series that celebrates a collection of electronic music artists and the distinctive culture that comes with it.
Sprinkled all over town, live music venues such as the Coca-Cola Roxy Theatre, the Tabernacle, the Fox Theatre, the Masquerade, Eddie's Attic, the Earl, and Terminal West give well-established artists and those just hitting the scene an opportunity to make their mark. At the same time, the Atlanta Symphony Orchestra and Chorus wows listeners with more than 100 albums recorded and 27 Grammy Awards.
Music production gives even more depth to Atlanta's musical scene. With more than 300 recording studios, a number of them such as Silent Sound and Tree Sound being the most coveted in the world, global superstars in all types of music frequently come to Atlanta to lay down their award-winning tracks.
Arts
From international art exhibits, award-winning theater to our grassroots street artists that are being commissioned by some of the biggest brands in the world, Atlanta's arts districts are considered the arts and theater hub for the Southeast.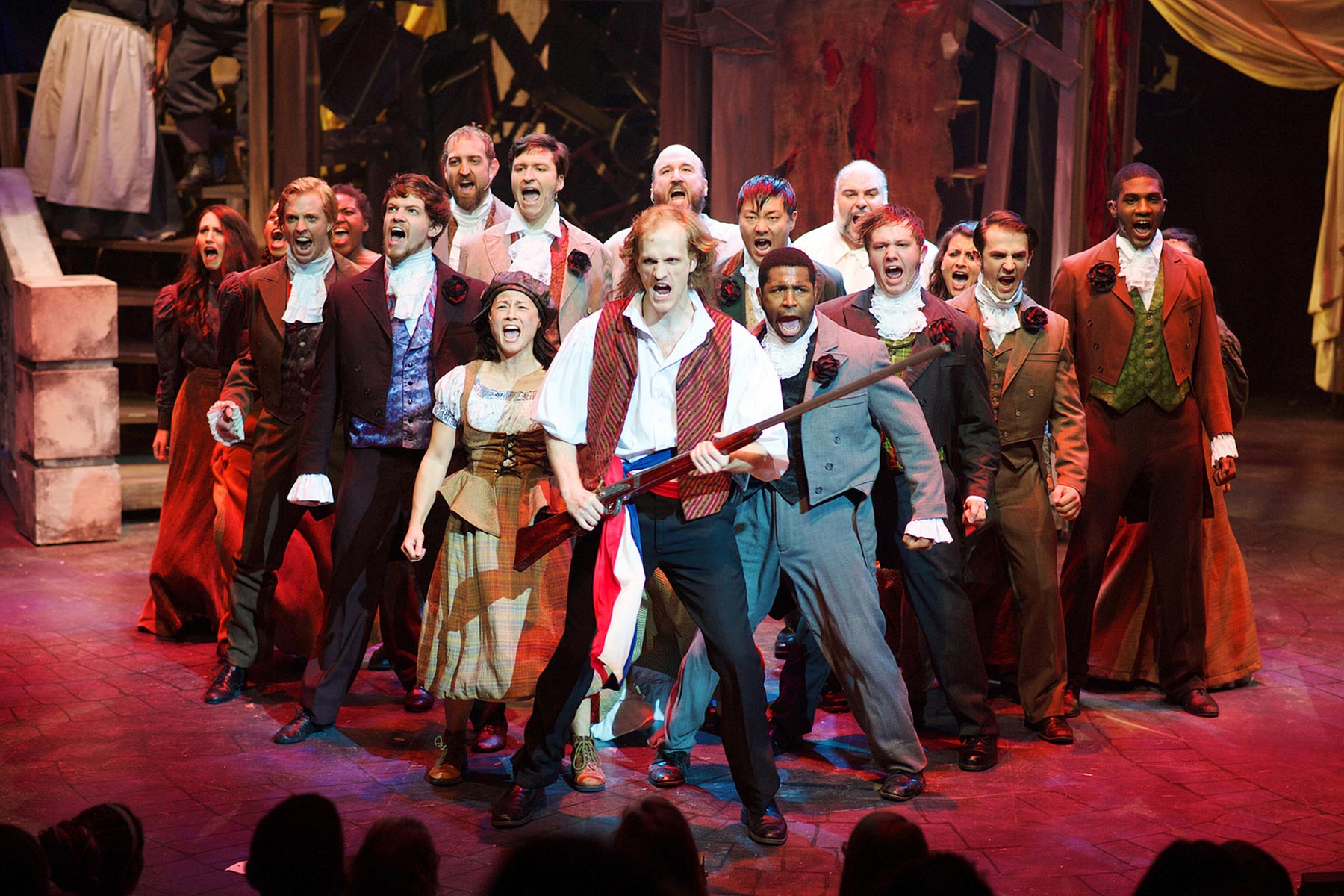 The Woodruff Arts Center is the stronghold of arts culture in Atlanta. Located in Midtown, it's one of the largest arts centers in the world, home to the Tony Award-winning Alliance Theatre, the Grammy Award-winning Atlanta Symphony Orchestra (ASO) and the High Museum of Art, the leading art museum in the Southeast.
Nearly one million patrons travel to The Woodruff for outstanding theatre, music, and exhibitions each year.
The center also serves as the largest arts educator in Georgia, as it supports and develops the crafts of nearly 200,000 students each year.
The City of Atlanta's Office of Cultural Affairs (OCA) encourages and support Atlanta's cultural resources. Arts play an essential role in defining the cultural vitality of the city and are enhancing Atlanta's reputation as a cultural destination. The Cultural Experience Project (CEP) provides opportunities for over 30,000 Atlanta Public School students to experience the broad range of Atlanta's premiere cultural venues and artistic programs at no cost to the student.
The Atlanta Jazz Festival (AJF) welcomes thousands of residents and visitors to Piedmont Park for three days of free jazz during Memorial Day weekend each year. The AJF also includes the Youth Jazz Band Competition, which allows Atlanta-area middle and high school jazz bands to compete for an opportunity to perform during the festival and raise funds (donated by sponsors) for their school's jazz program. The Public Art Program (PAP) focuses on the conservation and maintenance of Atlanta's Public Art Collection and produces ELEVATE, an annual free Public Art festival featuring local, national and international artists throughout the city. ELEVATE has been named one of the Top 50 Public Art Projects in the Country by Americans for the Arts and has also been nominated for the Livable Cities Award.
The art ecosystem in Atlanta is anchored by organizations and independent artists that work to improve the cultural and social landscape of Atlanta through creative initiatives and community partnerships. They focus on developing the business side of the arts for individual artists and nonprofit arts. Some organizations on the forefront of this movement include WonderRoot, Living Walls, The Community Foundation for Greater Atlanta and the wildly supported OuterSpace Project, which is a multi-day street art and music festival.
Fandom
Atlanta has become an epicenter for fandom and geek culture. Annually, sci-fi, comics and anime aficionados flock to the region to be with their tribes. These events draw more than one million fans to Atlanta, combined, and fill downtown streets with a parade of cosplay and costumes enjoyed by tourists and locals, alike.
During Labor Day weekend, Atlanta proudly hosts one of the largest multi-genre entertainment and pop culture conventions in the world. Dragon Con began in 1987 as an opportunity for fandoms to celebrate their diverse interests in different medias as opposed to the standard single media convention. Seen as the east coast's sister convention to Comic Con, the convention has grown to cover over 30 areas of interest and draws over 80,000 attendees, making it one of the largest multimedia conventions in the world. For one mystical weekend each year, microcosms of fans of sci-fi/fantasy, literature, gaming, comics, film, music, and pop culture gather in Atlanta for the chance to geek out together and let their imaginations and costumes run wild. The annual Dragon Con Parade has become one of the Atlanta community's most popular cultural celebrations each year.
On the other side of the year, in May, Atlanta welcomes Momo Con – the talent and the fans of the year's hottest anime, video games, webcomics, and science fiction. Momo Con was actually started by Anime O-Tekku, Georgia Tech's Anime Club, in 2005, but has since grown to an attendance of nearly 30,000 and become one of the largest anime conventions in North America. This family-friendly convention attracts martial arts programming, celebrity anime voiceover artists, writers, and designers alike.
Inspired by Atlanta's own,The Walking Dead, each October a collective of zombie fans assemble for Walker Stalker Con, which is nothing short of amazing. Thousands of fans gather to meet and interact with each other as well as with their favorite actors in an exciting and friendly atmosphere to learn and engage. Cast members happily sign fan merchandise and participate in celebrity Q&A panels that allow fans to get to know their favorite show and actors on a whole new level.
The creative culture kaleidoscope that is Atlanta makes hosting some of the biggest industry events in fandom and geek culture any easy fit.
Digital Media / Gaming / eSports
The heartbeat of digital animation has been at Turner Broadcasting since 1970 when media mogul Ted Turner acquired Atlanta UHF channel 17. With its humble origins and headquarters still in Atlanta, today Turner Broadcasting still is paving the way for original content, particularly in original animated and live-action entertainment on Adult Swim, Boomerang, and Cartoon Network. Bento Box Entertainment also produces digital animation hits out of Atlanta, such as the Emmy-winning series, Bob's Burgers, and The Awesomes.
The visual effects and virtual reality talent out of Atlanta has aided the city in producing some of the most sensational digital entertainment in recent years. Stargate Studios' Atlanta team plays a significant role in creating the post-apocalyptic universe of Georgia-lensed, The Walking Dead.
The market for digital video media has been on the rise in Atlanta, largely due to the growth of the entertainment industry that allows big digital media firms to utilize the available talent and tax credit incentives.
Ian Cohen of Moguldom, which relocated its headquarters from Los Angeles to Atlanta in 2014, states that the company's "entry into the Atlanta market has been one of the most productive initiatives [it has] undertaken as a business, and look forward to continuing [their] growth in this very important market."
A robust community of gamers, programmers, and artists has grown alongside Georgia's thriving digital entertainment industry. The state is home to more than 75 game companies across genres, from casual and educational to mobile and MMOG (massively multiplayer online game). Atlanta is an established center for thriving digital entertainment sectors such as video gaming, digital animation, SFX/Virtual Reality/visual effects, and the fast-growing industry of eSports. According to a recent report by Newzoo, the global eSports market had 226 million viewers worldwide last year. This year, the market is predicted to rake in $463 million.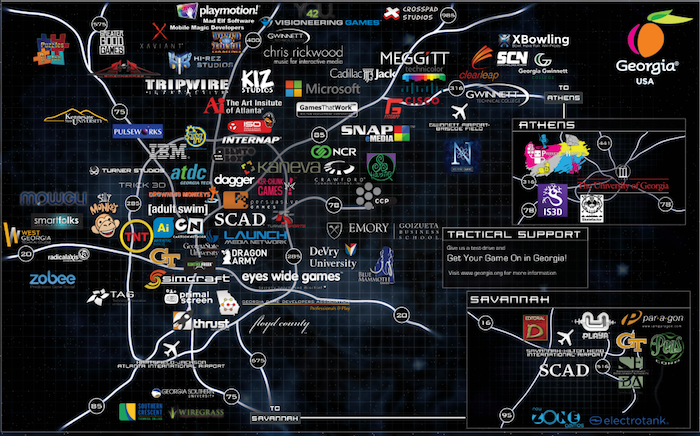 Digital gaming company, Hi-Rez Studios, has over 200 employees, launched Smite, a third-person MOBA (or multiplayer online battle arena) video game for Xbox and PC in 2011, and now, the game is popular with pro players and teams across the world. The company hosted their first Smite World Championship in Atlanta, Georgia last year. In January 2018, they will be hosting the Smite Season 3 championships with a prize pool of $1 million. They also have offices in Shenzen, China and Brighton, UK.
ELeague, a professional Counter-Strike: Global Offensive league, is as legit as it comes. Launched this year as a strategic partnership between Turner Broadcasting and talent agency WME/IMG, ELeague now includes 24 teams from across the world. The teams played their first season this past May at the Turner Studios' new ELeague Arena, exclusively for eSports, and earned sponsorships from Arby's and Credit Karma. Their new season starts next month and you can catch it on Twitch's live stream.
KontrolFreek, based out of Tech Square in Midtown, is the leader in innovative accessories with many pro players and eSports pro-teams as customers.
Further ensuring the potential for the tech talent to grow to meet the demand of the growing industry, Georgia State University announced that it will join two collegiate gaming leagues, the National Association of Collegiate eSports (NACE, which has 33 programs) and the new Georgia Esports League (GEL), which launches next month. GSU awards scholarships, practice facilities and other varsity-team perks to its gamers.
Haste, a software startup out of Georgia Tech's Advanced Technology Development Center (ATDC), improves network performance for live interactive experiences by reducing lag, packet loss, and jitter. Founded in 2014, Haste sells software directly to gamers and takes over their network connection when a game is launched. Haste plans to expand into markets, including virtual reality and remote workgroup collaboration.
Scuf Gaming, a global leader and innovator in eSports and winner of eSports Industry Awards "Best Hardware Award" for 2016, provides high-performance gaming controllers for elite gamers. More than 90 percent of the top professional gamers in the world use Scuf.
"The skills developed by eSports-interested students are the very skills most needed for success in the 21st century economy, including collaborative soft skills and computer coding," said David Cheshier, director of the Georgia State Creative Media Industries Institute, in a written statement. "We see this initiative as building essential links to emerging creative careers in animation, 3D and immersive world creation, and other media industries." https://www.forbes.com/sites/hnewman/2017/08/16/college-esports-teams-aim-to-get-gaming-varsity-sport-status/#3d299bb01191
Atlanta's Creatives: Inventing and Impacting the World
While Amazon is investing heavily in streaming and original content, Atlanta is on the verge of becoming the first city to launch an OTT multi-channel video network to showcase its creators, their journey, their work and their influence – THEA. With a name that gives a nod to "The-A," THEA will take city marketing into the post-cable world while delivering content focused on the culture and creators birthing Atlanta-inspired art. The network will highlight our film creators, music creators and tech creators in the multi-screen age and show the world the saturation of talent and influence coming from Atlanta.
Designed to be part story-teller to attract the next generation and part platform of discovery, THEA sets out to make Atlanta accessible around the world. THEA will be where decision makers come to look in their quest for the next big creative act as well as an introduction to the providence of creative culture that is shaping the next generation. The network combines supportive southern hospitality with always-evolving urban culture. Welcoming, inclusive and explorative to the core, THEA connects creators with consumers—just like it connects the world with our hometown. THEA draws attention to Atlanta people, products, technology and culture while entertaining, educating and inspiring viewers. Showcasing Atlanta's culture through THEA will open the door and be a guide for emerging talent looking to relocate to Atlanta.
THEA will prove Atlanta's potential as the region transforms into the next entertainment mecca of this century. With Amazon's arrival, this transformation will be cemented.
Letter from Award-Winning Film Producer Will Packer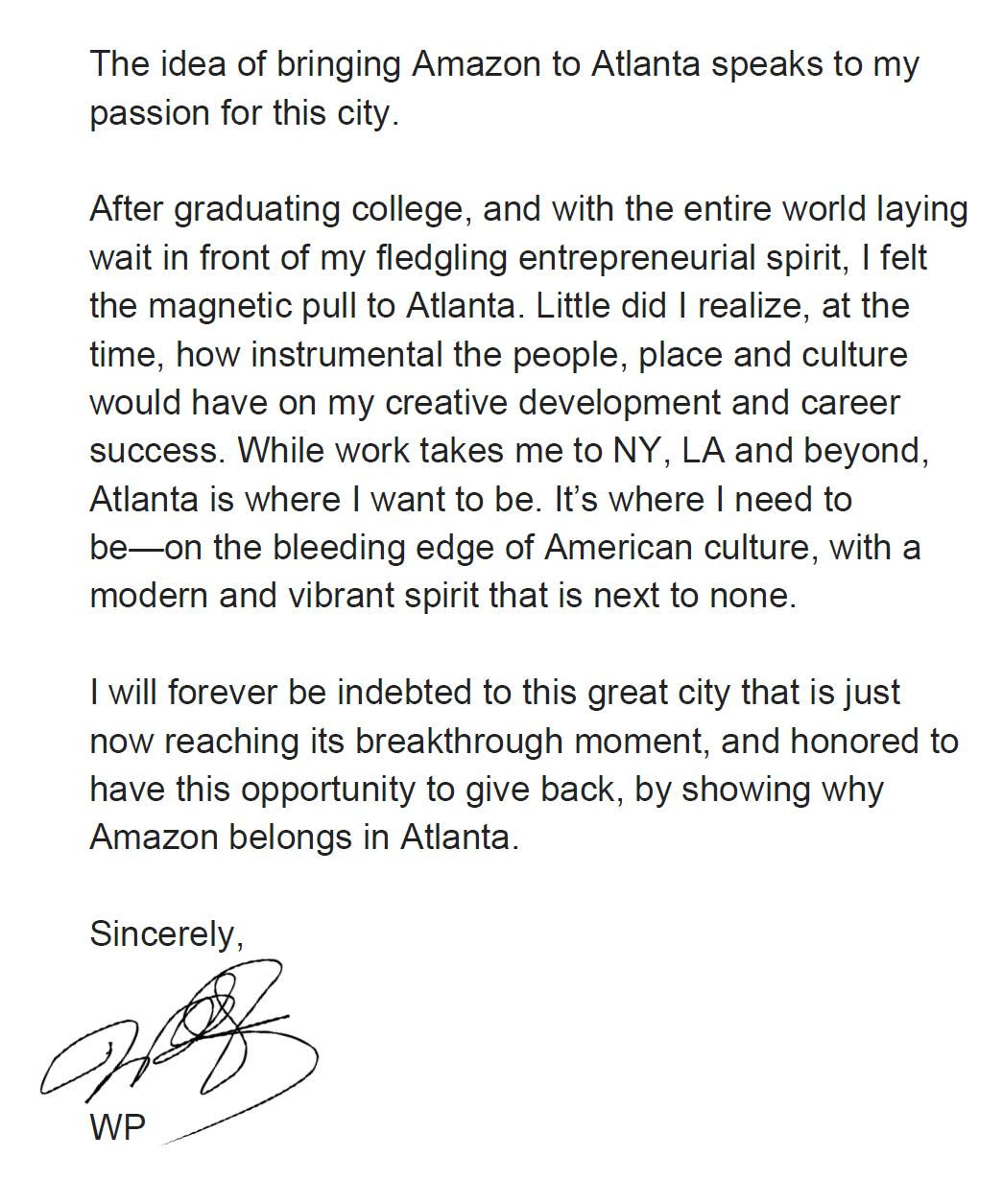 Diversity
At A Glance
Nearly 800,000 people in metro Atlanta's population are foreign-born.
36.4 percent of foreign-born individuals in metro Atlanta have a bachelor's degree or higher.
Atlanta is ranked among the top metro areas for millennial population (ages 20-34) and is a top moving destination for this demographic (Sources: Site Selection Group and Mayflower, 2017).
In 2017, Atlanta ranked 6th on The Advocate's Queerest Cities in America list.
32.9 percent of people employed in management occupations in metro Atlanta are non-white, compared to 18.3 percent in the U.S.
Diversity and inclusion are not just buzzwords in Atlanta; they are the essence of the way residents live and work with their neighbors every day. Diversity is woven throughout communities, and it's integral to the fabric of the city.
Atlanta, known as the "city too busy to hate," was the cradle of the American Civil Rights Movement. During those tumultuous years, Atlanta grew from a sleepy railroad hub to the enlightened capital of a progressive southern metropolis. That movement remains one of the region's greatest contributions to the world. The people here believe they have a special duty to honor the city's role in it and the people who had the courage to make it happen—while also remembering the injustices that launched the movement in the first place.
Atlanta strives to stand as a model for other cities across the country.
Atlanta is a vibrant, international city and boasts large communities of various racial, ethnic, and cultural groups from around the world, as well as a thriving LGBTQ community. In fact, metro Atlanta's Diversity Index is 68.4, with the US Diversity Index at 64 (Source: Esri).
Diversity here isn't confined to one part of town. The smaller cities around Atlanta that make up the metro area are some of the most diverse in the country. The cities of Sandy Springs, Roswell, and Johns Creek ranked 15th, 22nd, and 24th in WalletHub's 2017 Most Diverse Cities in America List, which looked at the 501 largest cities in America.
Atlanta is a business town, and diversity is its secret weapon. The wide variety of races, cultures, experiences and perspectives represented here not only enriches culture experiences, it enriches the workplace. This diversity helps the people here think like inventors, innovate, challenge assumptions, and see things from new perspectives. Ultimately, diversity is what allows the region to keep rising.
See the Atlanta Way section for more information on Atlanta's commitment to diversity and social impact.
Racial and Ethnic Diversity
In metro Atlanta, Black or African-American are the largest racial minority group at 34.0 percent of the population (Source: U.S. Census Bureau, American Community Survey 2016). And other racial and ethnic groups are growing quickly. The Hispanic or Latino population more than doubled from 2000 to 2010, and now the group comprises over 10 percent of the area's population.
| | Atlanta MSA | Seattle MSA | United States |
| --- | --- | --- | --- |
| White | 53.6% | 69.0% | 72.6% |
| Black or African-American | 34.0% | 5.6% | 12.7% |
| American Indian and Alaska Native | 0.4% | 0.8% | 0.8% |
| Asian | 5.7% | 13.0% | 5.4% |
| Native Hawaiian and Other Pacific Islander | 0.0% | 0.9% | 0.2% |
| Some other race | 3.5% | 4.0% | 5.1% |
| Two or more races | 2.6% | 6.7% | 3.2% |
U.S. Census Bureau, American Community Survey 2016, 1-Year Estimates
*10.5% of the Atlanta MSA's population reports Hispanic or Latino origin (of any race).
9.9% Seattle MSA's population reports Hispanic or Latino origin (of any race).
17.8% United States' population reports Hispanic or Latino origin (of any race).
Like other kinds of diversity, racial diversity in metro Atlanta isn't confined to any particular area. In fact, of the U.S. counties that became "majority-minority" between 2000 and 2013, four were counties in the greater metro Atlanta area: Rockdale, Henry, Douglas and Gwinnett (Source: The Pew Research Center, 2015).
International Diversity
The metro area also attracts many people from other countries who often come to work at one of the global businesses headquartered here or study at one of the world-renowned institutions.
In fact, metro Atlanta boasts the second fastest-growing, foreign-born population in the nation, and its immigrant and refugee community is fundamental to Atlanta's position as the commercial and cultural center of the Southeast.
In fact, Clarkston, Georgia, has become the most ethnically diverse square mile in America.
Currently, nearly 14 percent of metro Atlanta's population is foreign-born (roughly 800,000 people). Of that, the largest portion was born in Latin America (45.4 percent), followed by Asia (32.3 percent), and Africa (11.9 percent). The top five countries of origin are Mexico, India, Jamaica, China and Korea. And 18 percent of the metro area's population over the age of five speak a language other than English at home (Source: U.S. Census Bureau, American Community Survey 2016).
Residents create communities that are not just diverse but also inclusive. By extending the best of "southern hospitality" to their immigrant and refugee neighbors through the city's Welcoming Atlanta initiative, Atlantans ensure new residents are seamlessly integrated into the community. The initiative brings together government and community leaders to extend values of welcoming, inclusion and diversity.
The national headquarters of Welcoming America is in metro Atlanta. The organization's unique model engages community members, schools, faith leaders, and the public and private sectors to work together to create a welcoming community climate that promotes long-term integration. Welcoming America is dedicated to the idea that all communities become more prosperous when they are inclusive.
The metro cities of Norcross, Decatur, Clarkston, and Brookhaven are all members of the nationwide network. And the City of Atlanta established an Office of Immigrant Affairs as a part of the initiative.
Additionally, 68 diverse countries including Germany, Brazil, Canada, Mexico, India, Korea, France, Colombia, Japan, and many more in between, have representation in metro Atlanta with 78 consular and trade offices. Atlanta's diverse international business community is also represented through 34 bi-national chambers of commerce, including German, France, Latin America, Poland, Sweden, and others.
36.4% of foreign-born individuals in metro Atlanta have a bachelor's degree or higher
Millennial Population
Atlanta is ranked among the top metro areas for millennial population (ages 20-34) and is a top moving destination for this demographic (Sources: Site Selection Group and Mayflower, 2017).
In fact, millennials comprise one-third of the metro area's population (ESRI, 2017). The average age of metro Atlanta residents that moved from a different state in the last year is 29.7 years old.
LGBTQ Pride
We take pride in our reputation as the capital of the Gay South. Midtown, a neighborhood in the heart of the city, has a long history of attracting the LGBTQ community with gay-friendly clubs, stores, and restaurants. Across the region, people from all backgrounds, races and sexual identity are welcome. Atlanta Pride is one of the oldest LGBTQ events in the country and draws about 250,000 people to the city each year, with this year's setting an all-time record for attendance. Local businesses and corporations flock to support the event, and sponsors include Coca-Cola, Delta, Cox Enterprises, MailChimp, Turner Broadcasting, and others. The city also hosts Atlanta Black Gay Pride, which is known as the largest black gay pride festival in the world. It's been running for 21 years and draws over 75,000 attendees a year.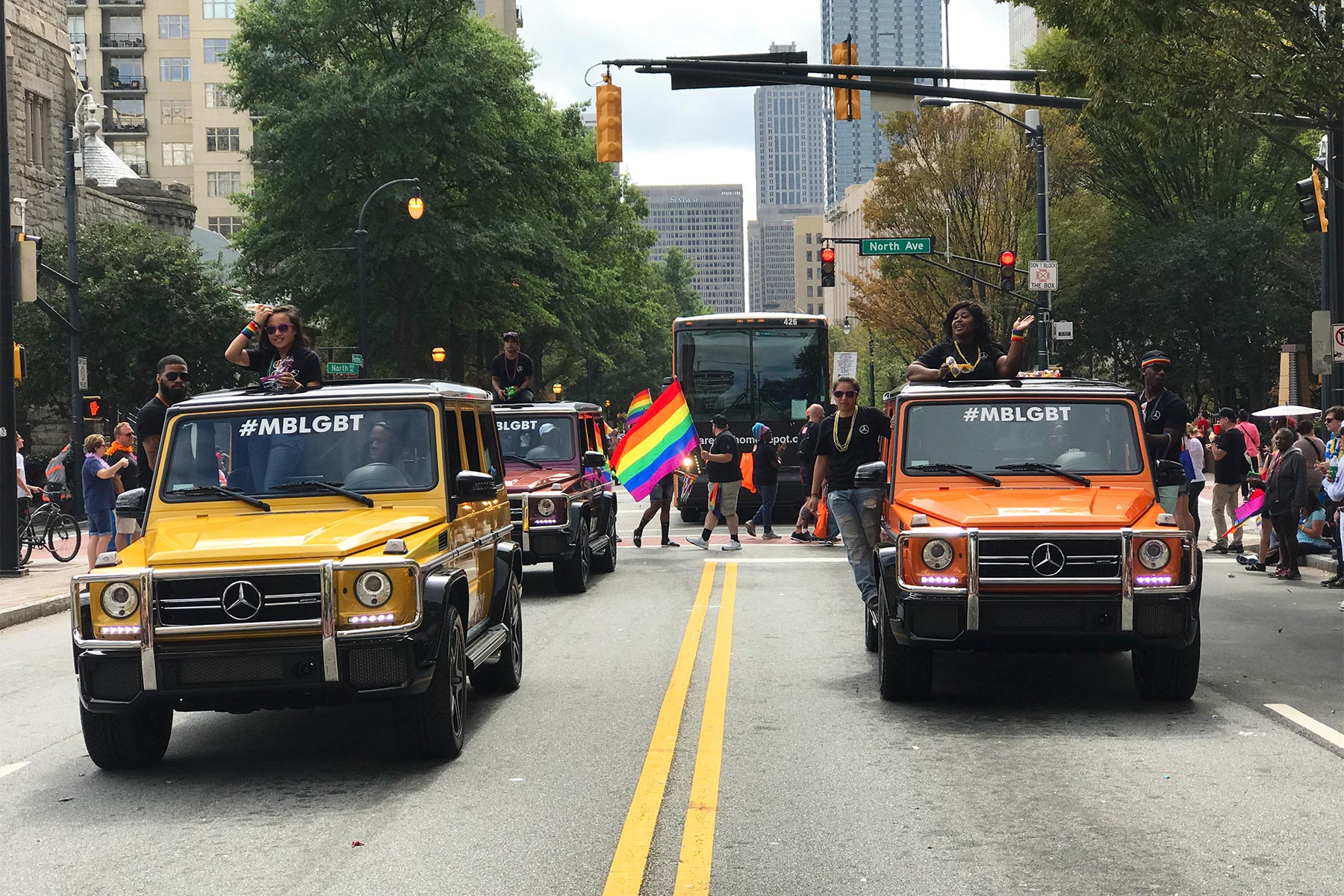 Atlanta is a magnet for talented LGBTQ employees—and it's not hard to see why. We achieved a perfect rating on the Human Rights Campaign's 2016 Municipal Equality Index Scorecard, which looks at employment practices, nondiscrimination laws, and other metrics. (Atlanta received bonus points for electing openly LGBTQ municipal leaders.) Many of the city's major employers are known for nurturing LGBTQ talent. The Coca-Cola Company, Delta Air Lines, The Home Depot, UPS, First Data Corporation, and many other Atlanta-headquartered businesses received a perfect score on the Human Rights Campaign's Corporate Equality Index 2017.
In 2017, Atlanta ranked 6th on The Advocate's Queerest Cities in America list. "The star of the South is really becoming one of the country's greatest queer centers," the magazine raved. "It nailed nearly all aspects of our criteria for what makes a queer city."
Religious Diversity
The metro Atlanta region celebrates people of all faiths. Three-quarters of adults here identify as Christian. Other major religions represented in the area include Judaism, Islam, Buddhism, and Hinduism (Source: Pew Research Center, Religious Landscape Study, 2014). No matter one's faith, there is a strong community and a place of worship to welcome and embrace everyone in Atlanta.
A Public-Private Approach to Ensuring Human Rights
In metro Atlanta, the public and private sectors have worked together to safeguard the rights of all citizens. The city's non-discrimination laws prohibit discrimination based upon sexual orientation and gender identity, as well as race, color, creed, religion, sex, marital status, parental status, familial status, national origin, age and disability. These non-discrimination laws apply to employment, housing and treatment of customers.
In 2000, the City of Atlanta passed a local ordinance protecting people from discrimination on the basis of sexual orientation. In July 2013, the City Council expanded the law to include protections from discrimination based on gender identity. The Atlanta Police Department has also taken concrete steps to promote community inclusion. An LGBTQ special unit focuses on combatting hate crimes and buildings relationships with the LGBTQ community. Additionally, a Hispanic task force focuses on building relationships with Hispanic Atlantans and focuses on issues that matter to them.
In 2016, Georgia's business community came together to promote nondiscrimination by launching Georgia Prospers. Created by a coalition of more than 600 businesses, including Coca-Cola, First Data, Google, and Marriott, the organization is dedicated to promoting non-discrimination policies and equal treatment for all. Businesses agree that a united Georgia is a prosperous Georgia.
Georgia Prospers Business Coalition Pledge:
"We believe that treating all Georgians and visitors fairly is essential to maintaining Georgia's strong brand as the premier home for talented workers, growing businesses, entrepreneurial innovation, and a thriving travel and tourism industry.
We believe that in order for Georgia businesses to compete for top talent, we must have workplaces and communities that are diverse and welcoming for all people, no matter one's race, sex, color, national origin, ethnicity, religion, age, disability, sexual orientation, or gender identity.
As signers of the Georgia Prospers pledge, we are committed to promoting an attractive, prosperous, and economically vibrant Georgia. A united Georgia is a prosperous Georgia."
A Diverse Talent Pool
Atlanta's historical commitment to diversity has helped create an exceptionally rich pool of talent, especially when it comes to tech talent. And the region's higher education institutions demonstrate the success of that commitment. Georgia Tech is one institution that is striving to advance diversity in the tech world.
Georgia Tech 2015-2016
#1 for Engineering Bachelor's Degrees Awarded to Women
#2 for Engineering Bachelor's Degrees Awarded to African-Americans
#2 for Doctoral Degrees Awarded to Foreign Nationals
#4 for Engineering Bachelor's Degrees Awarded to Asian-Americans
(Source: Engineering by the Number, Brian L. Yoder 2016)
Georgia Tech's Women in Engineering (WIE) program
Dedicated to recruiting top female students into engineering majors
"Ensuring highest level of retention by fostering an environment that encourages curiosity, creativity, and intellectual and personal growth" (wie.gatech.edu/home)
Georgia Tech Society of Black Engineers
Academic support, leadership development, corporate representatives, job connections, community service
Corporate and community partnerships
Georgia State University
Georgia State now awards more bachelor degrees to African-Americans than any other non-profit university in the nation, according to the annual rankings in Diverse Issues in Higher Education.
At Georgia State, more black students graduate each year than at any U.S. college.
The university ranks as having among the highest rates of students with Pell grants in the nation, according to the U.S. News and World Report. About 56 percent of its undergraduates are on Pell grants. Typically, Pell families have annual household incomes of $30,000 or less. The average annual family household income for Pell students is $20,000.
The Atlanta University Center (AUC) Consortium has a long history of educating African-Americans in STEM subjects. The AUC is composed of four member institutions – Clark Atlanta University, Morehouse College, Morehouse School of Medicine, and Spelman College.
Spelman College
Ranked #1 HBCU by U.S. News & World Report (2018)
Computer Science undergraduate program
Currently has four fellows in the HBCU Innovation program by UNCF
Spelman College has a strong record of educating African-American women in science, technology, engineering and mathematics disciplines. On average, during the past five years, 34 percent of the College's student body pursued majors in biology, chemistry, mathematics, computer science, physics, environmental science or engineering (dual degree program is available through 13 schools including the Georgia Institute of Technology), and 25 percent of graduates received degrees in STEM disciplines.
Morehouse College
Ranked #4 HBCU by U.S. News & World Report (2018)
Computer Science undergraduate program
Currently has five fellows in the HBCU Innovation program by UNCF

Culturally Relevant Computing Lab (CRC Lab)

Lab nationally recognized for producing the most black computing graduates who go on to attend doctoral programs in computing
Clark Atlanta University
Ranked #16 HBCU by U.S. News & World Report (2018)
Computer Science undergraduate and master's programs
Awarded a National Nuclear Security Administration grant of $40,000 to host a STEM program for exceptional high school students
See the Talent section for more information on Atlanta's talent pool stemming from world-renowned colleges and universities.
A Diverse Business Landscape
People come to Atlanta, because they know it's a place where everyone can thrive. This is a city of opportunity with great jobs, great culture, and a great quality of life. But more than that, the region has developed a reputation as a place where women and people of color can come to have opportunities they might not have elsewhere. That's especially true in technology jobs. In fact, Atlanta ranks 6th in gender diversity in tech occupations, according to CBRE (Source: CBRE, 2016).
Atlanta has more non-white people working in management occupations than other parts of the country do. In fact, 32.9 percent of people employed in management occupations in metro Atlanta are non-white, compared to 18.3 percent in the U.S. as a whole (Source: U.S. Census Bureau, American Community Survey 2016, 1-Year Estimates). Women make up 40.5 percent of people employed in management occupations, slightly above the 40.2 percent for the U.S. as a whole (Source: U.S. Census Bureau, American Community Survey 2016, 1-Year Estimates).
The region also nurtures innovation and entrepreneurship, especially among women and people of color—and that strategy has paid off. Currently, 29.9 percent of metro Atlanta businesses are black-owned (Source: U.S. Census, Survey of Business Owners, 2012), and Expert Market ranked Atlanta 3rd on their list of the best cities for minority entrepreneurs.
In addition, 41.1 percent of metro Atlanta businesses are female-owned (Source: U.S. Census, Survey of Business Owners, 2012). Business Insider ranked Atlanta 5th in absolute growth of women-owned businesses, Inc. Magazine named it one of the four fastest-growing hotspots for women entrepreneurs, and the Center for an Urban Future name it the 3rd best city for growth of women-owned businesses.
Invest Atlanta, the city's economic development authority, provides gap financing through various loan programs to small, minority and female-owned businesses to expand and/or relocate in the city of Atlanta. The loans help to revitalize targeted commercial neighborhood areas, promote business development projects and stimulate job creation within the city. Since 2010, Invest Atlanta has approved 107 small business loans leveraging $4.3 million in total investment.
The metro area is also home to the Women's Entrepreneurship Initiative, which provides funding and resources to women-owned and women-led ventures. It's the only city-funded initiative of its kind in the nation. In 2017, WEI businesses generated more than $1.3 million in revenue.
Atlanta: Planning For Growth
In the past few decades, Atlanta has undergone a tremendous growth spurt. Most recent data from 2015 to 2016 indicates metro Atlanta's population increased by an estimated 90,650 people, ranking 4th metro area in the nation for numeric change in population. The area continues to grow rapidly with labor force and jobs growing at almost four times the U.S. rate, attracting new talent, new energy, and new ideas.
As a community, the region is cognizant of the fact that fast growth has the potential to lead to inequality. Population booms can lead to increased housing costs that drive low-income people out of neighborhoods they might have lived in for years.
As a city, Atlanta is committed to ensuring that the region remains a place where everyone can live—and loves to live. In 2017, the city launched The Atlanta City Design project to ensure that the city grows responsibly by designing for people, nature, and people in nature. The project approaches growth with a design mentality. It's the guide to ensuring that the region develops neighborhoods and housing in a way that will ensure more equity for all residents. Through Identity, Urgency, Design and Implementation, the project will ensure Atlanta remains the diverse place residents and visitors love for many years to come. Next steps for the plan will include zoning ordinance changes, conservation and preservation efforts and housing strategy.
The city has already implemented an anti-displacement program and frozen property taxes in areas where communities are being revitalized.
The City of Atlanta partnered with Atlanta business leaders from The Home Depot, Delta, AT&T, Coca-Cola, Intercontinental Hotel Groups and more to establish the Westside Future Fund, a not-for-profit organization of Atlanta community leaders who believe in the future of the Westside and are committed to helping the area revitalize and grow. In September 2017, the Fund pledged $16.4 million over five years towards Westside education initiatives. The Fund is taking action to improve the health, education, and welfare of current residents of four Atlanta neighborhoods facing some of the greatest needs: English Avenue, Vine City, Ashview Heights, and the Atlanta University Center, sitting in sight of the $1.5 billion Mercedes-Benz Stadium. The organization works to address equity and social justice issues associated with new residential and commercial development, and attract new investment, new jobs, and new residents.
In addition, the Workforce Training Hub at City of Refuge will provide educational programs for children and adults. It provides a path to individual self-reliance and hope for the future.
The metro region is also promoting equity by offering services across the city. For example, Atlanta wants every resident to live within a half-mile walk of a park, and the $45-million, 16-acre Cook Park represents the largest investment in a public park in the Westside neighborhoods in more than 50 years.
Atlanta has also been named one of the Rockefeller Foundation's 100 Resilient Cities. It has developed resilience strategy that will be released in October. It addresses the shocks and stresses Atlanta may face, including those driven by income inequality.
The Atlanta Way: Business Driving Social Impact
The Atlanta story is one of transformation and evolution. The economic landscape is thriving across industry sectors as the region continues to evolve from yesterday's traditional manufacturing model into today's digital age. But beyond growth in the business sector, metro Atlanta offers a compelling story about diversity, perseverance, collaboration and bias for action known as "the Atlanta Way."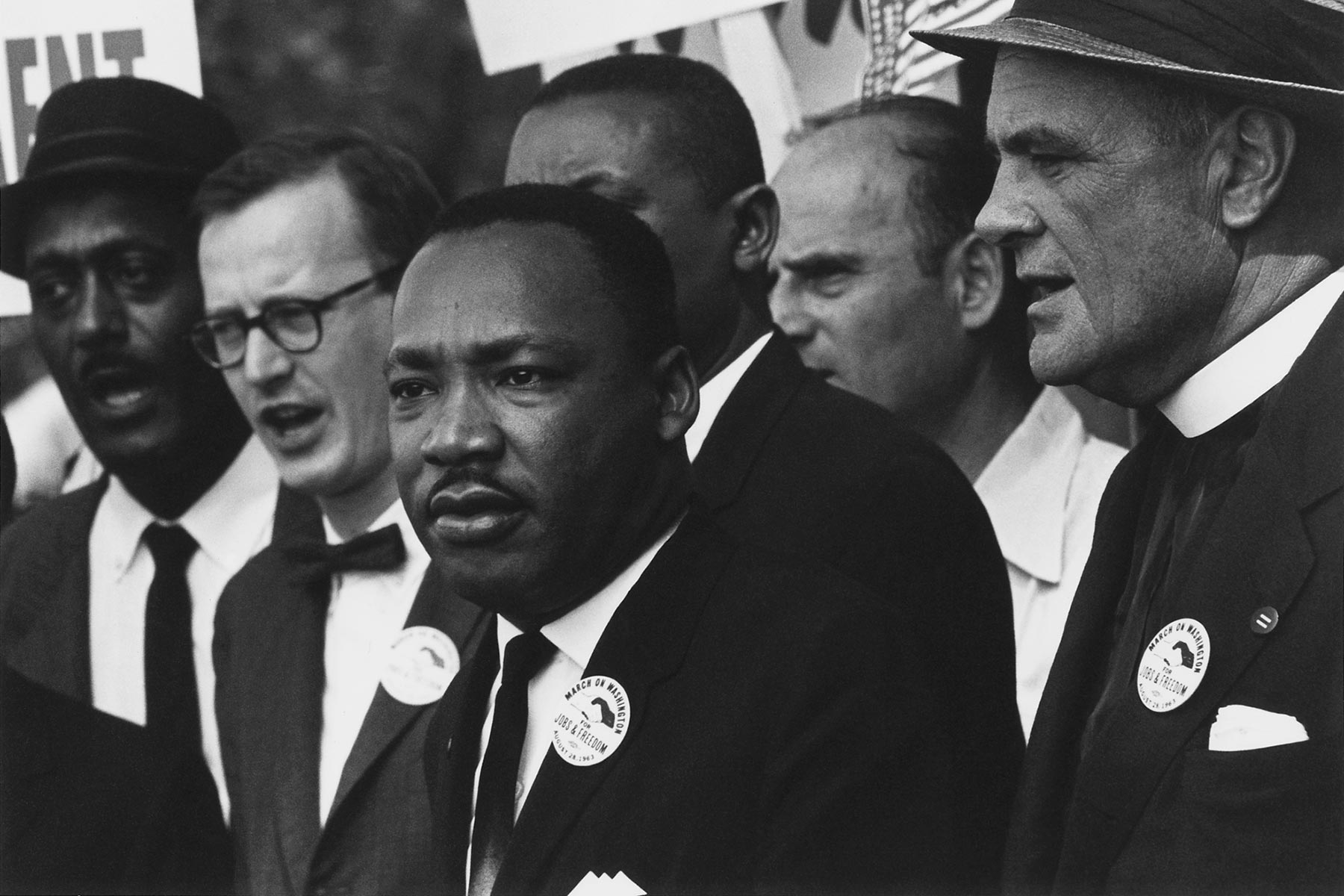 The Atlanta Way was once about the historic cooperation between whites and blacks during the Civil Rights Movement and epitomized Atlanta's reputation as the "city too busy to hate." Today, a still unified business community continues to drive impact as the region's corporate leadership both defines how Atlanta addresses social issues and models success for the rest of the nation. This is the place to take advantage of countless opportunities to redefine the way the world does business, to have a meaningful impact in the broader global society, and to live a fulfilling and inspiring life. That is the new definition of the Atlanta Way.
Leadership
Leaders are made in Atlanta. Across generations, this region breeds men and women who want to make a lasting impact, who want to disrupt the status quo and who shake up things in the name of progress. Game-changing business innovators, forward-thinking policymakers, legendary social activists and their unparalleled leadership are at the very heart of the Atlanta story. Atlanta's leaders have a sense of responsibility for the community. They take pride in paying their civic rent.
And the diversity of leadership in Atlanta is remarkable, too. Some of the region's most influential people move in industries as varied as sports (Arthur Blank), entertainment (Tyler Perry), business (Sara Blakely), tech (Tom Noonan), philanthropy (Michelle Nunn), and public service (Congressman John Lewis).
Atlanta's fertile social landscape is a wellspring for business thinkers and entrepreneurs with the guts to dream big. Big dreams brought the Olympic Games to Atlanta in 1996, and are bringing the trifecta of the sporting world to the city over the next three years: College Football Playoff National Championship (2018), Super Bowl LIII (2019) and the NCAA Men's Final Four (2020).
Georgia has become the #1 state for business four years in a row (Area Development and Site Selection Magazine), because of political and business leadership that fights to shape policies and perceptions that maintain a business-friendly climate.
Social Responsibility
Atlanta's business and community leaders make the case that business success and good stewardship don't have to be at odds. Atlanta leaders promote the concept that businesses can expand, grow their profits and create jobs while doing the greatest good for the most people. They are elevating metro Atlanta's profile as a region making great strides in advancing both goals.
During crisis, Atlanta comes together for the greater good. Most recently, the region's business community stepped up to support victims of Hurricane Harvey and Hurricane Irma with millions of dollars donated to aid in disaster relief. In 2005 after Hurricane Katrina, Atlanta's business community joined forces to host the state's – and perhaps the country's – largest job fair at the time at the Georgia World Congress Center. The event helped tens of thousands of displaced residents from across the Southeast who flocked to the event seeking a fresh start. Together, the business community also raised roughly $10 million to aid Katrina families.
In 2007, Grady Memorial Hospital, Georgia's largest hospital and world-renowned Level 1 trauma center, was $60 million in debt and facing closure. Seventeen members of Atlanta's business community came together again to form a task force that saved the region's only public safety-net hospital and safeguarded this health care option for the uninsured and underserved.
The region can have such a tremendous impact, because it's home to an engaged community of leaders that understands the benefits of collaboration to shape an ecosystem that has gotten Atlanta noticed and secures a better future for its citizens. A rich civil rights legacy has defined Atlanta as a hotbed for transformation, and today's leaders continue to build on that foundation. Channeling the activist spirit that defined the 1950s and 1960s, metro Atlanta's business community has joined forces to impact major issues, including changing the Georgia state flag and, most recently, defeating religious exemption legislation.
This spirit can be fully understood by studying the region's response to Dr. Martin Luther King, Jr.'s Nobel Peace Prize in 1964. When social conservatives in Atlanta refused to support an integrated dinner honoring Dr. King, Atlanta-based Coca-Cola directed its influence, galvanized Atlanta's business community and changed the region's history. Ultimately, then Mayor Ivan Allen worked with former Coca-Cola president Robert Woodruff and Coca-Cola CEO J. Paul Austin to convince the white business community to honor Dr. King. Nearly 1,600 ended up showing support for Dr. King at a dinner where they heard him say in reference to Atlanta:
"This marvelous hometown welcome and honor will remain dear to me as long as the chords of memory shall lengthen."
Philanthropy
Whether one's passion is the arts, global health, education or something entirely different, Atlanta has the right environment to help individuals and businesses make an impact, even on a global scale.
Metro Atlanta is a titan in the arena of nonprofit headquarters, including the American Cancer Society, Task Force for Global Health, Boys & Girls Clubs of America, CARE USA, Habitat for Humanity International and others.
Established by Robert W. Woodruff, former president of the Coca-Cola Company from 1923 until 1954, the Woodruff Foundation is a major multibillion dollar philanthropic organization that invests primarily in the city of Atlanta through health, education, economic and community vitality.
Here, even the smallest businesses have a heart to help. One notable example is Staplehouse, which was named America's best new restaurant in 2016 by Bon Appetit. All of the restaurant's after-tax profits go to The Giving Kitchen – a nonprofit of which Staplehouse is a subsidiary – that provides emergency assistance grants to metro Atlanta restaurant workers facing unanticipated crises.
In Atlanta, companies and individuals think big as they define giving strategies that impact the world.
Letter From Ted Turner – Disruptor, Environmentalist, and Founder of CNN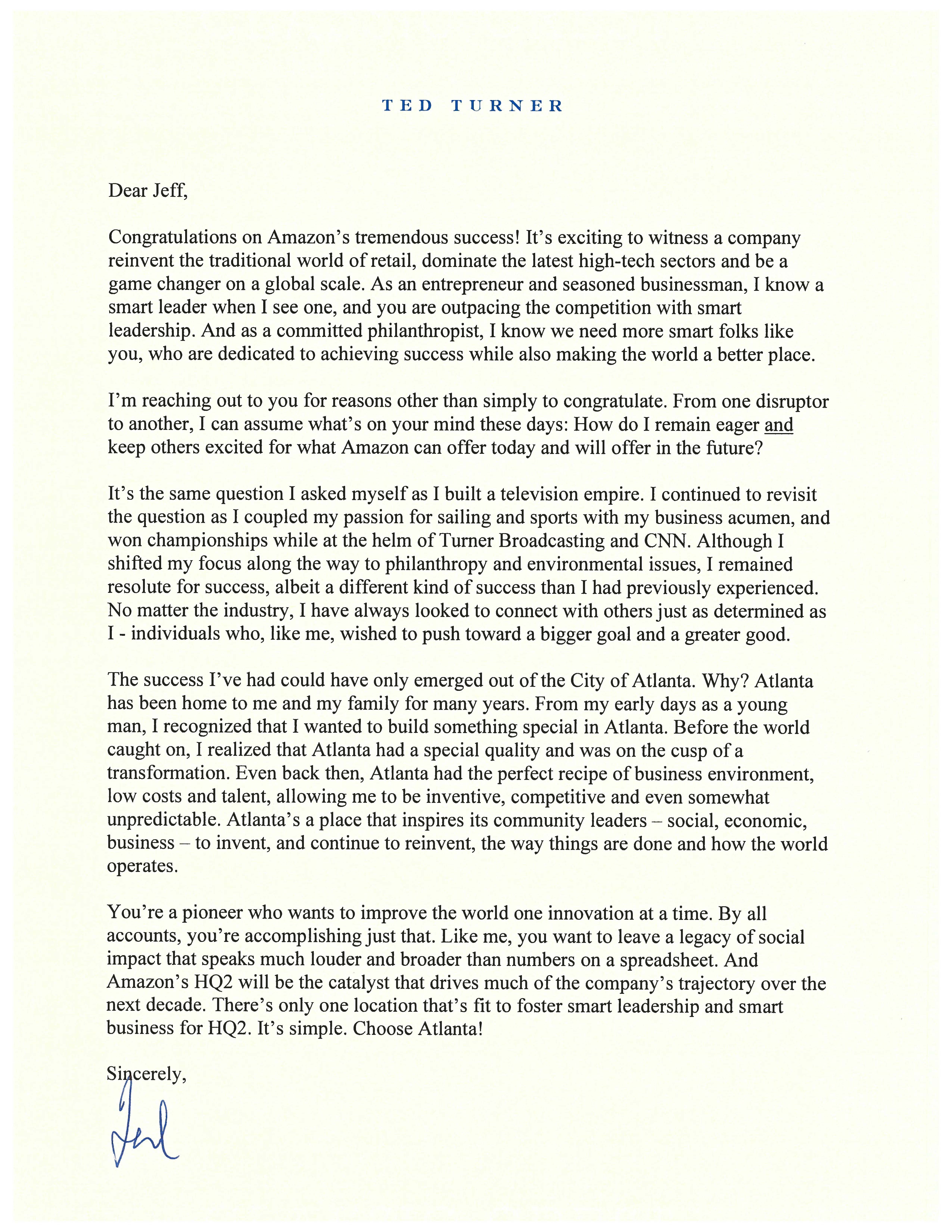 Need more information, or have a question?
Submit your question below and we'll respond shortly.