At A Glance
Atlanta has a diverse population as the 9th largest metro area of six million residents and three million workers. One-third of that population is next gen.
Atlanta is home to more than 75,000 software professionals.
Wage levels and low cost of living in the region allow for very competitive recruitment.
Universities and colleges within 300 miles produced 89,700 new graduates (during the most recent year) who studied business and technology fields.
ChooseATL is a leading-edge and award-winning movement designed to attract and retain talent.
#1 metro area for rate of job growth (up 3.2 percent over-the-year August), among the 12 largest metro areas in the nation – U.S. Department of Labor, August 2017
Atlanta views talent as Amazon views customers – the region is obsessed with attracting and retaining the best and brightest across industries. Amazon would find an unmatched talent pool in metro Atlanta, fueled by the region's large population and workforce, job growth, and pipeline of talented young professionals. Atlanta's growing, young, and diverse workforce enables businesses of every description to thrive. Atlanta's leap to top five headquarters dominance was catapulted in the 1990s and was recognized by a Chicago Federal Reserve study as one of the fastest growing headquarters cities from 1990-2000. In the 2000s, the second wave of growth in technology and innovation center bases followed the headquarters boom in Atlanta.
#3 metro area for number of jobs added (up 86,400 over-the-year August), among the 12 largest metro areas in the nation – U.S. Department of Labor, August 2017
Today, the professional and business services industry segment is the largest contributor to the region's job growth. Atlanta is the nation's 6th largest center for "office-using industries," which speaks to the strength of the city's headquarters and business services talent. The strength of this industry segment is demonstrated year after year as new companies choose Atlanta for headquarters and office operations. A wave of international companies continues to select metro Atlanta for their American base. Metro Atlanta is home to more than 1,100 regional and global headquarters locations (locations with 50 employees or more). Recent foreign-owned headquarters projects include Mercedes-Benz USA, Porsche North America, and many more. In addition, Atlanta's 15 Fortune 500 headquarters attract top executive talent across sectors and specialties. Globally-recognized and respected companies that call Atlanta home hire locally and draw talent from around the world, creating a diverse, highly-skilled and innovative workforce.
#3 market for growth of tech talent (47.6 percent change in tech occupations from 2011-2016) – CBRE, 2017
Technology companies thrive in Atlanta. Locally-grown talent, students, and industry experts from around the world come to Atlanta to be part of the city's creative technology environment. From FinTech to Cybersecurity to Digital Media & Entertainment to Communication Technologies and Supply Chain Management, Atlanta's companies develop talent that could be transferable to Amazon. Simply put, Atlanta's unique mix of tech talent, creative talent, and executive talent is driving growth.
#5 tech talent market (overall) – CBRE, 2017
Population and Workforce
As the 9th largest metro area with nearly six million residents and three million in the workforce, Atlanta is at the heart of one of the fastest-growing regions and one of the country's top job markets. The U.S. Conference of Mayors projects that metro Atlanta will grow to 8 million people by 2046, becoming the sixth largest MSA in the country. Continued population growth and favorable net migration enable metro Atlanta to support business demands for talent. In 2016, metro Atlanta businesses created 87,000 net new jobs, the fourth strongest performance nationwide as tracked by Moody's Economy.com. Over the next 10 years, the Atlanta job market is expected to grow by 11 percent, according to ESRI.
Additionally, Atlanta is a young city with a median age below that of the U.S. overall and one-third of the population are millennials. This youthful population provides Atlanta businesses with an abundant talent base for the future.
Important Facts:
Atlanta's projected annual population growth rate through 2022 (1.41 percent) is nearly double the national rate (0.83 percent). (ESRI, 2017-2022) Since 2010, Atlanta's population growth rate (11.1 percent) has been nearly double the national rate (5.2 percent). (Moody's Economy.com, 2010-2017)
Over the next 10 years, Atlanta will attract more than 975,000 new residents, adding roughly 100,000 per year. (Moody's Data Buffet, 2017)
From 2015 to 2016, metro Atlanta's net migration was 54,441, ranking it the 5th metro area in the nation. 67 percent of net migration in metro Atlanta was domestic; 33 percent was international (U.S. Census Bureau, 2017)
Atlanta is a leader in population diversity, making it an attractive home for talent from all around the world. Atlanta's Diversity Index of 68.4 is higher than the national average (64.0). (ESRI, 2017)
More than 790,000 residents are foreign-born. (American Community Survey, 2016)
Atlanta's workforce is highly educated with 37.5 percent holding at least a bachelor's degree, compared to the 31.0 percent national average. (ESRI, 2017)
Atlanta is home to 275,000 college students and 1.5 million K-12 students that feed into Atlanta's talent pipeline.
Labor and Wages
Atlanta businesses employ 1.2 million workers in occupations that could be a relevant talent pool for Amazon. These occupation categories range from management to administrative support. Projections indicate continued demand for these occupations over the next 10 years with the number of workers reaching nearly 1.3 million by 2027.
Number of Workers and Average Hourly Wages for Relevant Occupational Categories, Atlanta MSA
Occupations (2-digit SOC codes)
2017 Jobs
2027 Jobs
Avg. Hourly Earnings
Management Occupations
166,136
178,656
$59.13
Business and Financial Operations Occupations
167,290
181,446
$35.71
Computer and Mathematical Occupations
111,939
122,424
$42.97
Architecture and Engineering Occupations
40,737
43,439
$38.96
Legal Occupations
22,657
24,285
$53.62
Arts, Design, Entertainment, Sports, and Media Occupations
39,381
45,118
$25.91
Office and Administrative Support Occupations
417,707
441,453
$17.97
Transportation and Material Moving Occupations
219,175
236,216
$17.03
1,185,022
1,273,036
$30.10
Source: EMSI, Q3 2017
At a more specific occupation level grouping customized for Amazon's needs, metro Atlanta businesses employ 400,850 workers in 56 different occupations that are important to headquarters, business services and technology type operations. By 2027, businesses in Atlanta will employ more than 433,000 workers in these critical fields. Some of the top occupational categories within the 56 occupations include:
5,000 CEOs
10,000 Computer and Information Systems Managers
28,000 Accountants and Auditors
18,000 Management Analysts
21,000 Software Developers, Applications
13,000 Computer Systems Analysts
11,000 Software Developers, Systems
For details about additional specific occupations for consideration, click here.
Relative to several major markets, Atlanta stands out when considering the affordability of talent in the region.
Comparison of Mean Hourly Wages for Relevant Occupational Categories
Occupational Category
Atlanta, GA
New York, NY
Washington, DC
Boston, MA
San Francisco, CA
Management
$51.28
$66.63
$62.90
$54.68
$63.99
Business
$31.51
$39.36
$41.91
$36.60
$40.59
Computer/Mathematical
$46.06
$57.21
$56.43
$50.77
$57.76
Engineering
$35.79
$39.75
$46.82
$41.71
$46.05
Legal
$38.23
$53.94
$65.00
$44.00
$58.77
Arts/Entertainment
$22.65
$30.27
$33.74
$27.77
$29.01
Office/Administrative
$16.36
$18.88
$20.56
$19.64
$21.33
Transportation
$14.37
$16.05
$17.02
$16.23
$17.57
Source: EMSI, Q3 2017
When looking at workers with very specific IT-related skill sets, Atlanta wage rates are highly competitive among major U.S. talent markets. Atlanta compensation rates are roughly 80 percent to 90 percent of those in Seattle, according to national IT staffing firm MATRIX. A sampling of wages for IT occupations in Atlanta compare favorably against rates in Seattle, as an example.
Salary Data for Detailed IT Occupations (by Percentile)
Position Title
Atlanta 50th
Seattle 50th
Director of IT
$131,717
$153,333
Applications Development Manager
$128,134
$140,910
Project Manager
$114,676
$112,688
Scrum Master
$107,177
$113,092
Enterprise Software Architect
$136,502
$132,587
Quality Assurance / Tester
$89,632
$107,842
Oracle Database Administrator
$106,203
$115,231
SQL Server Database Administrator
$109,186
$115,466
BI/Data Warehouse Developer
$93,566
$100,942
C# / .NET Developer
$110,126
$129,761
Java / J2EE Developer
$106,397
$137,388
Mobile Applications Developer
$98,127
$106,033
UI Developer
$108,090
$124,676
Web Developer
$101,725
$136,311
Network Administrator (LAN/WAN)
$95,186
$97,609
Information Systems Security Engineer
$96,863
$113,663
Help Desk Analyst
$42,081
$50,004
Business Analyst (Technical)
$80,974
$96,969
Technical Support Analyst
$64,477
$70,565
UNIX Systems Administrator
$95,214
$97,048
Source: MATRIX, IT Salary Surveys, 2017
Software Development Talent
Metro Atlanta has software development talent both in the field based on current occupational data as well as in related technical positions with potentially transferable skill sets. Today, the metro area is home to 75,368 software professionals using Standard Occupational Classification (SOC) data. Over the next five years, the number of workers in this field will increase by 10 percent.
75,000 Software Professionals:
22,000 Software Developers, Applications
14,000 Computer Systems Analysts
11,000 Software Developers, Systems
10,000 Computer and Information Systems Managers
7,000 Computer Programmers
5,000 Computer Network Architects
4,000 Database Administrators
2,000 Web Developers
Source: EMSI, Q3 2017
Atlanta's universities and colleges are providing a continuous pipeline of software talent. Over the last five years, local institutions have supplied nearly 17,000 graduates in programs related to software development. From 2012 to 2016, this pipeline has increased 44 percent.
Pipeline of New Graduates1 Specific to Software Development from Institutions in Atlanta/Athens Area
Field of Study
2016
Computer and Information Sciences, General
1,095
Computer Science
637
Network and System Administration/Administrator
692
Information Technology
297
Computer and Information Systems Security/Information Assurance
268
Computer Systems Networking and Telecommunications
156
Web Page, Digital/Multimedia and Information Resources Design
119
Information Science/Studies
156
Computer Programming/Programmer, General
115
Computer Engineering, General
142
Computer Programming, Specific Applications
149
Computer Systems Analysis/Analyst
33
Computer Software Engineering
37
Bioinformatics
31
Artificial Intelligence
11
3,938
1 Bachelor's or higher degrees
Source: EMSI, IPEDS, 2016
Software development talent in Atlanta gathers at more than 65 monthly meet-ups with 1,000 or more members. Examples include:
Atlanta Tech Village: largest monthly gathering of entrepreneurs in the Southeast
Technology Association of Georgia: over 35,000 members representing over 2,000 tech and tech-enabled companies
Atlanta JavaScript Meetup Group: monthly meet-up of more than 4,500 JavaScripters
PyAtl: monthly meet-up of nearly 4,000 Python programmers
Women Who Code, Atlanta: professional community of nearly 2,500 women in tech jobs throughout the Atlanta region
Higher Education Pipeline
Graduates from Atlanta's world-class colleges and universities supply employers with skilled talent annually.
The region ranks as the #5 metro area for retaining college grads from two- and four-year institutions with a 73.2 percent retention rate, according to CityLab and Brookings.
Additionally, the region attracts graduates from around the country and around the world, further contributing to the city's diverse talent base.
Within 100 miles of Atlanta, more than 22,000 graduates completed degrees in business and relevant technology fields in 2016. Given Atlanta is a draw for regional talent, by expanding the radius to 300 miles, IPEDS data indicates nearly 90,000 graduates completed degrees in such fields. This regional pipeline provides the opportunity for Amazon to attract aspiring minds.
Within 300 miles:
89,700 grads in business and relevant technology fields
58,000 grads in business and management
20,000 grads in engineering and engineering technology
11,700 grads in computer and information sciences, math and science
Forty-three schools graduating 500 or more students with degrees in specified fields are within 300 miles of Atlanta. These schools are prime suppliers of talent to the Atlanta metro area and include some of the country's leading educational institutions.
Business and Relevant Technology Graduates at Institutions within 300 miles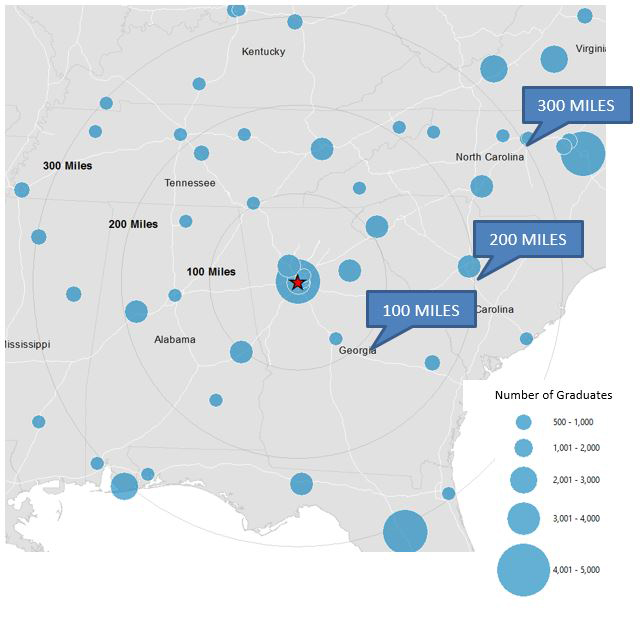 Schools with 500 or More Graduates in Selected Programs*
Within 100 Miles of Atlanta
School
Grads
City
State
Georgia Institute of Technology
5,341
Atlanta
Georgia
University of Georgia
2,747
Athens
Georgia
Georgia State University
2,449
Atlanta
Georgia
Kennesaw State University
2,421
Kennesaw
Georgia
Emory University
1,036
Atlanta
Georgia
University of Tennessee-Chattanooga
825
Chattanooga
Tennessee
University of West Georgia
645
Carrollton
Georgia
Mercer University
603
Macon
Georgia
University of North Georgia
503
Dahlonega
Georgia
Between 100 and 200 Miles of Atlanta
School
Grads
City
State
University of Alabama
3,459
Tuscaloosa
Alabama
University of South Carolina-Columbia
3,378
Columbia
South Carolina
Auburn University
2,641
Auburn
Alabama
Clemson University
2,632
Clemson
South Carolina
University of Tennessee Knoxville
2,289
Knoxville
Tennessee
Georgia Southern University
1,291
Statesboro
Georgia
Troy University
1,247
Troy
Alabama
University of Alabama at Birmingham
1,117
Birmingham
Alabama
Middle Tennessee State University
1,013
Murfreesboro
Tennessee
University of Alabama at Huntsville
947
Huntsville
Alabama
Tennessee Technological University
859
Cookeville
Tennessee
Western Carolina University
692
Cullowhee
North Carolina
Between 200 and 300 Miles of Atlanta
University of Florida
4,573
Gainesville
Florida
Columbia Southern University
3,785
Orange Beach
Alabama
Florida State University
3,364
Tallahassee
Florida
University of North Carolina at Charlotte
2,909
Charlotte
North Carolina
University of Kentucky
1,959
Lexington
Kentucky
Mississippi State University
1,460
Mississippi State
Mississippi
University of Mississippi
1,441
University
Mississippi
University of North Florida
1,115
Jacksonville
Florida
Vanderbilt University
1,030
Nashville
Tennessee
Appalachian State University
1,017
Boone
North Carolina
Wake Forest University
874
Winston-Salem
North Carolina
Western Kentucky University
861
Bowling Green
Kentucky
University of North Carolina at Greensboro
838
Greensboro
North Carolina
College of Charleston
836
Charleston
South Carolina
Murray State University
754
Murray
Kentucky
North Carolina A & T State University
702
Greensboro
North Carolina
University of South Alabama
697
Mobile
Alabama
The University of West Florida
690
Pensacola
Florida
East Tennessee State University
605
Johnson City
Tennessee
Bethel University
588
McKenzie
Tennessee
*Programs: Bachelor's or Higher in Computer and Information Sciences and Support Services, Engineering, Engineering Technologies and Engineering-Related Fields, Mathematics and Statistics, Business, Management, Marketing and Related Services.
Source: IPEDS, 2016
For additional information on Atlanta's universities and colleges, please click here.
Ability to Attract Talent
Metro Atlanta understands and embraces the paradigm shift occurring with the largest generation, millennials, now dominating the workforce. By thoughtfully building a community that meets the cultural, career and social needs of a young and energetic workforce, Atlanta has created an awesome home for the next generation of talent.
ChooseATL
In 2015, metro Atlanta invented ChooseATL, an initiative that mixes digital engagement with high-touch live events and experiences. Through this effort, metro Atlanta has galvanized young people and drawn them to the region while creating a movement among local leaders – from City Hall and the state Capitol to corporate headquarters – who are more focused than ever on this important demographic of rising leaders.
ChooseATL has engaged more than one million millennials across the U.S., generated more than one billion paid and earned media impressions, and propelled the region to rank among top moving destinations for millennials. The effort has also been praised by national media, including Bloomberg, Forbes, and CNBC, and markets across the U.S. have begun to launch similar initiatives. In 2016, ChooseATL was awarded a Gold Award by the International Economic Development Council for its innovative approach to talent attraction.
More importantly, metro Atlanta has tracked impact and can draw correlations between this initiative and a gravitational pull that is drawing talent to the region. Today, while the U.S. labor force is growing at just under 1 percent, metro Atlanta has grown to hover just over 4 percent growth – a significant improvement over recent years.
While many cities have launched marketing campaigns, Atlanta has launched an entire brand platform for the metro area. This movement includes social campaigns such as the Graduation Takeover, which delivers Atlanta-branded content to students graduating from universities outside of the region (and their parents), digital assets such as ChooseATL.com, and a BuzzFeed-like neighborhood tool. The metro region has also held headline-making live experiences around the world, such as the ChooseATL House at SXSW that trended in the top five in the U.S. on Twitter during the conference. With momentum on its side, ChooseATL now enters into its next phase as a critical strategy to sustain the growing demand for top talent.
In 2018, ChooseATL will make Atlanta the first region to launch a video platform that showcases the region's talent and reaches the next generation around the world. Known as THEA, pronounced "Thee-uh," the video platform will be known to insiders to represent "the A" (as Atlanta is affectionately known). The platform will highlight Atlanta's innovation in tech, colliding with the emerging film and digital media talent. THEA will also mix in the Atlanta-born music and culture that is shaping the world and ensuring Atlanta's rise into the future. The platform will also be a prominent asset for Atlanta-based companies in their efforts to directly attract talent across various industries.
Much like the way Amazon has built a brand around the values of the next generation workforce, flexibility, hustle, and innovation, ChooseATL is doing the same. Together, Atlanta and Amazon will reinvigorate these efforts with an increased focus on attracting and retaining more tech talent into the future.
Job Posting and Hiring Ratios
Based on CareerBuilder data, Atlanta businesses have a relatively easy time recruiting talent. Job posting intensity, a ratio of total job postings to unique or de-duplicated job postings, helps gauge the difficulty of hiring for specific jobs in a given market. In metro Atlanta, for headquarters and technology occupations as a group, the job posting intensity is 5:1. This means that for every unique (de-duplicated) headquarters or technology position, the employer posts the position a total of five times. A second measure is the posting-to-hire ratio, defined as number of hires for each unique job posting. In metro Atlanta, for every one hire in headquarters and technology occupations, there are typically six job postings. Some jobs are easier to fill than others. For example, computer network support specialists in metro Atlanta have a posting-to-hire ratio 1:11 (11 hires for each posting), which means that hiring far outpaces the employer's need to post for every position. Other examples of relevant positions that are relatively easy to fill in Atlanta, as measured by posting-to-hire ratios, include: software developers, systems software 1:2 (two hires for each posting); computer programmers 1:1.5 (1.5 hires for each posting); administrative services managers 1:4 (4 hires for each posting).
Alumni Attraction
In addition to world-class local talent from Georgia Tech, Emory, and other local institutions, Atlanta's business community attracts alumni from critically acclaimed and globally respected universities from across the nation. Atlanta ranks in the top 10 for cities that attract graduates from top-tier business and engineering schools.
Atlanta Talent – University Affiliation
Institution
Number of Affiliated -Professionals in Atlanta*
Georgia Institute of Technology
46,267
Emory University
23,743
Vanderbilt University
3,401
University of Maryland, College Park
3,066
University of Michigan
3,030
Purdue University
3,022
Duke University
2,972
University of Virginia
2,938
University of Texas at Austin
2,505
Harvard University
2,297
University of Illinois at Urbana-Champaign
2,370
Northwestern University
1,917
University of Pennsylvania
1,829
Columbia University
1,233
Johns Hopkins University
1,080
University of California, Berkeley
1,063
Stanford University
1,018
Yale University
791
Massachusetts Institute of Technology
789
Carnegie Mellon University
694
University of Chicago
673
Princeton University
534
*Analysis based on number of profiles on major professional networking sites such as LinkedIn that list one of the top 25 business or engineering schools (as ranked by U.S. News & World Report) for education and have had activity since 2015.
Source: EMSI, 2017.Q3
Staffing Support
Atlanta is rich with staffing companies ready and able to assist Amazon with staffing needs. Highly-regarded executive search firms and staffing agencies, including MATRIX, Heidrick & Struggles, Korn/Ferry International, Spencer Stuart, Randstad, Robert Half, TRC Staffing, KForce, and Russell Reynolds have a presence in metro Atlanta. There are approximately 400 employment services firms in the region, several of which have multiple offices.
Need more information, or have a question?
Submit your question below and we'll respond shortly.