At A Glance
Outdoor recreation, with myriad options for hiking, biking, water sports and more, are available year-round because of Atlanta's moderate climate.
Atlanta's robust arts and music scene is complemented by vibrant nightlife options.
Atlanta is a foodie town offering unlimited choices of cuisine and ambiance.
Metro Atlanta's cost of living index is below the national average.
Diverse in-town and suburban neighborhoods with housing options and lifestyle amenities for all stages of life and interests are available around the region.
Atlanta is full of vibrant neighborhoods that offer the breadth of culture and entertainment to suit individuals and families from every walk of life. It's the urban landscape that inspires big city dreams and an affordable way to do it all. And the metro area is nestled amid nature's finest outdoor treasures and some of the best nearby locales to recharge. Atlanta has incredible livability.
Daily Living and Recreational Opportunities
There's always something to do in Atlanta. The region offers an abundance of lifestyle options from outdoor recreation, sporting events, arts and music, culinary delights, nightlife, festivals, attractions, and much, much more.
Outdoor Recreation
#2 Metro Area with Magnificent Hiking Trails - Marmot, 2016
#2 City for Fitness - WalletHub, 2017
#5 City for Recreation - WalletHub, 2017
As "the city in a forest," Atlanta's tree-filled landscape – nearly 48 percent of Atlanta is covered by an urban tree canopy, the highest percentage in the nation – offers remarkable variety for outdoor recreation both in the urban core of the region and just outside of the city. Atlanta's weather is ideal for enjoying all that our beautiful outdoor spaces offer throughout the year. With an average annual temperature of 61 degrees and four distinct seasons, our moderate climate is sunny 60 percent of the time, averaging 117 days of precipitation per year and 47 inches of annual rainfall. The warmest month is typically July with an average temperature of 80.2 degrees; the coldest is typically January with an average temperature of 44.2 degrees. But there's plenty of great weather in between these two contrasts. (Source: U.S. Climate Data)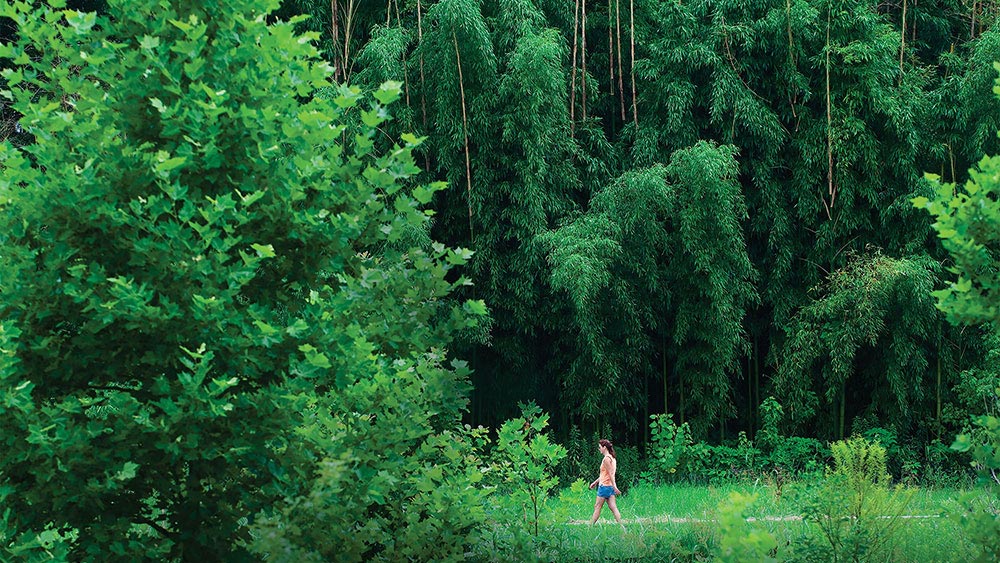 Atlanta is home to more than 300 parks dispersed across roughly 3,000 acres of parkland and greenspaces. There are also myriad opportunities for biking, hiking, water sports and other activities around the region along with more than 100 golf courses and over 300 golf days to enjoy on the fairway.
Additionally, there are more than 30 dog parks in Atlanta and surrounding areas, including Piedmont Dog Park, a nearly 3-acre dog run in Piedmont Park with separate enclosures for small and large breeds, and Freedom Barkway, a 2-acre greenspace surrounded by leafy trees in Freedom Park in Old Fourth Ward.
One initiative that is redefining Atlanta's recreational landscape is the Atlanta BeltLine, which was conceived in 1999 by Georgia Tech student Ryan Gravel. It is the most comprehensive transportation and economic development effort ever undertaken in the city and among the largest, most wide-ranging urban redevelopment programs currently underway in the U.S. This sustainable redevelopment project will ultimately connect 45 intown neighborhoods via a 22-mile loop of multi-use trails, modern streetcar, and parks – all based on railroad corridors that formerly encircled Atlanta. When completed, it will provide first and last mile connectivity for regional transportation initiatives and will catapult Atlanta's economic growth and sustainability for decades.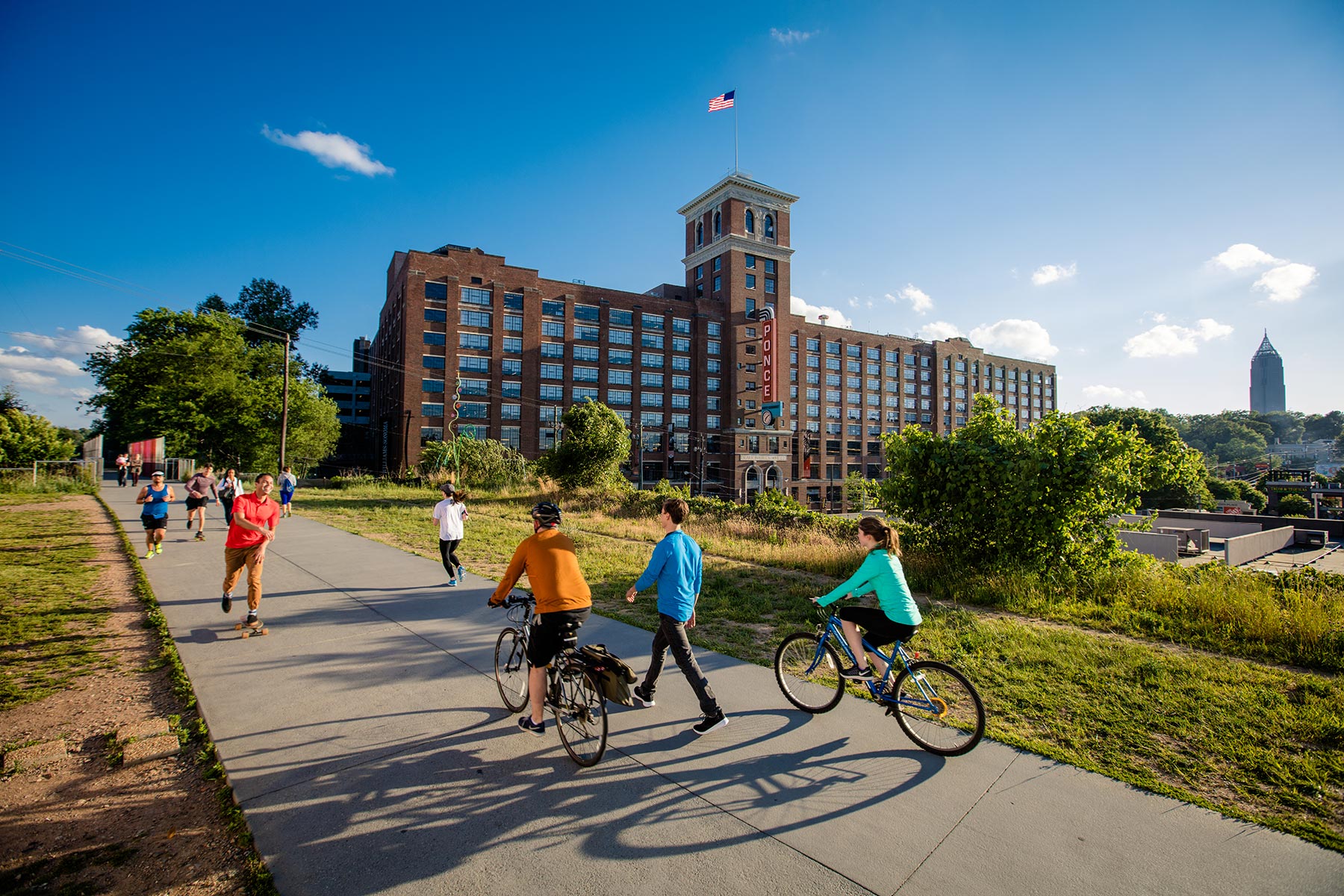 Sampling of Outdoor Recreation Options:
The Silver Comet Trail - a 95.5-mile continuous trail from Atlanta (Marietta area) to Anniston, Alabama.
Unlimited hiking options including the Chattahoochee River National Recreation Area, Kennesaw Mountain and the North Georgia Mountains.
Piedmont Park - Every year, Piedmont Park hosts major festivals such as the Atlanta Dogwood Festival, Music Midtown and Atlanta Pride. But the 211-acre park is open year-round to athletes, nature lovers and anyone who enjoys a good stroll through a beautiful green space.
Centennial Olympic Park – Centennial Olympic Park not only serves as a legacy of the 1996 Olympic Games, but is the center of a thriving tourist district with neighbors that include the College Football Hall of Fame, the Center for Civil and Human Rights, the World of Coca-Cola, Georgia Aquarium, CNN Center and Imagine It! The Children's Museum. This downtown Atlanta park is an urban oasis offering an abundance of activities and things to do for visitors, families, convention attendees and locals.
Lake Lanier (Northeast of metro Atlanta) and Lake Allatoona (Northwest of metro Atlanta) – for fishing, swimming, and boating.
Lanier World – Relax on the sand or enjoy the water park rides and attractions at this beach on Lake Lanier.
Red Top Mountain State Park – With 15 miles of trails along Lake Allatoona, this park is the perfect spot for hiking and water sports.
Chattahoochee River Recreation Areas – Covering 15.3 square miles in the heart of metro Atlanta, the river valley attracts people for many reasons. Take a solitary walk to enjoy the display of nature, raft leisurely through the rocky shoals, fish the misty waters, or have a picnic on a beautiful Sunday afternoon.
Atlanta Botanical Garden (Midtown) – Maintains plant collections for the purpose of display, education, research, conservation, and enjoyment.
Adult recreation leagues and clubs for popular sports, such as tennis, softball, soccer, basketball, cycling, running, swimming and triathlon are available throughout the metro area.
The Atlanta Lawn Tennis Association (ALTA) is the largest city tennis league in the world with more than 80,000 members throughout the metro area.
The Atlanta Track Club (ATC) is the second largest running organization in the United States, serving 27,000 members who are runners and walkers of all ages and paces
REI – With four locations in the metro Atlanta area, REI offers outdoor classes and activities including hiking, camping, cycling, kayaking, paddle boarding, yoga, etc.
Arts and Music
#1 Place for Museums Per Capita (tied with New York, San Francisco, DC) - WalletHub, 2017
Enjoying exhilarating art and powerful performances are an important part of life in Atlanta. Whether one prefers traditional or avant-garde options, there's something for every taste. In addition to countless performances at music venues ranging from grand auditoriums to cozy lounges, the city is home to over 60 major music events and 30 festivals, including the renowned Atlanta Jazz Festival, Shaky Knees, Shaky Beats, Music Midtown, A3C (named one of Expedia's 20 Must-Experience Festivals in the U.S. for 2017) and many more.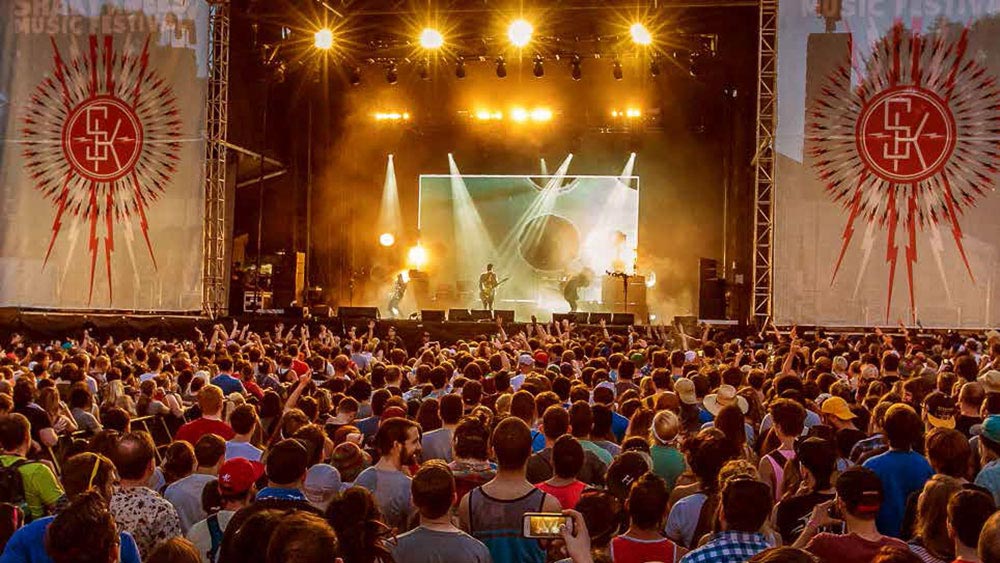 Sampling of Arts and Music Venues:
See "Creative Culture" section for an in-depth review of Atlanta's rich music scene.
Sporting Events
Sports in Atlanta have a rich history. Since Atlanta successfully bid for the 1996 Olympics, Atlanta has quickly accelerated to become an epicenter for sporting events in the Southeast. Atlanta is the proud site of the College Football Hall of Fame, which relocated from Indiana in 2009 due in part to the added exposure offered with an Atlanta locale.
Atlanta is the home to 10 professional sports teams, including the Atlanta Braves (MLB), Atlanta Falcons (NFL), Atlanta Dream (WNBA), Atlanta Hawks (NBA), Georgia Swarm Lacrosse, and Atlanta United FC (MLS), which kicked off in March 2017 and has already set a record for the most highly attended soccer match in the MLS's 22-season history. On average, a professional sports team plays in Atlanta once every three days.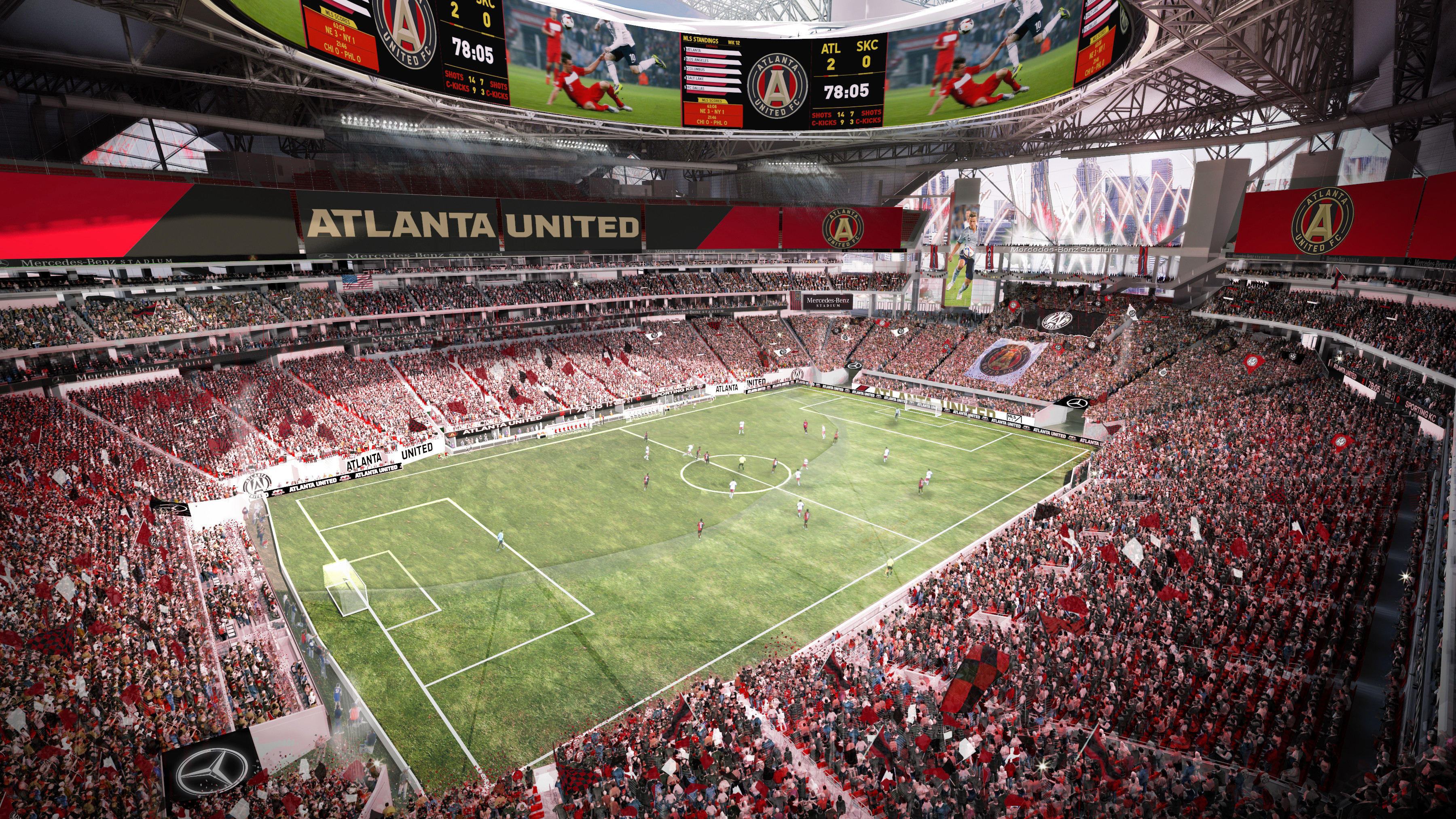 Professional Sports Teams:
| | |
| --- | --- |
| Atlanta Falcons | National Football League (NFL) |
| Atlanta Braves | Major League Baseball (MLB) |
| Atlanta Hawks | National Basketball Association (NBA) |
| Atlanta United | Major League Soccer (MLS) |
| Atlanta Dream | Women's National Basketball Association (WNBA) |
| Atlanta Silverbacks | National Premier Soccer League (NPSL) |
| Gwinnett Braves | Minor League Baseball (MiLB) |
| Gwinnett Gladiators | East Coast Hockey League (ECHL) |
| Georgia Swarm | National Lacrosse League (NLL) |
| Atlanta Blaze | Major League Lacrosse (MLL) |
Atlanta, while rich in its own team pride, is also a top sports destination for other major sporting events. The city will host the coveted College Football Playoff National Championship in 2018 along with Super Bowl LIII in 2019, both at the new Mercedes-Benz Stadium, and the NCAA Men's Final Four in 2020. Atlanta is also the major sporting destination for college football (SEC Championship, Chick-fil-A Peach Bowl and Chick-fil-A Kickoff Game), PGA golf (TOUR Championship and Mitsubishi Electric Classic), professional tennis (BB&T Atlanta Open), professional lacrosse (MLL Championship), professional auto racing (Monster Energy NASCAR Series and Petit Le Mans), and recreational running (AJC Peachtree Road Race, world's largest 10K road race, and the Publix Georgia Marathon).
Culinary Delights
Two of the nation's top 20 food halls (Ponce City Market and Krog Street Market) - Cushman & Wakefield, 2016
#3 City for Most Restaurants Per Capita – WalletHub, 2017
Atlanta boasts a brilliantly colorful culture of food and drink that has evolved significantly over the last ten years. Among some of the great traditional restaurants is a new culinary guard that is winning awards and changing up Atlanta's food scene. They've taken Atlanta by storm, making it a top contender among other food epicenters of the south, such as New Orleans and Nashville. From gastropubs and tapas bars to "meat and three" restaurants and 24-hour diners, Atlanta is a destination for foodies. Many restaurants in the city have beginnings that can be traced back as far as the 1920s and still ring true to their traditions of great service and delicious food while being cultural landmarks for the city.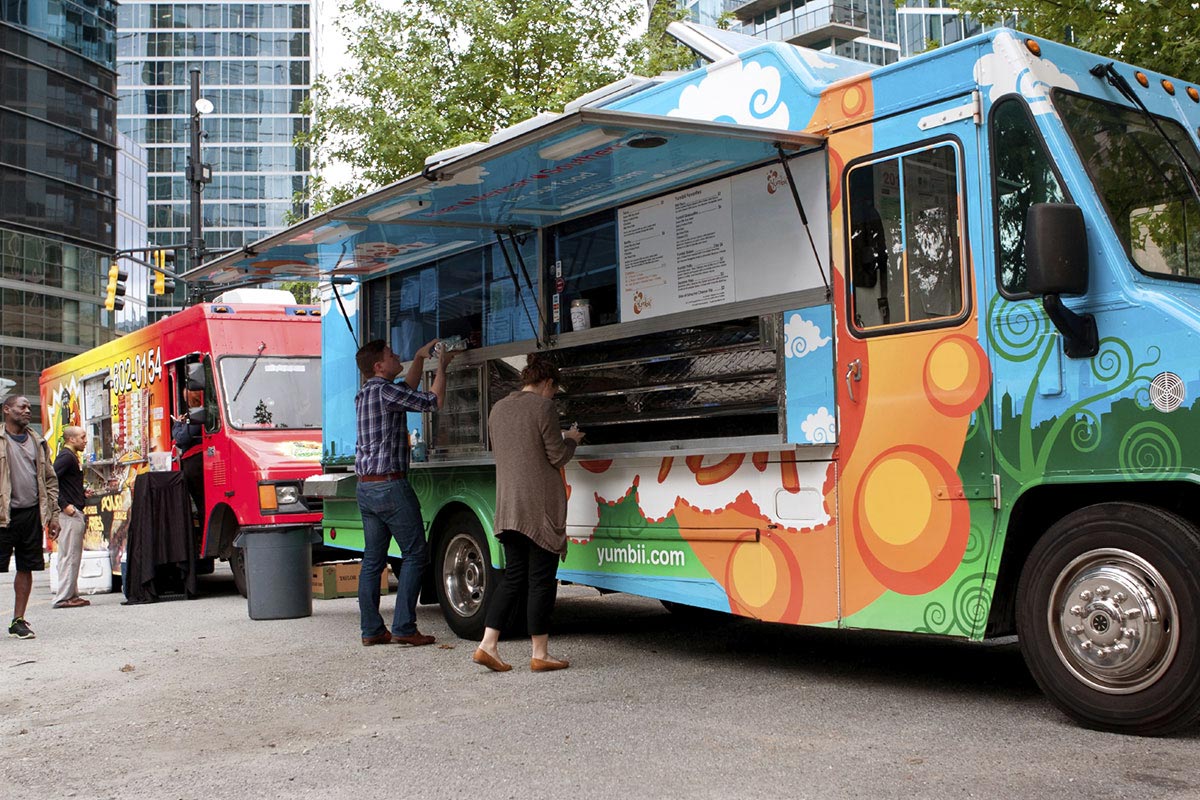 Metro Atlanta has so many compelling restaurants that one always finds a new place to try throughout the metro area. Dining out is very popular in Atlanta and is the primary way people socialize. One of the great things about metro Atlanta is the variety of cuisine available – continental, southern comfort food, barbeque, Italian, Chinese, Thai, Vietnamese, Korean, Persian, Korean, Indian, Latin American, etc. One of the most popular food destinations for diverse cuisine is Buford Highway (BuHi), an international corridor of food diversity. BuHi hosted its first restaurant week in September of this year with a diverse selection of cuisine. Restaurants are also very accommodating to those that have dietary preference including vegetarian, gluten-free, etc. Atlanta Magazine produces an annual list of metro Atlanta's 50 best restaurants.
15 James Beard Foundation Award semifinalists in 2017
Best New Restaurant (Staplehouse) – bon appetit, 2016
Just this year, Atlanta's Steven Satterfield of Miller Union won the James Beard Foundation Award for Best Chef: Southeast. As a finalist, he was joined by Ryan Smith of Staplehouse. Other Atlanta finalists included: St. Cecilia (Best Restaurant) and Miller Union (Outstanding Wine Program) along with three selections in the American Cooking Award category for books, Asha Gomez's My Two Souths, Vivian Howard's Deep Run Roots, and Ronni Lundy's Victuals. Overall, 15 semifinalists represented Atlanta and Athens in the 2017 competition.
Breweries
Metro Atlanta has seen continuous growth and evolution of local breweries, brewpubs, and craft beer over the years. Enjoying local craft beer from breweries that pride themselves in exceptional craft beer experience is an important part of Atlanta's food and drink scene. In addition to the bold flavors and great ingredients, the craft beer industry in Atlanta is special largely because of the community aspect and deep roots in the neighborhoods they call home.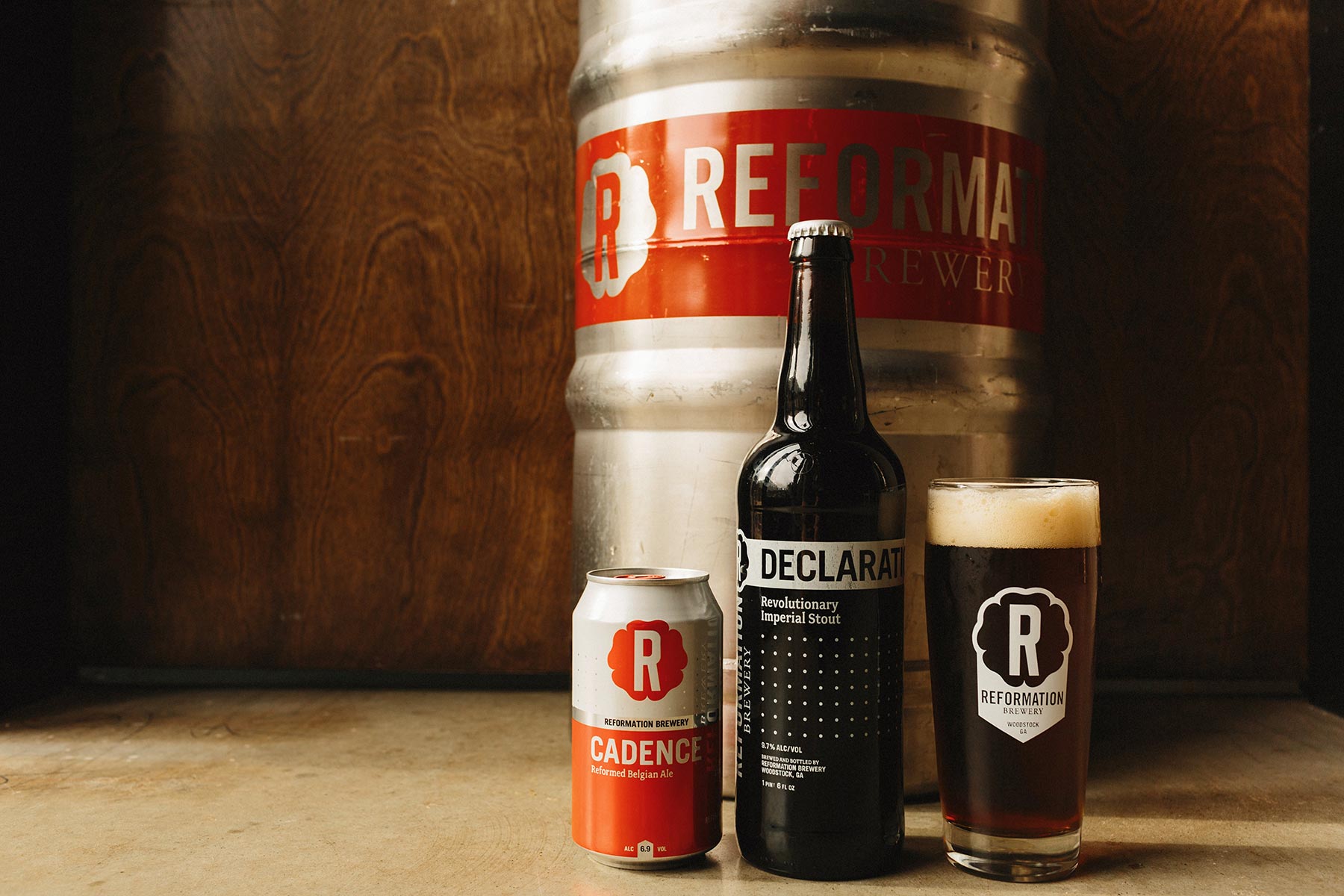 Sampling of Breweries:
Nightlife
#1 City for Most Nightlife Opportunities Per Capita (tied with San Francisco, Portland, Las Vegas, New Orleans and Tampa) – WalletHub, 2016
Nightlife in Atlanta is electric! Dance the night away at one of the many clubs in the metro area, indulge in a wine tasting or brewery stop, or enjoy a riotous comedy show – the options are endless. Nearly every part of the metro region offers its own flair for nightlife. One example is Midtown, which comes alive with some of Atlanta's best nightlife – from nightclubs with DJs and dancing to comedy and improv; live music performances to art openings, historic theaters to live music venues. One can easily walk from bar to bar or club to club along Crescent Avenue. Buckhead is also a popular nightspot, offering places to dance or just relax on a patio. Popular standalone establishments for nights out include Johnny's Hideaway (which plays everything from the 50s to today) and Havana Club (which plays contemporary music all the way to salsa and merengue). With so many choices, deciding where to go can be difficult. Atlanta Magazine produces an annual list of metro Atlanta's 50 best bars that helps fun seekers narrow down the selection.
Attractions
In addition to arts, music, food and the like, Atlanta offers a variety of family-friendly attractions that define the region. They provide the perfect opportunities for learning about history, nature or just having fun in the city.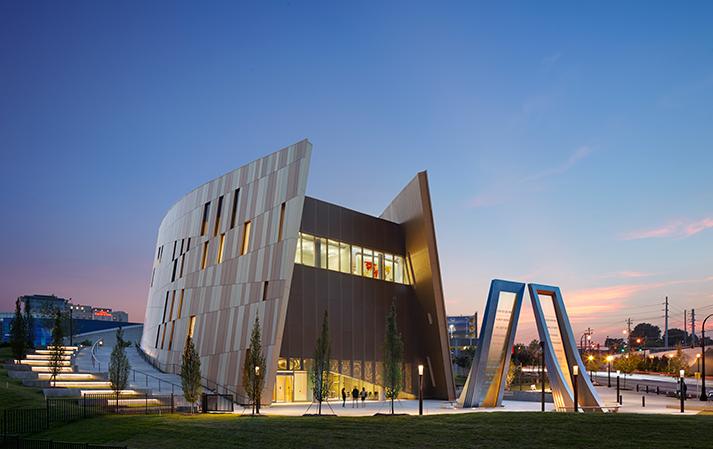 Sampling of Attractions:
Cost of Living
With a cost of living index (98.7) below the national average, metro Atlanta offers the advantages, options, and comforts residents expect in a world-class city coupled with the affordability to enjoy life to the fullest. It also enables the start-up and entrepreneurial ecosystem to continue to thrive and grow.
Cost of Living (2016 Annual Average):
Composite Index: 98.7
Grocery Items: 103.8
Housing: 88.5
Utilities: 103.1
Transportation: 101.7
Health Care: 107.9
Miscellaneous Goods and Services: 101.6
*U.S. Average: 100
Source: C2ER Cost of Living Index, 2016
Housing
#1 Moving Destination in the nation for 7 consecutive years – Penske, 2011-2017
Metro Atlanta's diverse in-town neighborhoods and suburbs offer variety and character for housing choices. Housing options in Atlanta neighborhoods range from high-rise apartments and condominiums to townhouses to historic single-family homes. There are approximately 2.2 million housing units in the Atlanta market, about 528,000 of which are multifamily housing units (Sources: Esri, CoStar). Midtown Atlanta alone had at least 6,000 new housing units under development as of January 2017, many of which will be located in next gen-focused, mixed-use facilities (Source: Curbed Atlanta). Approximately 38 percent of occupied housing units in Atlanta are rented, while 62 percent are owned in 2017, according to Esri. In the most recent U.S. Census (2010), nearly 90 percent of metro Atlanta's housing units were in urbanized areas or urban clusters.
Atlanta was ranked #5 among the top hottest housing markets - Realtor.com, 2016
In 2016, Atlanta was listed as one of the most affordable markets for a typical family to qualify for a mortgage loan for a single-family home, according to the Housing Affordability Index from the National Association of Realtors. A typical home in Atlanta's real estate market has a median value per square foot of $100, one of the most affordable median home values in the nation for single-family homes for a city of its population size, according to Zillow.
The American Planning Association recognized Midtown Atlanta as one of its top five U.S. neighborhoods on its Great Places in America list - American Planning Association, 2016
Atlanta will see the construction of 11,797 new apartment units in 2017, an increase of approximately 40 percent from 2016 to 2017 (Sources: Yardi Matrix, RENT Café). In-town Atlanta neighborhoods have rental prices per unit ranging from $828/month in Oakhurst to $1,753/month in Midtown, while the suburban counties surrounding Atlanta have rental prices per unit ranging from $511/month to $1,430/month, according to CoStar. Additionally, Atlanta ranks first among major U.S. cities for having the largest apartment sizes as assessed by RENT Café.
Please click below for pricing and other data, including:
Atlanta has a demonstrated track record of absorbing growth in a way that increases quality of life and amenities for citizens. Residential developers in the region are incredibly responsive to the region's ever-evolving housing needs and will quickly rise to the challenge of creating more homes for Amazon's workforce.
Neighborhoods
Metro Atlanta has a variety of distinct neighborhoods that offer their own characteristics and cultural experiences. From energetic, high-rise condos in downtown Atlanta to quaint bungalows in Brookhaven, there are housing options and lifestyle amenities for all ages and interests. These unique neighborhoods form the fabric that makes Atlanta vibrant, diverse and ever-evolving. Use the ChooseATL Neighborhood Finder to explore all the possibilities. See the "Welcome to Atlanta" book for more information about the vibrancy of Atlanta's neighborhoods.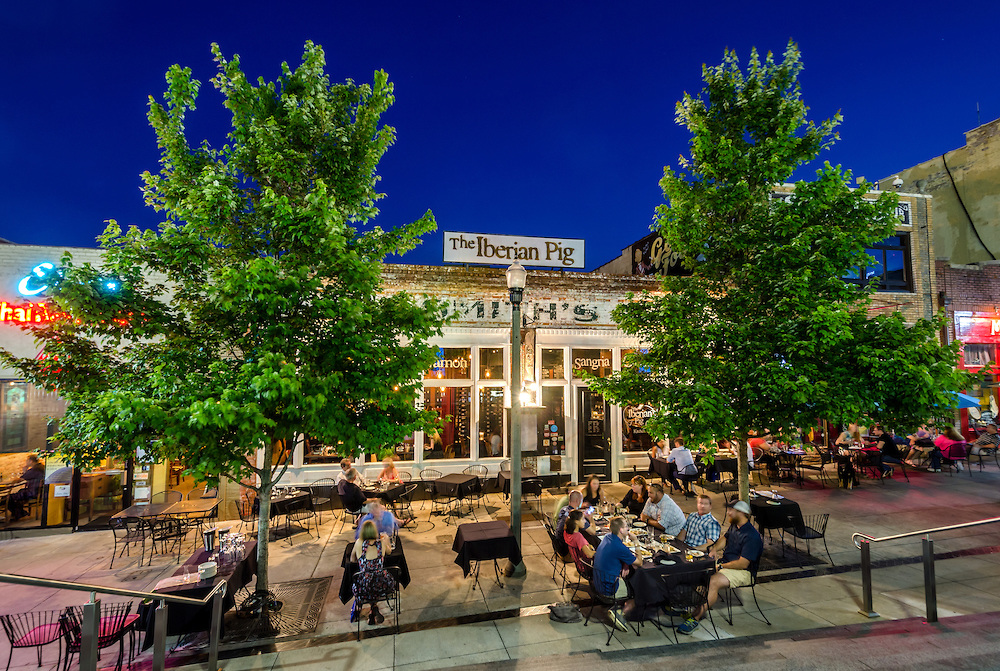 Sampling of Neighborhoods:
Downtown Atlanta is home to many exciting attractions and fun-filled destinations. In fact, many of the city's most sought after attractions are all within walking distance of each other, making downtown the center of this cosmopolitan southern city.
Buckhead is an ultra-chic Atlanta neighborhood where you can experience award-winning restaurants, world-class hotels and homes, and legendary shopping. The neighborhood is home to Lenox Square, Phipps Plaza and The Shops Buckhead, the upscale destinations for shoppers throughout Georgia.
A center for commerce, business, arts, and education, Midtown is home to Georgia Institute of Technology and more than 30,000 residents. Surrounding properties allow walkable access to Piedmont Park, restaurants, and other great attractions. Also, Midtown is home to the regional offices for Google, Facebook, and many more exciting companies.
One of the highest rated entertainment and shopping areas in Atlanta, Little Five Points is praised for its eclectic and unique culture. The area is filled with fantastic spots to eat like The Vortex and The Porter, as well as a collection of one of a kind shopping experiences for vintage clothes, records, comics, and books. Little Five is also home to premiere spots for live music like The Variety Playhouse and Aisle 5.
A central location, Kirkwood is just four miles from downtown Atlanta and surrounded by great boutique shopping and restaurant destinations. In the middle of what's happening, Decatur, Little Five Points, Candler Park, and East Atlanta are just a few miles away. There is a vast variety of homes from craft bungalows to Folk Victorian style houses.
Castleberry Hill is a culturally diverse area with a strong urban community and historic identity. Many of the early 20th century warehouses have been converted to lofts, a very popular housing option. The second Friday of each month, you'll enjoy the Castleberry Hill Art Stroll, an opportunity to check out the galleries within the neighborhoods historic arts district. It is considered one of the top 10 arts districts in the country.
A small subset community with quaint homes, Poncey-Highland offers several historic condo and apartment buildings. This is a great area for outdoor enthusiasts as it has easy access to the Atlanta BeltLine and Freedom Park Trail for biking, running, or walking around Atlanta. Enjoy neighboring amenities including the Plaza Theater, Majestic Diner, and Manuel's Tavern, or take a stroll down bustling North Highland. The new award-winning Ponce City Market breathed new life into the historic Sears, Roebuck & Co. building in Poncey Highland.
One of the most historic areas of the city, Old Fourth Ward has recently experienced an overwhelming revitalization. A mix of modern innovation and classic community values, businesses and neighborhoods continue to bloom with many renovated properties coming on the market. Old Fourth Ward is walker friendly with great boutique shopping centers, entertainment venues, parks, and restaurants in close proximity.
East Atlanta is a diverse, friendly area with traditional neighborhood charm. The Washington Post calls it the best kept secret in Atlanta and Creative Loafing says it's the epitome of cool and a neighborhood's neighborhood. East Atlanta Village has a number of quality shops, bars, and restaurants that can only be rivaled in Atlanta by Midtown and the Virginia-Highland neighborhoods. The area might be best known for its live music, which hosts great bands almost every night of the week.
On the east side of Atlanta, three miles from downtown, Edgewood is the perfect spot for recent graduates and young professionals. There is a vibrant bar scene in Edgewood with local favorites including Church and Mother.
A premier example of Atlanta's spectacularly beautiful garden suburbs, Inman Park is considered "Atlanta's first suburb." Nestled next to the Virginia Highlands and Little Five Points, Inman Park offers exceptional walkability to local restaurants and bars. Houses vary from quaint bungalows to southern-style Victorians. Enjoy quick access to The Atlanta BeltLine or many parks for a relaxing day outside.
Virginia Highlands is in the heart of a trendy community of arts and entertainment destinations. Enjoy walkable access to a lively restaurant and bar scene, numerous parks, and historic homes.
One of the most affluent neighborhoods in Atlanta, Druid Hills contains some of Atlanta's most historic mansions dating back to the 19th and early 20th centuries. The area is home to the Centers for Disease Control and Prevention and Emory University, which is the third largest employer in Atlanta. A small commercial strip called Emory Village was revitalized in 2011 with new sidewalks and outdoor spaces, making a nice destination for residents and students alike.
Grant Park is a large borough with a strong neighborhood feel. The area offers many local businesses, restaurants, and nightlife options, but it's best known for the Victorian architecture of its homes. If you're looking for a festive neighborhood, Grant Park is for you, as it's also home to Zoo Atlanta, and many local farmers' markets and events.
Brookhaven is a community with a variety of living options from old cottages, bungalows, and ranch houses to new, modern energy efficient homes. The city boasts a number of great parks like Briarwood Park or Murphey Candler Park with great outdoor facilities like athletic fields and walking trails.
Located just east of Downtown, Cabbagetown is considered one of the artistic and cultural hubs of the city. The neighborhood attracts a diverse range of artists, musicians, indie connoisseurs, and unidentified creatives. This is one of the most walkable neighborhoods in the city with a number of trendy restaurants and taverns, including Krog Street Market and Inman Park. Cabbagetown has a rich and engaging community and many housing options from condos to single family homes.
Located just east of Atlanta, Decatur attracts people in all stages of life thanks to its strong schools and beautiful historic homes. From the Fernbank Museum of Natural History to Eddie's attic, this neighborhood is rich in culture.
Healthcare
Metro Atlanta provides access to one of the most qualified, affordable and efficient healthcare systems in the country. Patients from around the world come to Atlanta for medical expertise. Metro Atlanta's healthcare community includes more than 60 hospital locations and more than 125,000 healthcare practitioners and technicians. Major healthcare providers include: Emory Healthcare, Grady Health System, Northside Hospital, Piedmont Healthcare, Children's' Healthcare of Atlanta and WellStar Health System. Atlanta is home to two Level 1 trauma centers (Grady Memorial Hospital and Atlanta Medical Center), a pediatric trauma center (Children's Healthcare of Atlanta at Egleston), a designated burn center (Grady Memorial Hospital), a top rehabilitation hospital for spinal cord and brain injuries (Shepherd Center), as well as a comprehensive cancer center (Winship Cancer Institute at Emory University).
Atlanta's healthcare industry is supported by Emory Medical School and Morehouse School of Medicine whose faculty staff many of our leading hospitals. With the Center Disease Control and Prevention headquartered in Atlanta, we share our expertise across the globe. Many of our hospitals have been recently built or are undergoing major renovations as a result of our rapid population growth. For example, Children's Healthcare of Atlanta, one of the nation's top pediatric hospitals, announced plans for a new billion-dollar hospital.
Hospitality and Hotel Market
Atlanta ranks as a premier international hospitality and hotel market - among the top five destinations for conventions and tourism and the top ten metro areas for hotel inventories. Our region is home to more than 810 hotels with more than 95,700 rooms - a significant hotel market that can accommodate visiting Amazonians and guests. Nearly 30 percent of the region's hotel rooms are located within the city limits.
Atlanta has a proven track record of winning bids and accommodating guests for significant national and international events. The city will host the College Football Playoff National Championship in 2018, Super Bowl LIII in 2019 and NCAA Men's Final Four in 2020. 2017 should be a record-breaking year as Atlanta hosts 18 major citywide conventions. In 2016, the city hosted 52 million visitors for approximately 700 conventions, meetings and events. These visitors contributed more than $15 billion to the city's economy. Hotel occupancy rates were at an all-time high at 73 percent, and revenue growth increased by 8 percent. Also in 2016, approximately 1.7 million hotel room nights were booked for future years. By 2020, $3 billion in new hospitality development is expected to open. (Source: Atlanta Convention & Visitors Bureau, 2017)
Atlanta's flexible event spaces are perfect for meetings and conferences of any size. The region's venues have a combined capacity of over 2 million square feet, suitable for anything from a frugal gathering to the most high-end event. The Georgia World Congress Center offers 1.37 million square feet of space for exhibits and meetings. Several of the region's largest annual conventions and events include the AmericasMart Atlanta International Gift and Home Furnishings Market, SEC Football Championship, Chick-fil-A Peach Bowl and Dragon Con.
| | Atlanta MSA | Seattle MSA |
| --- | --- | --- |
| Visitors | 52 Million | 38.9 Million** |
| Hotel Rooms | 95,700 | 36,739* |
| Occupancy | 73% | 82.7% |
*King County
**Downtown Seattle
Source: Atlanta Conventions & Visitors Bureau, Annual Report, 2016; Visit Seattle Annual Report, 2017-18 (2016 data)
Public Safety
Like all cities, public safety is important to Atlanta. A unified commitment from local law enforcement, corporate partners and major contributors has been established to ensure that residents and businesses feel safe in our region. Using the latest cutting-edge technology, law enforcement has achieved a reduction in overall crime across the city. Officials are also dedicated to equity in and engagement with the communities they serve.
The At-Promise Youth & Community Center recently opened its doors. This center is a state-of-the-art learning and community facility. It's dedicated to creating pathways to success for youth in Atlanta and reducing the number of young people negatively experiencing the criminal justice system. It will focus on five key specialty areas: education, recreation, social and emotional learning, mental health, and workforce development.
Overall crime, including property and violent crimes, has been steadily decreasing in Atlanta over time, both per capita and total. Since 2009, overall crime counts in the city of Atlanta have decreased 30 percent. The decline in crime includes a sharp reduction from 2009 to 2016 in burglaries (down 48 percent), robberies (down 28 percent), and aggravated assaults (down 18 percent). These decreases have occurred during a period of rapid population growth in Atlanta. (Sources: Atlanta Police Department, FBI Uniform Crime Reports)
Atlanta Police Chief Erika Shields' priorities are to reduce violent crime, focus on repeat offenders, curb juvenile crime and improve technology, recruitment and retention of officers. This year, the Atlanta Police Foundation, a public-private partnership of law enforcement and community stakeholders, raised $20 million from corporate partners and others for its "Cutting Edge, Cutting Crime" campaign. The funds will further efforts by the Atlanta Police Department to implement more security cameras, expand technology infrastructure, support the At-Promise Youth Center on the Westside, a residential community for new recruits, and housing for several police officers in the communities of Vine City and English Avenue.
Crimes per 100,000 Inhabitants in 2016
Region
Violent crime total
Murder & non-negligent manslaughter
Forcible rape
Robbery
Aggravated assault
Property crime total
Burglary
Larceny-theft
Motor vehicle theft
City of Atlanta
1,084
23
29
438
593
5,249
933
3,470
845
Metro Atlanta
403
7
24
144
228
2,998
576
2,101
321
Source: FBI Uniform Crime Reports (UCR)
Need more information, or have a question?
Submit your question below and we'll respond shortly.