At A Glance
Eighty percent of the U.S. market is reachable within two delivery days by truck via metro Atlanta's three interstate highways (I-75, I-85, I-20) or within two hours by plane.
Hartsfield-Jackson Atlanta International Airport is the world's most-traveled airport based on passenger volume and has the most non-stop markets served, both domestic and international combined.
In 2016, City of Atlanta voters approved over $2.5 billion in additional MARTA funding for expansion of our existing heavy rail, light rail, bus and new BRT services.
Atlanta is ranked #4 among large cities for bike commuting growth between 2000 and 2016 (Source: 2016 American Community Survey Data Report, League of American Bicyclists).
Atlanta is tied for the lowest Travel Time Index for metros with a population over three million.
Transportation Infrastructure
One of the strengths of metro Atlanta is its solid transportation infrastructure, including three interstate highways, world-class airport, freight train capabilities, and connections to the state's two seaports. Combined, these assets have helped metro Atlanta grow into one of the top three logistics distribution hubs in the U.S., an achievement that supports sustained growth for companies throughout the region.
Interstate Highways
Eighty percent of the U.S. market is reachable within two delivery days by truck via metro Atlanta's three interstate highways:
Interstate 75 - the major link between the Southeast and the Great Lakes, which runs 1,786 miles, serving Miami, Tampa, Chattanooga, Knoxville, Lexington, Cincinnati, Toledo, Detroit and other major cities
Interstate 85 – the major travel corridor between the Deep South and the Mid-Atlantic, which runs 666 miles, serving Montgomery, Charlotte, Greensboro, Research Triangle, Richmond and others
Interstate 20 – the major east-west highway, which runs 1,535 miles from Texas to South Carolina, serving Dallas, Shreveport, Birmingham, Columbia and others
The state has an ongoing commitment to invest in the region's transportation infrastructure. That was demonstrated in 2015 with the passing of Georgia House Bill 170 - Transportation Funding Act. The bill permanently doubled Georgia's investment in its transportation network, taking funding from $1 billion to $2 billion annually. This adds to $1.2 billion in federal funding annually. These funds will go towards capital maintenance and system preservation, innovative transportation systems, managed lanes, transit expansion and operations and smart corridors.
International Airport
Hartsfield-Jackson Atlanta International Airport is the world's most-traveled airport based on passenger volume. It serves more than 100 million passengers annually and nearly 250,000 passengers per day. This includes Delta Air Lines' Hub at ATL, which with over 1,000 departures to more than 200 global destinations, is the largest airline hub in the world (with 25% more daily departures than the next largest US Airline Hub). Because of its prime location, 80 percent of the U.S. is within a two-hour flight. Hartsfield offers nonstop flights to more than 150 destinations and over 70 international destinations in 45 countries. In fact, it is the #1 U.S. airport for total nonstop markets served (domestic and international).
Daily Nonstop Service from Atlanta (July 2017)
Destination
Airport
Daily Flights from ATL (nonstop)
Seattle
Seattle/Tacoma (SEA)
11
New York
John F. Kennedy (JFK)
7
La Guardia (LGA)
27
Newark, NJ (EWR)
19
Bay Area
San Francisco (SFO)
10
Oakland (OAK)
2
San Jose (SJC)
3
Washington DC
Washington National (DCA)
20
Washington Dulles (IAD)
12
Baltimore MD (BWI)
18
Ongoing investment is maintaining Hartsfield-Jackson as a world leader.
ATL Next is a $6-billion expansion plan that is expanding one concourse by five gates, adding a new concourse with 10 gates and adding a sixth runway.
It will also include a 400-room InterContinental Hotel.
Rail and Ports
Over 5,000 railroad miles run throughout Georgia, making the state the largest intermodal hub in the region. CSX Transportation and Norfolk Southern each operate more than 80 freight trains in and out of Atlanta daily, and overnight freight service is available from the two nearby ports.
The Port of Savannah, the largest single container terminal in the nation, is approximately 250 miles from Atlanta. It is also the nation's fastest growing and fourth-busiest container port while serving as the second-busiest U.S. container exporter. The Port of Savannah is the only U.S. container port with two Class 1 railroads onsite - CSX and Norfolk Southern - and it has the largest concentration of import distribution centers on the east coast. Work is well underway on the Savannah Harbor Expansion Project, a $973 million channel deepening project, which will allow Post- and Neo-Panamax vessels to call on Savannah regardless of tide, ensuring Savannah's future as the southeastern U.S. hub of choice for ocean-going imports and exports.
The Port of Brunswick is approximately 300 miles from Atlanta. It is the #1 port in the U.S. for new automobile imports.
Commuting Options
While metro Atlanta's infrastructure is ideal for helping companies to connect to satisfy their business needs, receive and deliver products and provide services, the region also offers a variety of options for helping people get around the city and find convenient access to work and leisure activities. Commuting options around metro Atlanta are just as diverse as the people and places in our city.
Rail and Bus Service
MARTA, or Metropolitan Atlanta Rapid Transit Authority, is the metro region's heavy rail and bus service.
Not only does it connect Atlanta's neighborhoods to one another, MARTA also provides residents with direct, convenient access to the airport– in fact, the #1 airport service in the nation, with an average of three minutes from baggage claim to rail platform and 16 minutes from arrival to destination. In 2016, Atlanta voters overwhelmingly approved the additional MARTA half-penny sales tax, which will result in over $2.5 billion in new local funding for transit expansion.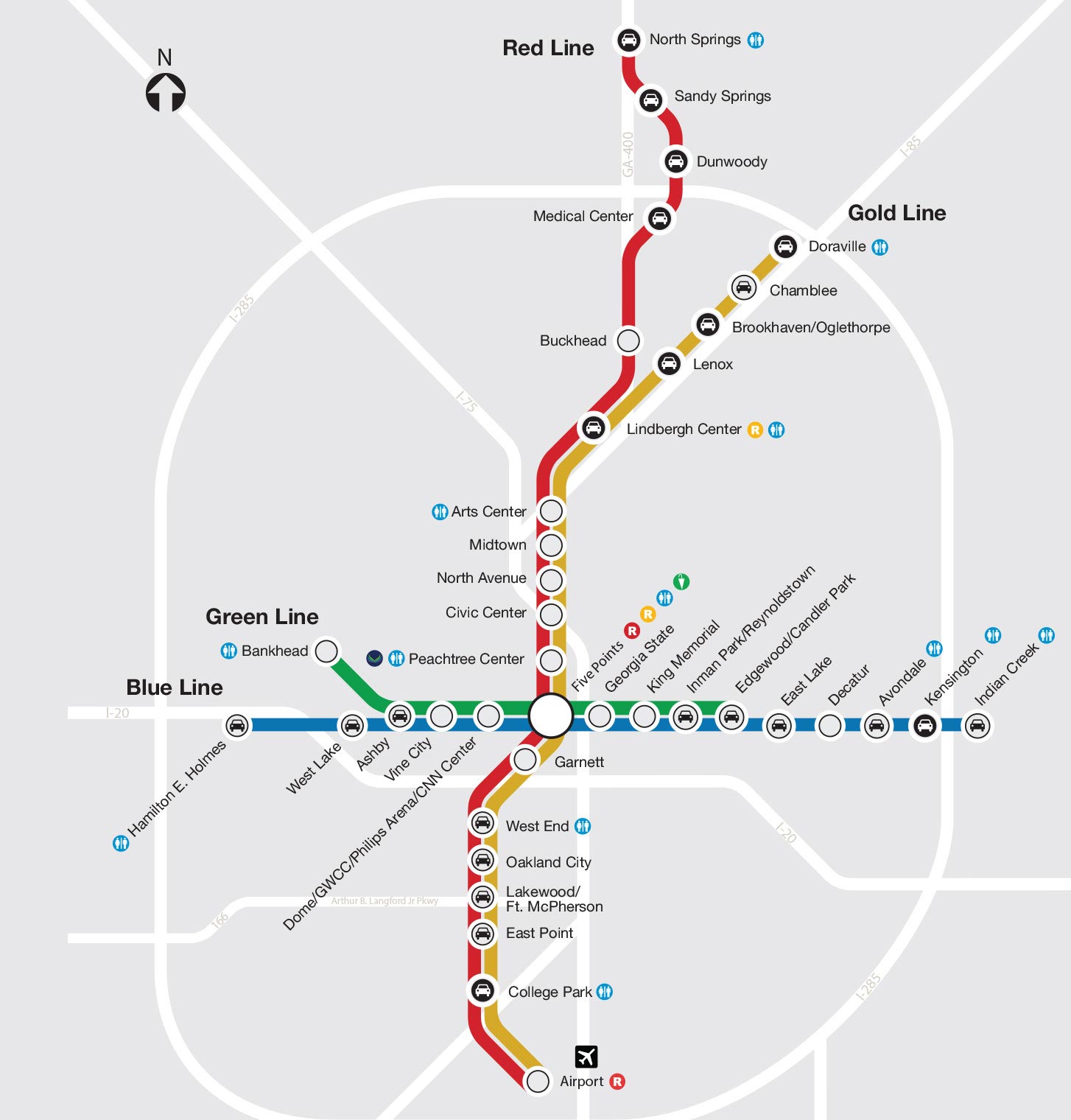 Every weekday, 500,000 people are moved by MARTA. So many factors are driving MARTA's numbers - they've reduced emissions by 95 percent in 347 of their buses by using compressed natural gas, supporting Atlanta's clean air and sustainability efforts. They are ranked second lowest in crime rate among the nation's transit services - in fact, the current crime rate for the MARTA system is 2.68 per one million passenger boardings. And MARTA's on-time performance is among the best in the nation for rail.
Every company and new employee Atlanta welcomes into the city drives the momentum and excitement around the improvements already being made to the public transit system. One of those efforts is the highly successful Transit Oriented Development (TOD) program, which is working to transform under-performing properties into high-density Live-Work-Play communities anchored around MARTA rail stations. Another is called Station Soccer at Five Points, the world's first soccer field in a train station that is aimed at allowing youth to find new opportunity regardless of where they come from.
Summary of Public Transit in Selected Areas
Midtown
Midtown, North Avenue and Arts Center MARTA rail transit stations; MARTA bus service
Virginia Highland
MARTA bus service
Brookhaven
Brookhaven MARTA rail transit station; MARTA bus service
Buckhead
Buckhead and Lenox MARTA rail transit stations; MARTA bus service
Marietta
GRTA Xpress bus service during morning and evening commute between Marietta and downtown Atlanta
Cobb County Transit Xpress bus service during morning and evening commute between Marietta and Arts Center MARTA rail transit station
Local bus service provided around Marietta, and between Marietta and other Cobb County locales by Cobb County Transit
Vinings
Local bus service provided between the Vinings area and other Cobb County locales by Cobb County Transit
Sugarloaf/Duluth
GRTA X-press bus service during morning and evening commute between Sugarloaf/Duluth area and to Midtown MARTA station and downtown Atlanta
Gwinnett County Transit provides bus service between Sugarloaf Mills, Duluth/Gwinnett Place Mall, Norcross and the Doraville MARTA rail transit station
Perimeter/Dunwoody
Dunwoody and Medical Center MARTA rail transit stations; MARTA bus service
Roswell/Sandy Springs
Sandy Springs and North Springs MARTA rail transit stations; MARTA bus service
Johns Creek
MARTA bus service
GRTA X-press bus service during morning and evening commute between Johns Creek to Chamblee MARTA station
Alpharetta
MARTA bus service
Downtown
Civic Center, Peachtree Center, Five Points, Dome/GWCC Phillips Arena/CNN Center, and Georgia State MARTA rail stations, MARTA bus service
Atlanta Streetcar to King Historic District
Commuter buses including GTRA Xpress, CobbLinc, and Gwinnett County Transit to multiple metro suburban locations
Hartsfield-Jackson
Airport MARTA rail station
Commuter Programs
Commuters who make their way into the city in their own cars have options for assistance as well, through programs like Georgia Commute Options from the Georgia Department of Transportation. This free program offers monetary incentives to motivate commuters to carpool, tax benefit assistance, and employer education. The Midtown Alliance is also working in this area through transportation incentives, partnerships with companies, and discounted MARTA and commuter bus passes. With the average drive for Atlanta workers ranging around half an hour, these options are a key example of the city's strong partnership in commitment to improving public transit options.
Bike Commuting
Atlanta can also be seen from under bike helmets in 44 miles of bike lanes and 36 miles of multi-use paths. Atlanta is ranked the 4th largest city for growth of bike commuting, up more than 331 percent from 2000 to 2016. Part of that increase comes from the Relay Bike share program, specifically used for commuting from over 70 locations, with over 500 bicycles available for use by students, locals, and visitors. Another contributor is the PATH foundation, also used for commuting and representing over 250 miles of trails in and around Atlanta for walkers, runners, cyclists, and skaters.
These scenic greenways help to keep the city firmly planted in the forest and provide alternative modes of transportation to work and play. And the Atlanta Bicycle Coalition is constantly working to make biking a safer and more appealing option by offering free bike valet at the Mercedes-Benz Stadium, providing biking classes and resources, installing bike racks, promoting lane infrastructure, and hosting a favorite local event, the Atlanta Streets Alive initiative. This festival happens three times each year and closes a section of a busy street for pedestrians and cyclists, giving attendees a whole new view of the area.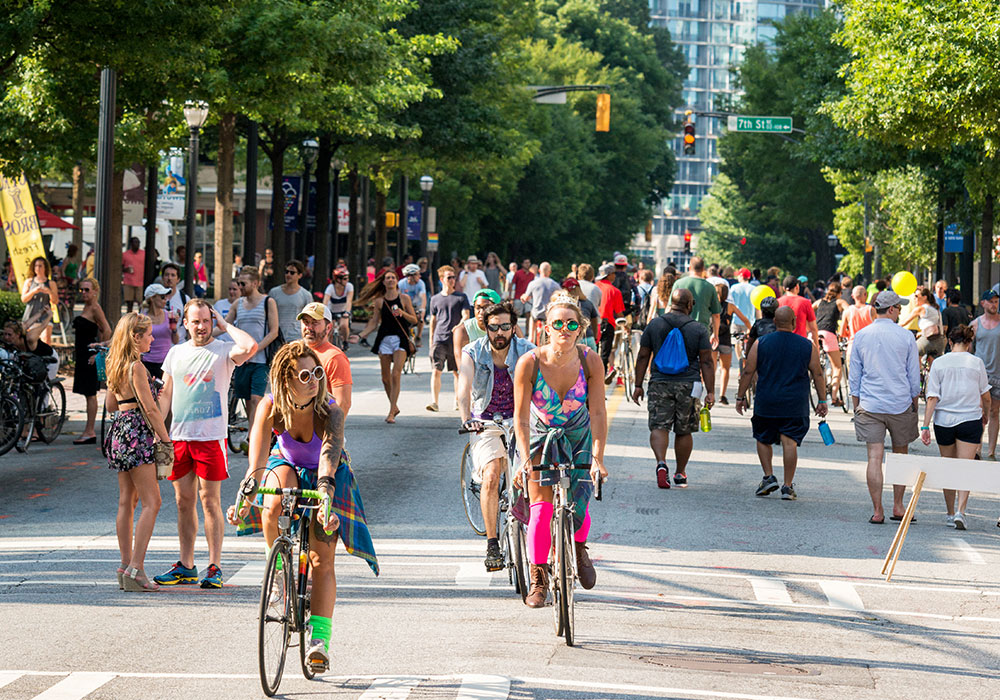 Increasing Commuter Options
All these programs and partnerships have come with Atlanta's increased demand for public transit improvements, which show no sign of slowing down. With House Bill 848, 17 members, including county commissioners, business leaders, legislators, and state transportation agency heads, were assigned to the House Commission on Transit Governance and Funding Committee. House Speaker David Ralston said of its creation, "Transit is becoming more and more important to Georgia's future. From congestion relief to economic development, a robust transit network across our state will have long-term benefits for our citizens."
As metro Atlanta grows its connectivity, the region will continue to look forward to future investments, like that of the Metro Atlanta Regional Transportation Plan (RTP), a long-term blueprint that prioritizes spending on projects throughout the region for the next two decades. The RTP's long-term vision is to build a world-class, sustainable transportation system that addresses concerns about congestion in this ever-evolving city. The current RTP invests over $93 billion through 2040 to improve roads, transit, bike and walking facilities. In the plan, there is assistance for local governments to create more walk-and-bike-friendly communities, letting citizens get to work faster, or have better access to the transit network.
The momentum continues through funding initiatives at both the state and local level. City of Atlanta's TSPLOST (Transportation Special-Purpose Local-Option Sales Tax), the four-tenths of a penny sales tax, will generate $300 million over a five-year period, funding significant citywide projects, including the BeltLine and Complete Streets. Complete Streets is a program focused on enabling safe access for pedestrians, bicyclists, motorists, and transit riders, making it easier to cross streets, walk to shops, and bike to work. The MARTA half-penny sales tax ($2.5 billion), along with TSPLOST ($300 million) are the driving forces behind high-priority goals from the Connect Atlanta plan, the Atlanta Streetcar System Plan, and Concept 3, the Atlanta region's transit plan, and more than a dozen neighborhood and community plans that have been created in the past six years. Some of that fund allocation includes:
$66 million for the Atlanta BeltLine
$75 million for 15 Complete Streets projects
$3 million for phase 2 of the Atlanta Bike Share program
$69 million for pedestrian improvements in sidewalks
$40 million for traffic signal optimization
High-priority sidewalk and bikeway projects connecting neighborhoods to 80 Atlanta Public Schools and all of Atlanta's rail stations
94 percent of all Atlanta residents and 98 percent of the city's jobs are within a half-mile of a proposed TSPLOST, MARTA, or Renew Atlanta transportation project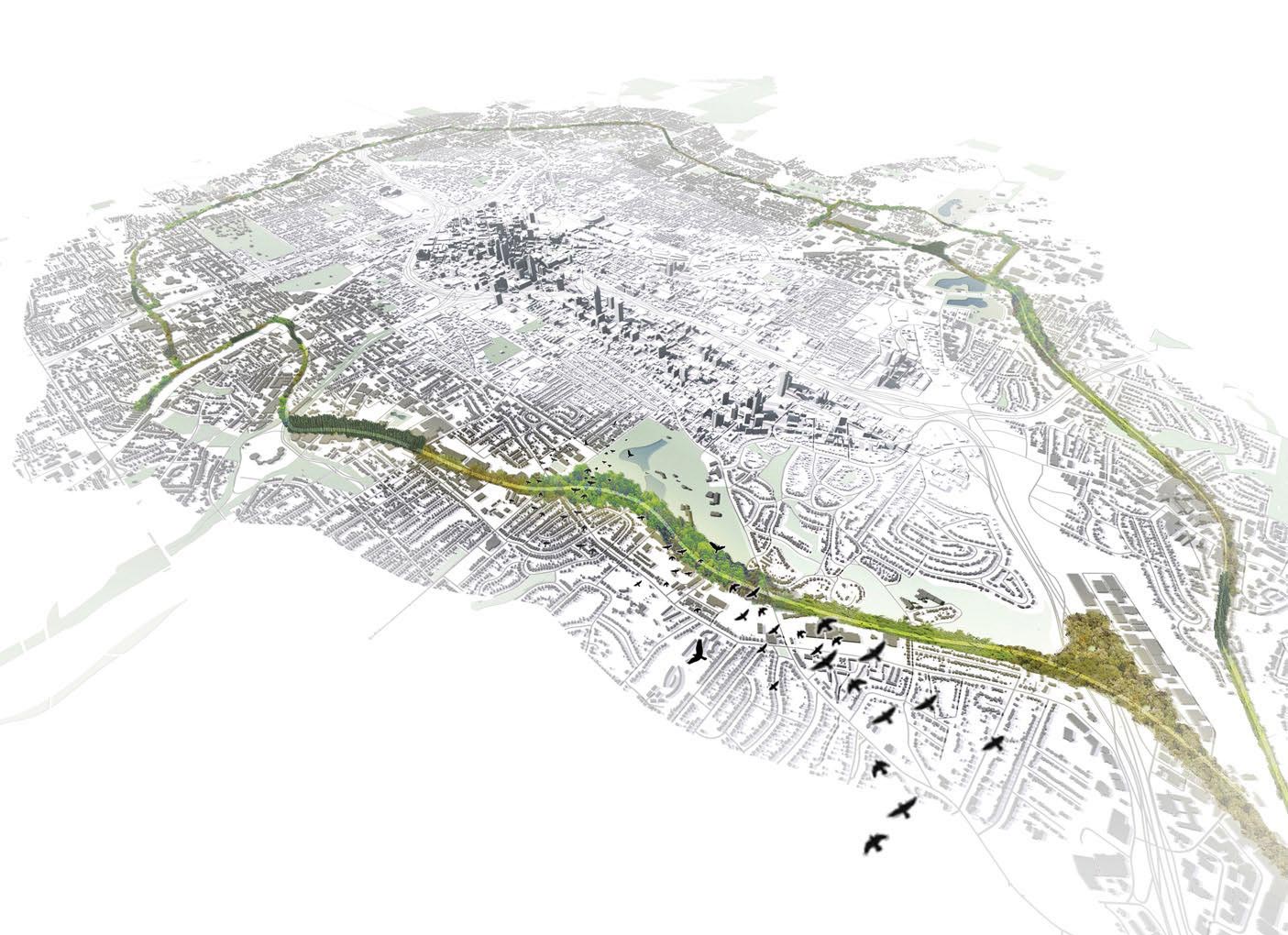 Atlanta BeltLine
Traffic and Congestion
Traffic Rankings
The 2015 Urban Mobility Scorecard by the Texas Transportation Institute uses data from the Federal Highway Administration in conjunction with some private sector traffic speed data from INRIX. The main ranking from the Urban Mobility Scorecard is the Travel Time Index (TTI); this index is used by the U.S. Department of Transportation in the Bureau of Transportation Statistics. The TTI compares peak period travel time to free-flow travel time.
For metros with a population that exceeds 3 million, Atlanta is tied for the lowest Travel Time Index and Atlanta's ranking has improved nearly every year since 1995 despite population growth.
The Urban Mobility Scorecard also showed that Atlanta auto commuters have a yearly delay of 52 hours, which is less than nine other very large metros, including Seattle, Washington, D.C., Chicago, and Boston (all with yearly delay over 60 hours). Atlanta was also shown to have one of the shortest rush hours and lowest percentage of lane-miles congested. These measures of traffic suggest that Atlanta is better equipped to deal with a population increase than other large metro areas.
For the 2017 Global Traffic Scorecard, INRIX combined real-time GPS probe data with traditional traffic flow information and market-specific criteria, like construction and school schedules. They used a proprietary algorithm to measure congestion that was designed to reflect the real-world experience. The study incorporates peak hours spent in congestion, the INRIX congestion index, and the average congestion rate into the overall ranking. According to the Global Traffic Scorecard, Atlanta ranks fourth for worst traffic in the U.S. Atlanta also ranks fourth for peak hours spent in congestion at 71 hours. Traffic congestion is a feature of every vibrant metro area; INRIX cites population, economic growth, and urbanization as the root causes of congestion.
Consistent improvements in TTI show Atlanta does a better job of managing the congestive consequences of growth than other rapidly growing cities. Persistently high growth rates in the metro area have meant that Atlanta has developed the civic and political infrastructure to accommodate a continuing large influx of people. With that said, the Appalachian Regional Port will significantly mitigate traffic congestion by reducing the number of trucks on Atlanta's roadways. There have certainly been times when population increases have undesirably added to congestion. But congestion is a feature of any popular destination. Amazon will add 50,000 high-paying jobs, which will create thousands of indirect jobs. Each of these added workers potentially brings along other potential family members. The net addition of Amazon will likely bring in more than 100,000 people to the metro area, on top of whatever growth would otherwise be occurring. Very few cities have demonstrated that they can handle such growth, using Seattle's recent growth as a benchmark.
Implementing New Technology
A major component of the Atlanta Region's Plan is to foster the application of advanced technologies to the transportation system. The plan includes funds to operate the region's Transportation Systems Management program, which is designed to anticipate and manage congestion, reduce traffic deaths and injuries, and improve travel time reliability. Application of data-driven technologies, like synchronized signal timing and advanced traffic management systems improve how our government stays ahead of congestion. Traffic signal synchronization and communication will result in 700,000 gallons of fuel and 1.4 million hours of Atlanta drivers' time saved each year because of increased efficiency.
The Regional Transportation Plan (transportation element of the Atlanta Region's Plan), details specific projects and prioritizes long-term spending in the area. The Regional Transportation Plan (RTP) is a long-range blueprint that prioritizes spending on transportation projects in the Atlanta region for the next two decades and supports the long-term vision of building a world class, sustainable transportation system that addresses congestion in this growing and evolving city. The current RTP invests over $93 billion through 2040 to maintain and improve roads, highways, transit, and bicycling/walking facilities in the region. Nearly two-thirds of the funding will be used to maintain and modernize the region's existing systems, while $29 billion is programmed for major expansion projects. In terms of highway improvements, the RTP aims to:
Widen major thoroughfares and improve highway interchanges - The Atlanta Region's Plan includes $7.7 billion to widen the region's network of major arterial roads and upgrade interchanges on freeways, the backbone of the region's transportation system. In all, 185 major roads will be widened.
Build a network of managed toll lanes - Imagine hopping on a freeway during rush hour and traveling at least 45 miles per hour across the region. That's the promise of managed toll lanes – a free-flowing ride for people willing to pay a toll, carpool, or ride a bus. The plan will nearly triple the miles of freeway corridors with managed lanes, from around 70 today to over 200 by 2040 (Source: Atlanta Regional Commission, 2017).
On a state level, the Georgia Department of Transportation (GDOT) meets traffic challenges with innovative solutions; they cite the Variable Speed Limit (VSL), Regional Traffic Operations Program (RTOP)/Synchronized Lights and Diverging Diamond Interchange (DDI) among them. The VSL system is set up to reduce crashes and keep traffic flowing for longer periods on one of Atlanta's major interstates, I-285. Speed limits change based on road, traffic, and weather conditions. Electronic signs slow down traffic ahead of congestion or bad weather to smooth out flow, diminish stop-and-go conditions and reduce crashes. This low-cost, cutting edge technology alerts drivers in real time to speed changes resulting in more consistent speeds and improved safety. GDOT has a nationally-recognized Regional Traffic Operations Program (RTOP). The innovative traffic signal synchronization program in metro Atlanta centralizes the control of traffic signal timing along key arterial routes to improve traffic flow, diminish emissions, and reduce crashes. (Source: Georgia Department of Transportation)
Focused on improving traffic flow and increasing safety in the region's most-congested interstate corridor, the $800 million Transform 285/400 Project is on schedule for completion in 2020 and is expected to reduce daily delays for users of the interchange by 20,000 hours.
North Avenue Smart Corridor/Smart City
The City of Atlanta recently announced a new research partnership with Georgia Tech to design, implement, and evaluate Smart City initiatives. The North Avenue Smart Corridor Project, funded by the Renew Atlanta Infrastructure Bond program, involves numerous Smart City technology components aimed at facilitating and promoting safety for pedestrian and bicycle traffic and creating a more efficient flow of bus and car traffic using adaptive signals that respond to real time conditions.
Atlanta has taken on the challenge to become a Smart City by focusing on five core pillars of multi-modal transport, public safety, environmental sustainability, city operational efficiency, and citizen and business engagement. North Avenue in Midtown has been selected as Atlanta's first Smart Zone. The project will include smart vehicle mobility, smart pedestrian mobility, V21 autonomous vehicle pilot, smart vehicle crash predictions, smart street lights, smart environmental sensor array, and smart water. With the testing of the autonomous shuttle on North Avenue as a part of this initiative, Atlanta became one of the largest urban areas to test autonomous vehicles along with Sao Paulo and Shanghai. Atlanta is one of just three cities around the world that will be testing technology as part of the Together for Safer Roads initiative. The program brings together private sector companies such as IBM, UPS, AIG, and Facebook to provide knowledge, data, technology, and global networks to improve safety in innovative and accelerated ways (Source: SmartATL, 2017).
Logistics and Supply Chain Advantages
Because of metro Atlanta's exceptional transportation infrastructure and prime location, the region has quite naturally evolved into a supply chain and logistics hub.
In a recent study by Deloitte LLP, Atlanta ranked as the #2 metro area in the nation for digital supply chain, behind only New York-New Jersey, and is one of the most important global logistics centers in the U.S.
The region is also ranked #5 nationally for employment in transportation and logistics and ranked #6 nationally for employment in distribution and e-commerce. Metro Atlanta has more than 136,000 people employed in supply chain management and technology occupations as of 2016 – projected to grow 13.5 percent over the next 10 years (Source: EMSI, 2016).
| Traded Cluster | Employment 2015 | National Rank (metros) | Employment Location Quotient* |
| --- | --- | --- | --- |
| Transportation and Logistics | 61,636 | 5th | 1.91 |
| Distribution and E-commerce | 143,471 | 6th | 1.31 |
| Communications Services | 21,576 | 2nd | 3.78 |
*Location quotients are based on traded cluster employment according to the U.S. Cluster Mapping Project. Location quotients quantify how specialized a particular industry or cluster is in a region as compared to the nation. Location quotients are calculated by dividing the industry or cluster's regional employment percentage of total regional employment by the industry or cluster's national employment percentage of total national employment (in this case, employment numbers were just for traded clusters).
Source: U.S. Cluster Mapping Project, Institute for Strategy and Competitiveness, Harvard Business School
There are 17 corporate innovation centers in metro Atlanta fully or partially focused on applying cutting edge technologies to their supply chains. The region also has a critical mass and specialization both in supply chain and technology clusters. Strengths in these clusters provide fertile ground for Atlanta companies to become global leaders in developing new solutions to digitize the supply chain distribution niche here.
Metro Atlanta was recognized as the #2 North American metro for competitiveness in the IT and communications industry as well as the #4 North American metro for competitiveness in the transportation and logistics industry. The region was differentiated based on its proven ability to attract and retain corporate facility investment in these sectors as well as the regional economic performance of both sectors. (Conway Inc. and Site Selection Magazine, "The World's Most Competitive Cities, 2017," Spring 2017)
Of the nation's top 100 logistics IT providers, 19 have a presence in metro Atlanta, the same number as in New York-New Jersey. IT logistics providers with headquarters here include Blue Ridge, Deposco, LogFire, Logility, Numerex, nVision Global, Rail Connect 360 and SMC3. Other IT logistics providers with a significant presence in metro Atlanta include Epicor, Infor, Oracle and SAP, among others. (Georgia Department of Economic Development, Inbound Logistics Top 100 Logistics IT Providers, 2016)
Additionally, our dominant cluster of core supply chain software companies is anchored by Manhattan Associates, the industry leader in warehouse management software. Manhattan Associates scaled their company from a handful of employees to more than 3,000 in the region, sparking a new ecosystem of solutions providers and spinoff startups created by Manhattan alumni. Many companies, including nuVizz, Bricz, WMSight and dozens more, were founded by former Manhattan employees. Alan Dabbiere, one of the Manhattan Associates founders, is arguably the most successful entrepreneur in metro Atlanta today. After Manhattan went public, Dabbiere co-founded AirWatch, which achieved a unicorn valuation before being acquired by VMware for more than $1.5 billion in 2014. Dabbiere has recently founded two more companies in Atlanta, OneTrust and Aware Software.
Of our region's 26 Fortune 1000 companies, 16 have core business areas within the digital supply chain ecosystem. This includes some of the largest procurement and purchasing organizations in the U.S., like Coca-Cola, The Home Depot and Carter's; two of the world's leading cargo transportation providers in Delta Air Lines and UPS; global manufacturers such as NCR, Acuity Brands and AGCO; and several of the largest distributors in the country, including Genuine Parts, BMC Stock Holdings Inc. and GMS Inc.
Adding to the metro region's advantages is the exceptional strength of the professional services sector that supports supply chain functionalities. The global leader in network planning, Chainalytics, is headquartered in metro Atlanta, and all major players in supply chain consulting maintain core functions here, including the head of Deloitte's digital global supply chain practice. Global companies based in metro Atlanta have developed distinct solutions and skill sets to evolve their traditional supply chain to a digital network. Some examples include the Home Depot Project Sync, UPS ORION and the Delta Cargo Control Center.
Another key reason for the clustering of cross-supply chain integration in Atlanta is the region's unique talent mix. Georgia Tech is the home of the Physical Internet, responsible for optimizing logistical processes. Moreover, companies can connect with many other top academic institutions throughout Georgia offering supply chain programs (Georgia College and State University, Georgia Southern University) and in neighboring states (Clemson, University of Tennessee, Auburn University). As the Deloitte study shows, metro Atlanta's pipeline of digital supply chain talent is strong, especially relative to size of the labor market.
Even though Georgia produces many graduates specializing in supply chain, when it comes to innovation the metro Atlanta digital supply chain ecosystem is closely tied to Georgia Tech.
Georgia Tech leads the world's elite academic institutions in supply chain thinking, and corporations have long coveted the talent produced there.
Today, these corporations are also collaborating closely with the institution on innovation projects. Many of the innovation centers that have sprung up on or near the campus over the past decade run projects and internship programs in the digital supply chain ecosystem, including: The Home Depot, Delta Air Lines, Flex, Stanley Black & Decker, thyssenkrupp and Boeing.
Many of the recent major corporate relocations that have emerged near Georgia Tech also have a supply chain component.
For example, GE Digital specifically cited Georgia Tech as a key factor in their decision to locate their digital hub headquarters in Atlanta. This group is essentially GE's supply chain software arm, designing solutions that knit together the company's Industrial IoT platforms. Other examples in Atlanta's Midtown, which connects to the Georgia Tech campus, include NCR and Keysight Technologies.
Need more information, or have a question?
Submit your question below and we'll respond shortly.