By Hannah Palmer
I will never forget the puzzled looks I got the first time I talked with a group of planners about living near the Atlanta airport. I was at one of those lunch-and-learns in the glossy boardroom of a design firm in Midtown. It was like they had never thought of life near those runways — all the houses they see from above when they fly in and out of Atlanta. It can be noisy, sure. But for me, and for a growing community of creatives, there are benefits to living near the Airport.
A group of about 25 friends and colleagues, mostly urban designers and architects, worked their way through the buffet line while I set up my slide show. It was a gathering of diverse and stylish young professionals from around the world, practically a photo shoot for ChooseATL.
I was there to show some before-and-after images of the neighborhoods surrounding the airport, and to share my personal experience of growing up alongside Hartsfield-Jackson. I had 30 minutes to explain 30 years of transformation on the Southside, from thriving neighborhoods in the 1960s to the world's busiest airport by the 1990s.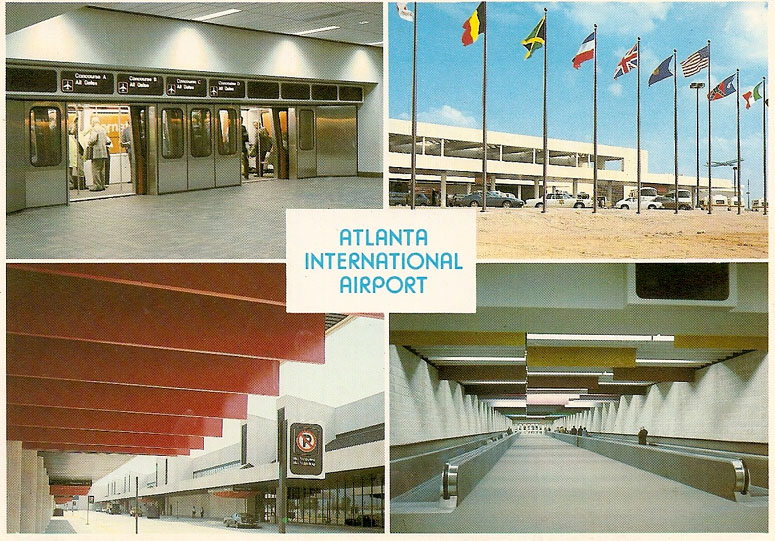 Few people, even Atlanta natives, realize that our airport was built on top of Southside communities like College Park, Hapeville and Mountain View. In the '60s, thousands of houses were cleared out to make way for the airport's expansion, and thousands more, like my childhood homes in the flight paths, were wiped out in areas that became too noisy to live.
As I showed an archival map from 1967 overlaid with the current satellite image of the airport, people in the room gasped. Toggling between the maps, you could see hundreds of tiny squares, whole neighborhoods of modest houses, swallowed up by runways, parking lots and warehouses.
The room was filled with planners and architects — people who spend their days looking at places on Google Earth, deciphering flaws in the urban environment and dreaming up plans to repair them. They also spend a lot of time in airports, and most of them had some serious Delta SkyMiles under their belts. Yet as I advanced through my presentation, it became clear that they had never really connected Atlanta's behemoth airport to its negative impacts on the Southside.
Or maybe because this group was mostly transplants to Atlanta, the area south of I-20 wasn't even on their mental map of the city. Buzzing in and out to catch a fight, they couldn't picture the thriving communities that were erased, or imagine the rich cultural scene here now.
The easy questions came first.
"What's H-JAIA?"
That's Hartsfield-Jackson Atlanta International Airport, of course.
"What are those red, yellow and green blobs over the runways?"
Those were "noise contours," outlining of the highest decibel levels near the airport. On a map, it looks like a Rorschach test, bleeding outwards from the runways, marking the invisible boundary between merely noisy and officially uninhabitable places.
But the most challenging question came from a friend, who looked genuinely concerned as she paused with a forkful of salad halfway to her mouth.
"So, why did your parents choose to live there?"
It seemed like a simple question, but I froze. Why did Mom and Dad choose to live in the flight path, in a place that was doomed?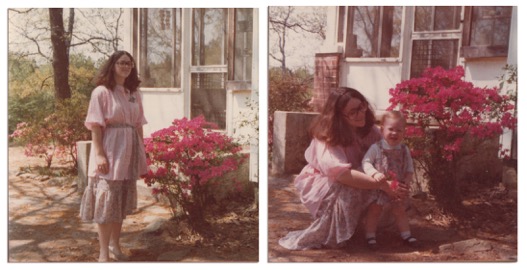 Before "World's Busiest"
My parents were in their early 20s when they rented a beautiful old house in Mountain View. My mother was an artist — a potter — which meant she was the stay-at-home parent. She threw pottery on the back porch and sold crate loads of dishes at weekend arts festivals in Inman Park, Piedmont Park and Powers Crossroads. My dad partnered with a friend to start a welding business. Neither of my parents had a college degree or a trust fund.
I don't think they "chose" Mountain View, so much as landed there while expecting their first child. In 1975, the airport initiated one of the first "noise mitigation" programs in the nation, beginning a slow, methodical process of buying out properties and relocating the entire population of Mountain View. This probably explains why the house — a simple, but noble 1914 bungalow with a wide, screened porch and pigpen in the backyard — was available and cheap.
Did my mom and dad have any clue about the airport's expansion plans? Did they consciously select the area because it was historic or edgy? I doubt it.
Deciding where to live seems like a luxury for people with money, people with options. It's unlikely that my parents looked at a map of Atlanta real estate, shopped for a good school district and made an informed decision about where to live. I imagine they drove past the house and saw a "for rent" sign.
To the curious planner who asked, I said, I don't think it was a choice. They moved to that particular place because they found a cheap, big, beautiful old house for rent. They had no idea what was coming next.
It made me wonder though, why I chose the airport area, knowing all I know about Hartsfield's expansionary reach.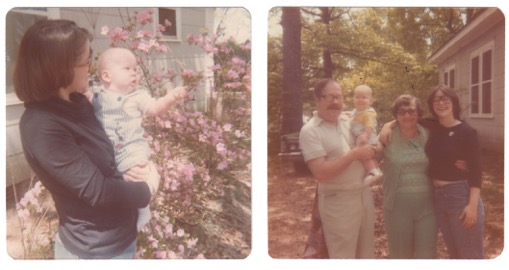 A New Life for Atlanta's Southside
Last week, I spotted a guy who looked familiar at an artist's talk at Paper Plane, a tiny gallery that opened in a storefront in College Park's historic main street six months ago. He was young man with a blonde handlebar mustache and green eyeglasses. His mismatched Adidas shoes were a dead giveaway.
"Hey, weren't you at the airport protest?" I asked, searching my phone for a photo of him wearing a handmade papier-mâché Statue of Liberty crown. "Do you live around here?"
I found the photo and we introduced ourselves. Carl was a working artist who lived with his wife and four-year-old daughter in Ormewood Park.
"I've been checking out the Southside, looking for studio space," he said. Though Ormewood Park was a great neighborhood, he saw housing prices rising all around him. "We are being gentrified out."
I slipped into my unofficial ambassador mode, touting the charm of Tri-Cities, our walkable neighborhoods, cheap housing prices and studio rents. The perks of living next to a MARTA station and the world's busiest airport, but somehow experiencing very little traffic, because you're always travelling against the northbound flow.
I love that in East Point, a working artist can afford a big, beautiful, old house with a yard and a garage studio space, inside the Perimeter, for far less than a grand a month. It's green and spacious like the suburbs, but without the chain stores. You can start an indie business — a growler shop, a bakery, a café, gallery, a recording studio — and find a friendly community of underdogs, thriving in spite of, even motivated by, the negative perceptions of the Southside.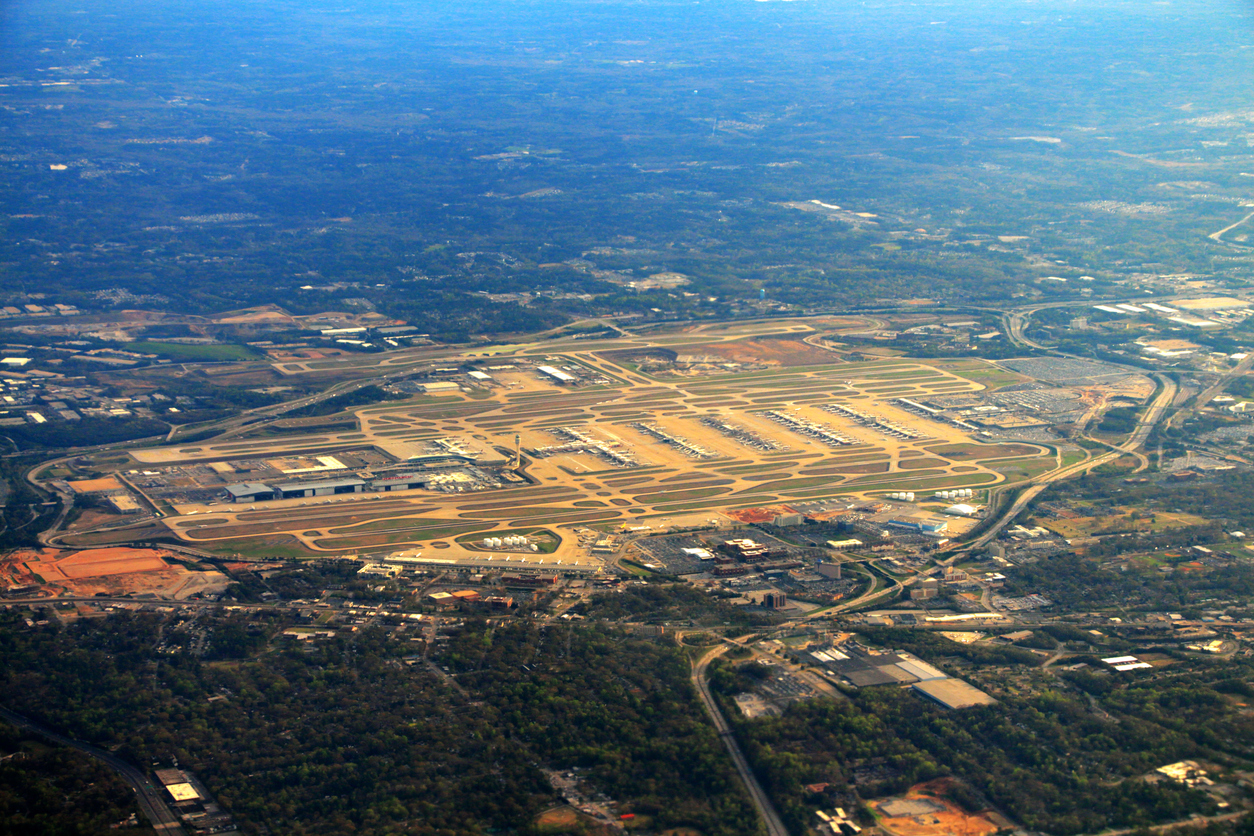 I realized that my pitch was getting fairly refined. Just a week before, I stood in the same spot making a similar case to an acclaimed painter from Brooklyn and his fiancé, an accomplished chef at a Nantucket resort. They were pondering a move to Atlanta to start their family. While sampling Atlanta's flourishing culinary and arts scene, they saw the possibility of a lower cost of living and higher quality of life without a sacrificing their careers.
Patrick had been considering Portland, Oregon; he even had a benefactor there who offered him free studio space. The offer was enticing, but he found Portland's cold, grey climate somewhat suffocating. "Plus, nobody there looks like me," he said. "I saw one other black guy the whole time I was visiting. I was in a Walmart, of all places, because I needed to buy some long johns to keep warm."
Portland, Brooklyn, even Ormewood Park are all places where I have visited and fantasy-browsed real estate listings far beyond my price range. But the more I look at Zillow, the more I love where I live now. I choose to live near the airport for essentially the same reasons my parents did. It's a place where a working artist with young kids can afford to live in the city. And it's where I have the most precious asset of all — roots.
Hannah Palmer works as an urban designer and writer in Atlanta. Her writing explores the intersection of southern stories and urban landscapes, and has appeared on CNN, Art Papers, Atlanta Magazine, ATL Studies, and in masterplans for urban design projects around the world. She earned an MFA in creative writing from Sewanee: The University of the South and now lives near the Atlanta Airport with her husband and sons. Her first book, "Flight Path: A Search for Roots beneath the World's Busiest Airport" is being published this month by Hub City Press.