Photo by Dylan Stone-Miller
By Wyatt Williams
At the Charles R. Drew Charter School, the morning sun is just beginning to filter through the tall glass windows. The uniformed students from the East Lake neighborhood are still arriving in the morning carpool line at a campus that shimmers and gleams with clean, modern lines. As they make their way up the stairs to Jeffrey Martín's Web-Dev Class, Jeffrey is hooking up his Macbook to a projector and cuing up a couple of links for casual morning discussion: a round of auto-industry investors in Uber and new revenue streams being added to Instagram functionality. Jeffrey's dozen high school students sit in rolling chairs around a conference-style table and tentatively discuss the news. They get why the auto-industry would want to invest in Uber, but they're a little more skeptical about selling clothing through Instagram.
On a whiteboard, the class schedule is outlined in tech-friendly parlance ("Current Sprint: Intro to HTML/Next Sprint: Intro to CSS") along with more typical classroom reminders ("Martín: pronounced mar-TEEN"). Above it all, Jeffrey has written out some food for thought, "Essential Question: When humans and computers speak the same language, what can be accomplished?"
This is a public school in Southeast Atlanta — not some vision of a far-off classroom of the future, or a Silicon Valley pipeline school. Yet in a way, it is. Jeffrey is the founder of honorCode, an Atlanta-based startup that plans to bring web development and coding education to public schools across the country. It's a vision that people are starting to get behind. In October, Jeffrey won the $1 Million Change The World Competition at the Forbes Under 30 Summit. The top honor came with $425,000 in cash and media grants.
Maybe it seems far-fetched, the idea that public school students in a historically under-privileged neighborhood in Atlanta could be among the next vanguard of the tech industry. Jeffrey knows a little about far-fetched plans. It wasn't so long ago that he was one of these students himself.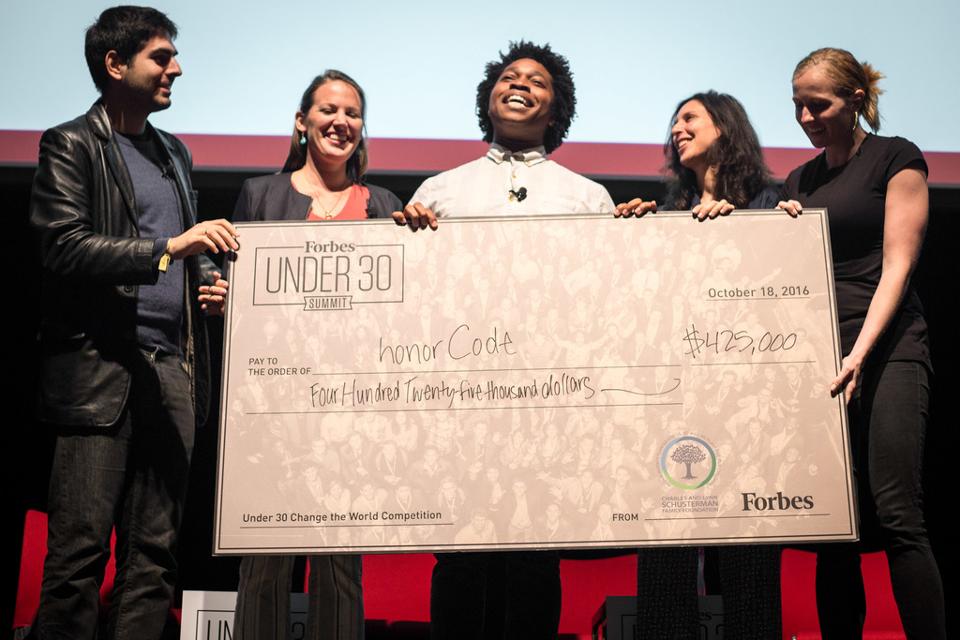 The Student Becomes the Teacher
Jeffrey has been making an impression on people his entire life. Deirdre Denis, an elementary school educator with 22 years of experience, remembers him as a precocious third grader who stood out like a sore thumb in her class. "He's always been brilliant, outstanding, intelligent, gifted — all of those things," she says. "He just didn't know it yet."
At the time, Jeffrey was growing up in Kirkwood, a neighborhood in Southeast Atlanta, and attending Whitefoord Elementary. "Jeffrey was trying desperately to be cool and he never really was," Denis says. "At that age, particularly in African American communities, young boys are trying to navigate their way and they often settle for being cool rather than smart. He was hanging with people he didn't fit in with. He was not the best liar."
Denis recalls one little bit of trouble from that third-grade class: Jeffrey forged one of his parent's signatures on a field trip form. She let him know that he was in big trouble and called his parents. After the phone call, "I regretted calling his parents," says Denis, "because I realized why he forged the form. There was really no structure or support there."
When Jeffrey talks about the home he grew up in, it is clear that the memories are still painful for him to discuss. He talks of cycles of abuse, of parents addicted to drugs, of the kind of home that no one would wish upon a child. "I would walk with my mom when she would buy crack, just so she wouldn't be alone," Jeffrey says.
At the time, Jeffrey's neighborhood was going through a major transition. East Lake Meadows, a housing project so infamous for drugs and violent crime that a television segment on CNBC once described it plainly as "one of the worst places in America," had recently been demolished. In its place, developer Tom Cousins was orchestrating a redevelopment of the area, an unlikely combination of mixed-income housing, an elite golf course, and Atlanta's first charter school.
The plan was largely considered far-fetched. For some, that meant the cycles of poverty and crime and violence weren't possible to stop. For others, the idea that a multi-millionaire developer like Cousins would have the best interest of a low-income, mostly black, neighborhood at heart seemed unlikely. At the center of that question was the Charles R. Drew Charter School, an untested experiment in public education. Jeffrey was transferred from Whitefoord Elementary to be among the school's first classes.
It was around this time that, in part to escape to the instability of home, Jeffrey threw himself into classwork. "School became my sanctuary," he says. It wasn't exactly that he fell in love with one subject or another. He fell in love with them all. He fell in love with learning. In a short documentary filmed about Drew Charter's early successes, a teenage Jeffrey, smiling wide in braces, rattles off courses and hobbies: American literature, pre-calculus, playing piano in the jazz ensemble, singing in chorus.
That polymath brilliance earned him admission to the Wharton School, where he earned a degree in economics. Today, Jeffrey can still remember leaving Atlanta and saying, "I'm never coming back." For a while, that seemed to be the case. He did a stint with Teach for America and graduate work at Brown University. He worked for a time as an analyst for Goldman Sachs. As the future loomed full with the promise of corporate consulting gigs and the prestigious positions available to Wharton grads like himself, Jeffery searched for something more.
The revelation, Jeffrey says, came to him on a plane. A passenger sitting next to him had a seizure and he didn't know what to do. "I've never felt so helpless," he says. After the incident was over, still rattled, Jeffrey tried to work through the problem. At first, he had that all-too-common modern thought: "Why isn't there an app for this?" But that led to him to another avenue of questions: Of all the things he learned in school, why didn't he know how to make that app? Why weren't schools teaching coding, web development, the fundamental tools for changing the world today? That, he says, is the seed of thought that became honorCode.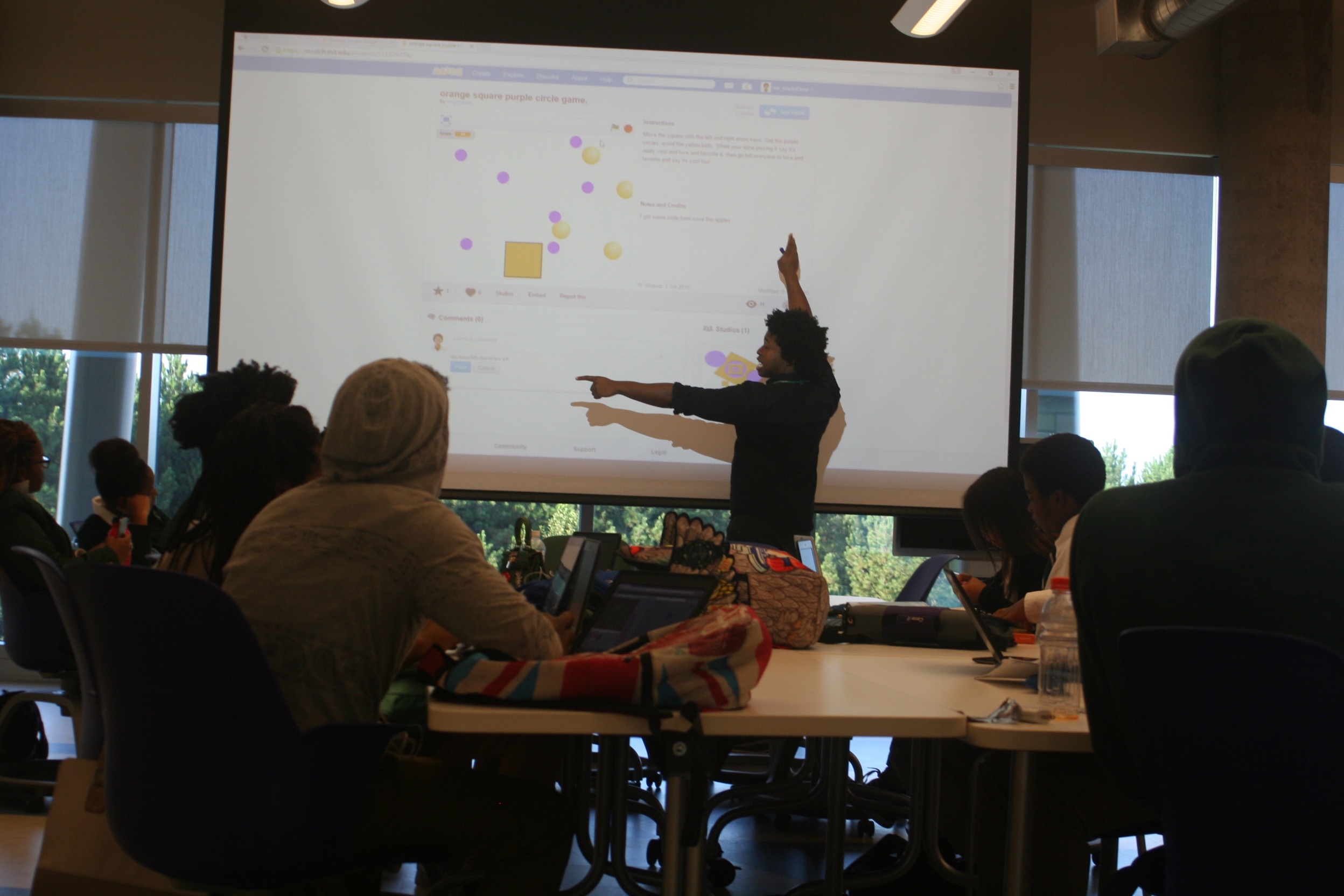 There was plenty of work to be done. First, Jeffrey put himself through a crash course in software engineering. He looked for advice from mentors. He assembled the organization and structure needed to establish such an ambitious non-profit. He also moved back to Atlanta. Deirdre Denis, the third grade teacher who saw his promise so many years ago, joined the organization to serve on the Board of Directors.
Drew Charter School, the place that had once been Jeffrey's adolescent sanctuary, is no longer a far-fetched experiment. It is a $55 million campus, one of the most talked about, successful public schools in the City of Atlanta. So, it is here that Jeffrey has chosen to teach the first honorCode classes, to develop the curriculum that he hopes will be duplicated and applied in public schools across the country.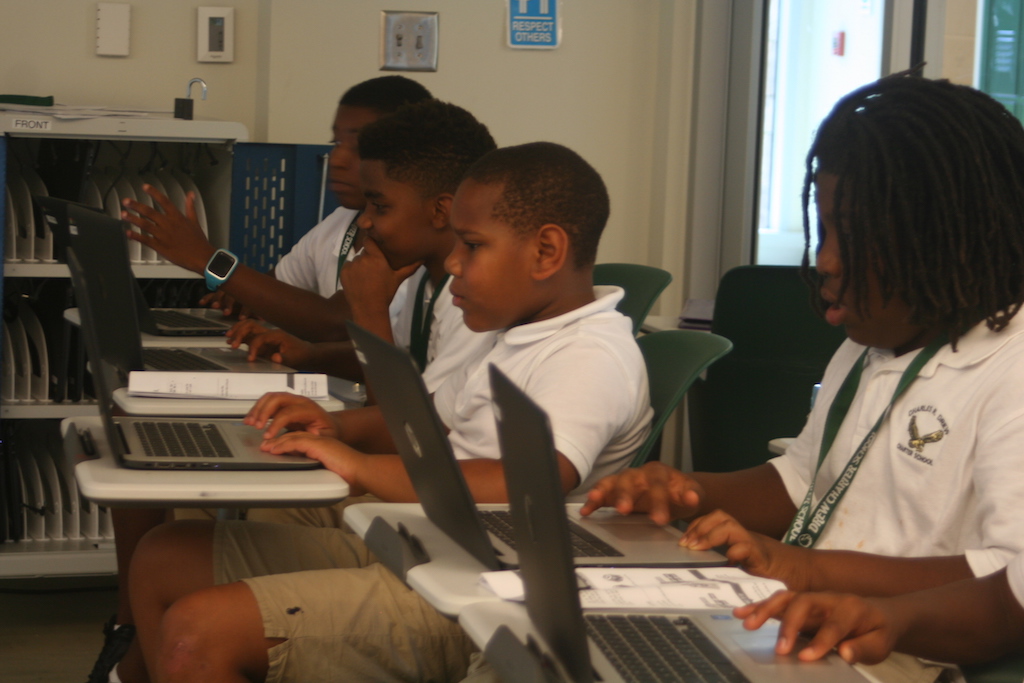 The Future of honorCode
Grand plans like Jeffrey's aren't built overnight. In the morning classroom at Drew Charter, his work is slow and patient. Today's HTML lesson is designed to teach embedding links in nested lists. As Jeffrey types out a list of names patiently arranged among the proper href tags and copy-and-pasted Wikipedia urls, the broad concept of the lesson is almost immediately clear to his students. As they begin the assignment in groups, though, there is troubleshooting to be done.
Jeffrey and another instructor, Dylan Stone-Miller, circle around the table, leaning into student's laptops. One student needs help with the correct order of tags. Another is forgetting an important keystroke. With another student, who seems to have trouble seeing the proper characters on the screen, Jeffrey leans in close to ask, "Don't you normally wear glasses? Why aren't you wearing your glasses today?"
Coding is a fastidious practice. One forgotten set of quotation marks or a single misplaced backslash can change the character of an entire page. Every keystroke matters. From all of this fine detail, the big picture starts to emerge. Like any language, code is about possibility. It is not just what can be said or built today, but the infinite prospects of what can be said or built tomorrow.
The lessons of honorCode might have to do with the nuts and bolts of writing code, but they're also a way to show students that the possibility of the world isn't so far out of reach. That lesson, Jeffrey hopes, isn't just a one-way street. "I want Google, Facebook and so many more of those companies to see what we're building here," he says. Maybe one day they will. Until then, he'll be teaching one keystroke at a time.