By Laura Newsome
When it comes to drinks that changed the world, it's hard to underestimate the power of coffee. Taking Europe by storm in the 1500s, coffee sobered up the population, giving them much-needed energy to launch the Enlightenment and fuel a host of revolutions — Industrial, French, American and otherwise. Coffee, quite literally, makes people think, and coffeehouses give them a place to do so.
All over the world, coffee shops are hallmarks of vibrant, thriving communities, and a more reliable predictor of up-and-coming neighborhoods than any real estate forecast. These days, Atlanta's neighborhoods on the rise are awash in independent coffee shops. These early adopters become gathering places for artists, activists and entrepreneurs to discuss ways to make our city a better place. In honor of these (literal) hotbeds of creativity, we're taking a look at some of Atlanta's most beloved indie coffee shops and how they've shaped their communities.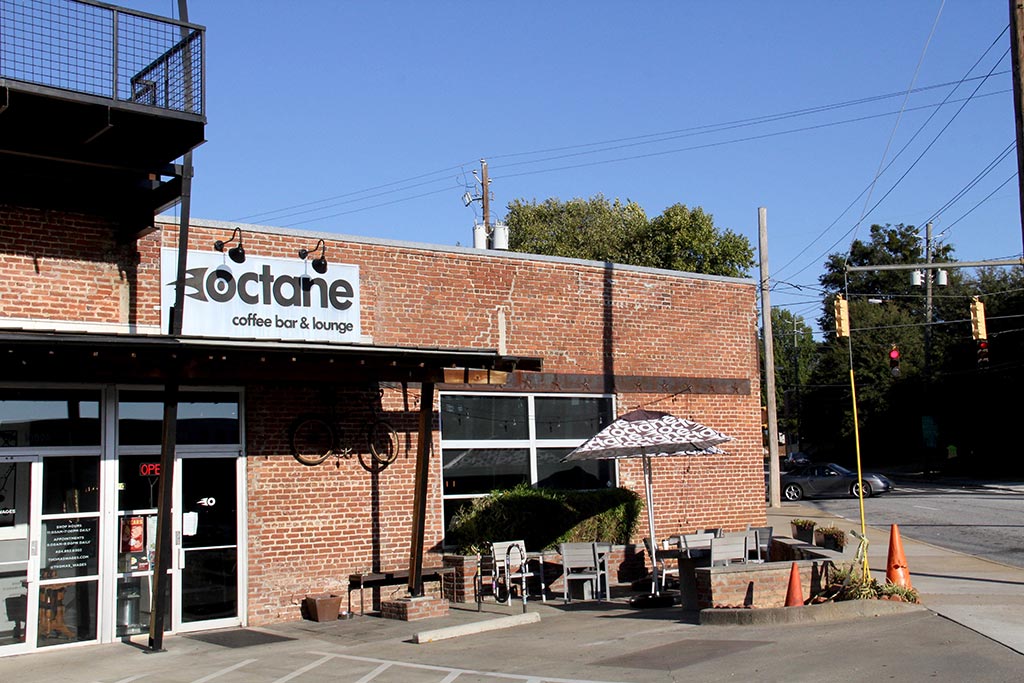 Coffee Wakes Up the Westside
Before the renovated Brickworks development became the home of Nebo and Hop City, there was Octane Coffee. When this neighborhood coffee shop got its start in 2003, the Westside was hardly the trendsetting neighborhood it is today — a place where artisanal restaurants like The Optimist, BOCADO and trendy gift shops like The Merchant thrive among a growing community of apartments, lofts and creative agencies and businesses.
Neighboring streets were a transitional mix of fringe art galleries, scrapyards and warehouses in disrepair. Enter Octane Coffee at the corner of Howell Mill and Marietta Street. "We came across the Westside and could tell it was a creative area that needed a neighborhood gathering place to call its own," says Octane's founder, Tony Riffel, who fell in love with great coffee while spending time in Portland.
"Passionate about the nuts and bolts of building something and watching it come to life," Riffel and his wife Diane signed a lease and used credit cards and personal funds to fuel their dream. This level of risk forced the couple to "make it work," and they were thrilled to earn $87 on their first day in business. Soon, the fledgling coffee shop began making to-die-for cappuccinos and hosting monthly latte art competitions. Octane quickly became a hub for startup businesses in the tech industry.
When Nebo Co-Founder Brian Easter attended a chance business meeting at Octane in 2005, he decided that his digital marketing agency belonged on the Westside, where it now resides in the former site of the 1880s Palmer Brick Company. Octane was also a popular hangout for the Rocket Science Group, which later became the email giant MailChimp. "Octane fostered a creative atmosphere and became an economic engine for an area that felt really hip and unique," says Easter.
It was a good two years before Octane really took off, and the neighborhood turned a corner too — developing into the eclectic cultural center it is today. "Coffee shops are great meeting places and I like to think of Octane as the original coworking spot on the Westside," says Riffel, "that connecting point where likeminded people hang out and work and startups get going. Octane has become such a success that the Riffels' well-regarded network of coffee shops was recently aquired by Revelator Coffee, a Birmingham-based indie franchise that entered the Atlanta market in 2015.
Rounding out the indie coffee culture on the other end of the Westside is the two-year-old BRASH Coffee. Started by Australian Chris McLeod, BRASH began with the goal of bringing great coffee to Atlanta direct from coffee farmers. "America has gotten used to burnt, over-roasted coffee," says McLeod. "Coffee is a fruit and we aim to bring out the best flavors through meticulous roasting and serving."
Located in the newly restored Westside Provisions District, alongside other artisanal greats like Bacchanalia, JCT Kitchen and West Egg, BRASH is housed in a converted shipping container that creates an intimate space where genuine interactions can take place — much like the coffee shops of old. "The fabric of Atlanta is very multicultural, with lots of different influences — All-American, Southern and international," says McLeod, "but when you walk into BRASH you are a local."
The Westside has changed dramatically in the time since artisanal coffee shops made their debut. "There are a lot more people, restaurants and shopping, but the community has worked hard to keep the area authentic," says Riffel. "They haven't torn down a lot of the cool buildings, so the character is still there and it retains that authentic neighborhood feel."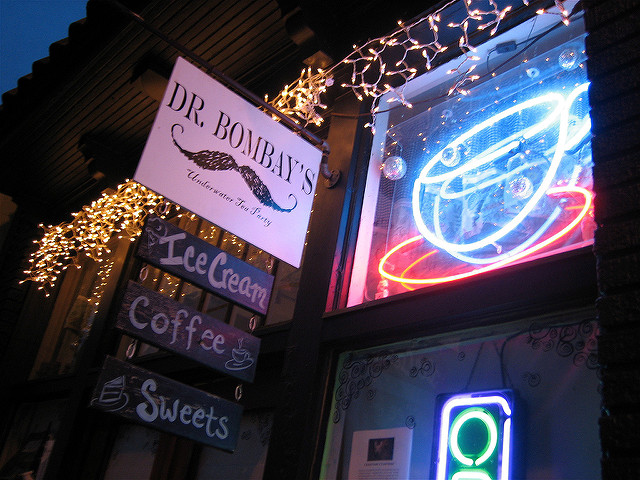 Adding Flavor to Old Favorites
While some coffee shops are rebuilding long-forgotten neighborhoods, others add flair to already eclectic communities, the way Java Monkey's live music and poetry readings add spice to Decatur Square, and ChocoLaté provides a much-needed study haunt for Emory students.
Nestled among the rolling green hills of Candler Park, the walkable oasis around Dr. Bombay's Underwater Tea Party was already beautiful before this eclectic shop appeared in 2005. With weathered brick walls and parasols and paper cranes dangling from the ceiling, Dr. Bombay's is the kind of place you never forget.
"The neighborhood is a little more family friendly now, but Candler Park has always been such an awesome community — Dr. Bombay's wouldn't have worked anywhere else," says Katrell Christie, owner of Dr. Bombay's and The Learning Tea. "Some of the houses have gotten nicer, but the neighborhood hasn't changed all that much and we still have a lot of the same customers. I meet a lot of people who met and fell in love at Dr. Bombay's, and now those same people have kids who are looking for jobs here."
With neighbors like La Fonda and Fellini's, the location was a great choice for Christie, who lives just two houses away. "I wanted to create a community space where people could meet up, hang out, become friends and visit with neighbors — a common space where people can gather."
For Christie, Dr. Bombay's enables her to do the work she really loves. Her scholarship program called The Learning Tea has put six women in India through college, with another eight currently in school. "Dr. Bombay's helps me put women through college who could never afford it any other way," says Christie, who recently chronicled her Darjeeling work in a book called "Tiger Heart." "Many of the women are orphans of tea pickers and the first ones in their family to even go to middle school."
When she's not spending time in India, Christie is soaking up the ambiance of the community she helped create. "Dr. Bombay's is definitely part of the neighborhood. It's a place where people come together and they might fall in love and marry. We love our locals and we want our shop to be a common space where people get to know each other. Coffee shops create community and break down barriers because you get to know your neighbors and realize that at the end of the day, we're not all that different."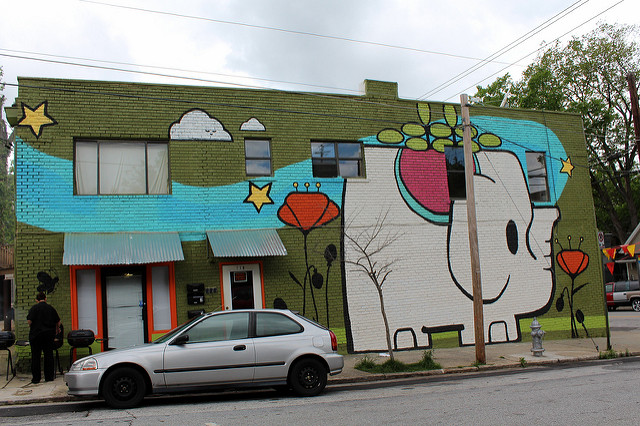 Refueling Forgotten Neighborhoods
Just as they revitalized Atlanta's Westside, indie coffee shops are also reinvigorating old neighborhoods turned new again. Batdorf & Bronson's Dancing Goats recently branched out from its Decatur location to become the first business to open at Ponce City Market, which is transforming the Old Fourth Ward.
Some Atlanta coffee shops get their start with the express purpose of revitalizing neighborhoods in need of a little love. Occupying historically important buildings in Old Fourth Ward and Sweet Auburn, Condesa Coffee is passionate about great coffee, urbanism and historic preservation.
Octane's Grant Park location mirrors its Westside success by amplifying local character and serving as a community gathering place. "Although the residential base was there, the retail side was lacking," says Riffel, "so it's a similar process of building a community, but it happened much faster. You kind of adapt to the neighborhood you're in, and indie coffee shops can do that easier because they don't have a cookie-cutter approach. All of our locations are different and the traffic patterns and customers are different, so you have to tailor your approach. We're very proud of all of the neighborhoods that have supported us and we hope we can continue to serve Atlantans and be a place where they feel at home."
Started by Kevin Langill in 2001, Cool Beans helped make the Marietta Square cool again. Though the Square now boasts a newly renovated Strand Theater and top restaurants like Taqueria Tsunami and The Butcher The Baker, back in the 90s Cool Beans was the only kid on the block, thriving at a time when malls and chain stores ruled the day. With its warm lighting and artful stained-glass windows, Cool Beans began with the same mission as BRASH and Octane — ridding Atlanta of bitter, over-roasted coffee.

Brewing a New Future
From brews benefiting Rwandan farmers at Land of a Thousand Hills, to art-loving establishments like Inman Perk, Atlanta is officially an indie coffee town, where cups aren't cooked up by a Folgers machine, but brewed by the cup, with extra care taken from planting to pouring.
"Chef-driven culture is really taking off right now, and customers expect and appreciate businesses really putting in that added craft and extra effort," says Riffel, who ensures that everything at Octane has a local bent to it, from relationships with farmers and importers to the donuts that grace the glass cases on the countertops.
In sultry iced tea country, artisanal coffee shops were slow to catch on, but now metro Atlanta is home to more than 30 independent coffee houses. With dozens of indie roasters to choose from, you are destined to find a few favorite blends among all those coffee cups.