Pictured above: the Atlanta Botanical Gardens. Photo by Adam Harrell.
By Laura Newsome
As the days grow shorter, our hunger for light has a way of turning even the Grinchiest among us into full-on Clark Griswolds. Sure, we love hot chocolate, presents and the smell of evergreens, but light is what gets us excited about the holiday season. And it seems we love illumination in all its many forms — blinking, glowing, neon, white, colored, icicle, bubble, laser and inflatable.
Sometimes we get so caught up in decorating our own homes that we forget about all the amazing displays illuminating our great city this time of year. Check out our comprehensive holiday guide and then hit the streets to see the best lights on display in the A. Tis the season for illumination!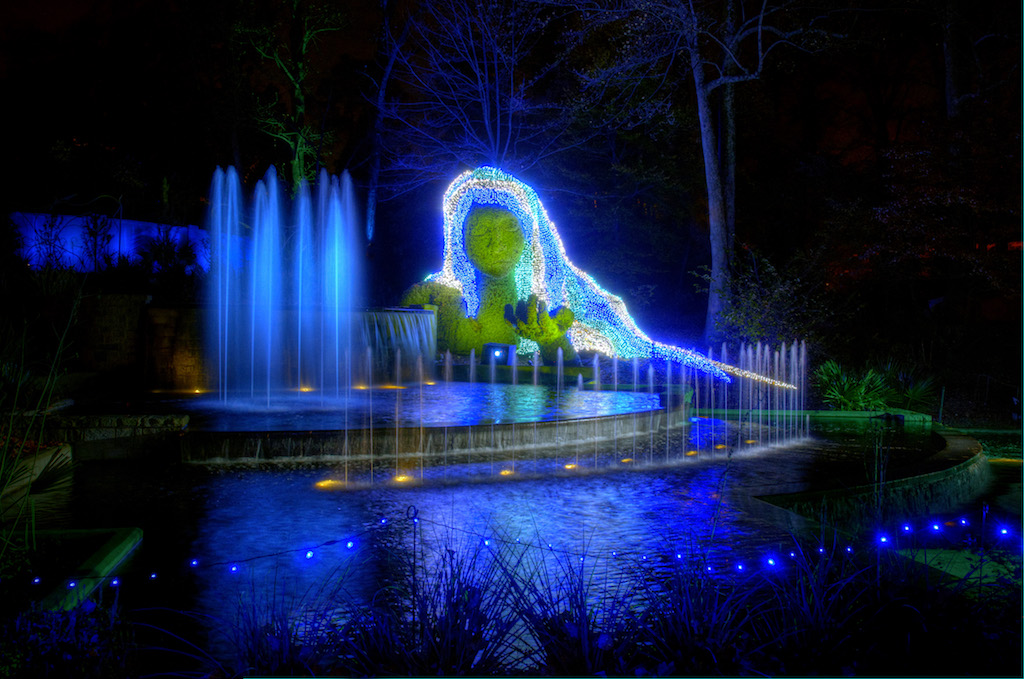 Winter Classics
Fantasy in Lights. Located in nearby Pine Mountain, Callaway Garden's holiday show features eight million lights, 15 dazzling scenes and a Christmas Village that can satisfy all your North Pole dreams.
Garden Lights. Set against the glow of Midtown Atlanta, the Atlanta Botanical Garden's annual spectacle is not one to be missed. Wander through the Tunnel of Light and grab a cup of hot chocolate before enjoying the Orchestral Orbs.
Holiday in Lights. Put on a pair of skates and live out your holiday fantasies at Centennial Park's ice rink. Then, grab a funnel cake, fried PB&J or a cup of cider and stroll around sparkling light displays framed by the downtown skyline.
Lights of Life. Every year, half a million people drive through the magnificent light displays that illuminate the campus of Life University in Cobb County. Be sure to check out the 65-foot tall Santa with his sleigh — the tallest in the Southeast!
Magical Nights of Lights. Take a trip to the North Pole with seven miles of twinkling lights leading to Santa's Holiday Village and the LanierWorld Winter Adventure, where snowy play zones, speed slides, unlimited carnival rides, bubble skating and five-story holiday films abound.
Stone Mountain Park Christmas. Join Bumble, the Abominable Snow Monster, for a holiday tour of one of Atlanta's most famous landmarks. Lit up by two million lights, the event features live performances, a nightly Christmas Parade, homemade fudge, a Singalong Train and Skylights Spectacular illuminations.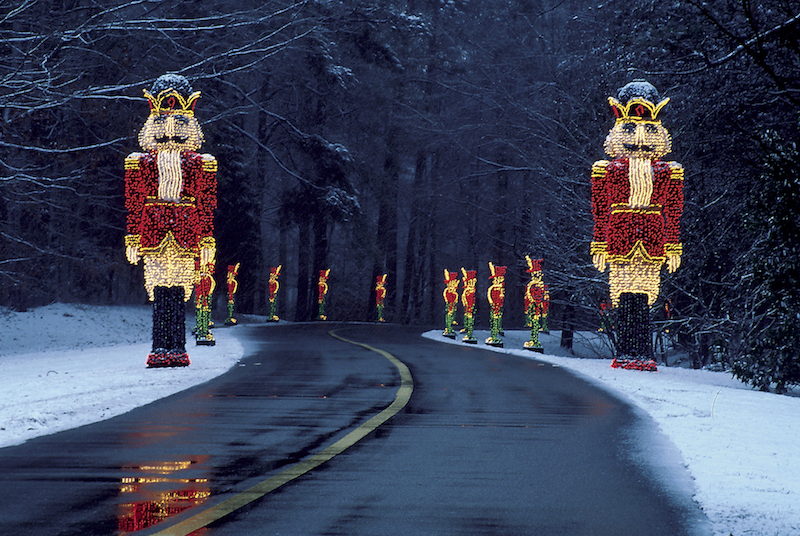 New Favorites
A Country Christmas in Lights. Families can climb aboard The Rock Ranch Christmas Express Train and enjoy the falling snowflake tunnel and a dazzling Christmas-lights show. Created by Chick-fil-A's founder, The Rock Ranch also gives kids the chance to have breakfast with Santa and explore Santa's workshop.
Atlantic Station Holidays. Atlantic Station transforms into a winter wonderland with holiday streetlights, a giant Christmas tree, an ice rink, snow shows, performances and appearances by Santa. New this year is an authentic German Christkindl market selling delicacies, handmade ornaments and unique gifts.
Christmas at Callanwolde. The halls of this historic mansion are thoroughly decked with displays from Atlanta's top floral and interior designers. In addition to tours of the manor, other holiday activities include a dazzling light display, live entertainment, holiday shopping and an expansive artist market.
Christmas Lights at Petit Creek Farms. Just north of Kennesaw, this holiday extravaganza includes a light show, a petting zoo featuring Comet and Cupid, a live nativity, visits from Santa Claus and hay rides, hot chocolate, cider and s'mores for the whole family.
Holiday Light Spectacular. Bring your family — and your pets! — to the Atlanta Motor Speedway's annual Christmas show. The drive-thru spectacle features three million lights, a dancing lights tunnel, a flying reindeer, holographic light displays, visits with Santa and great holiday shopping at Santa's Village.
Light Up the Holidays. Enjoy a classy holiday at the Barnsley Resort, just south of Atlanta, where more than one millions lights will adorn the historic manor house and ruins. Enjoy fine holiday dining, wreath-making classes and luxurious spa treatments that will make you glad you didn't stay home for the holidays.
Six Flags Holiday in the Park. Even at Six Flags, the holidays are the most wonderful time of the year. Featuring millions of lights, rides and seasonal activities, frolic around Peppermint Plaza, Holiday City and GloHill while enjoying mac-and-cheese burgers, red-velvet funnel cake, pumpkin-spice pretzels and s'mores fire pits.
The Marietta Pilgrimage, A Christmas Home Tour. Get some inspiration for your holiday décor at this annual Christmas tour, which takes you inside six private residences located in Marietta's Kennesaw Avenue district. Lovingly restored and decorated, you'll get your fill of garlands, wreaths, bows and candles.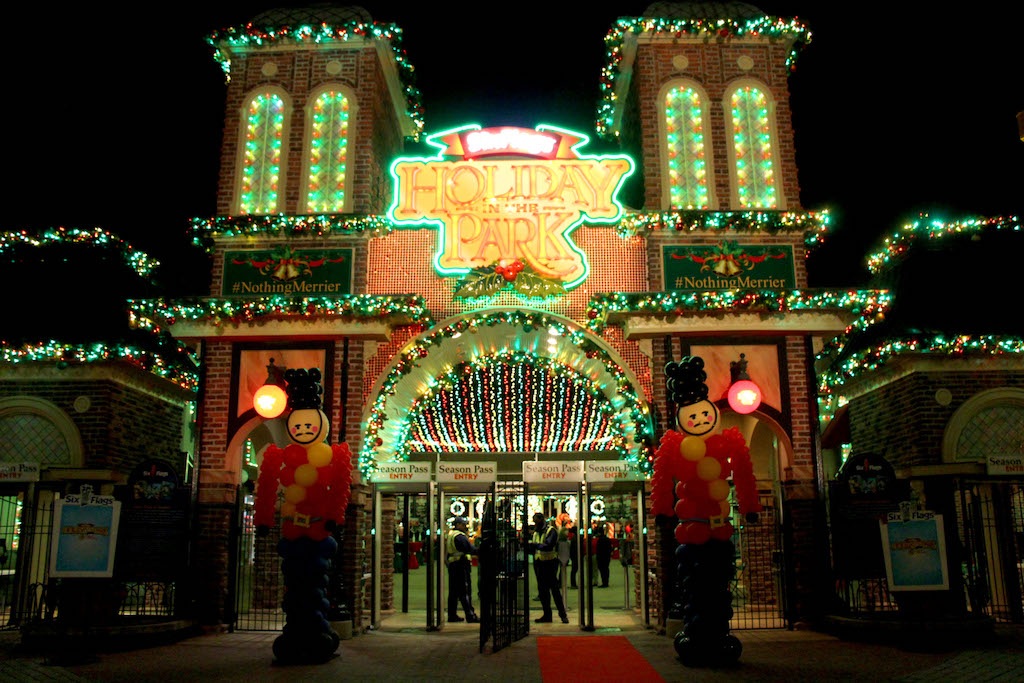 Spectacular Streets
Ashebrooke Nights of Lights. Residents of Ashebrooke light up their streets with luminaries from Mexico. Lining the sidewalks and driveways of this Cumming neighborhood, proceeds go to organizations like Children's Healthcare of Atlanta.
Calumet West Neighborhood. Raising money for Children's Healthcare of Atlanta, Kennesaw residents who live near 1045 Peace Drive incorporate snowmen, Thomas the Tank Engine and an illuminated Big Chicken sign into their displays.
The Griswolds of Dallas. A drive to Dallas is well worth the effort to see the spectacular illuminated offerings of the Felix Family Christmas at 224 Oliver Overlook, Aubuchon Lights at 28 Southshore Pass and Riley's Rockin' Christmas at 1 Severn Way.
Hillbrooke Neighborhood. Gladewood Drive in Johns Creek is known for enthusiastic merrymakers who indulge their every holiday whim, including a 20-foot Santa Claus.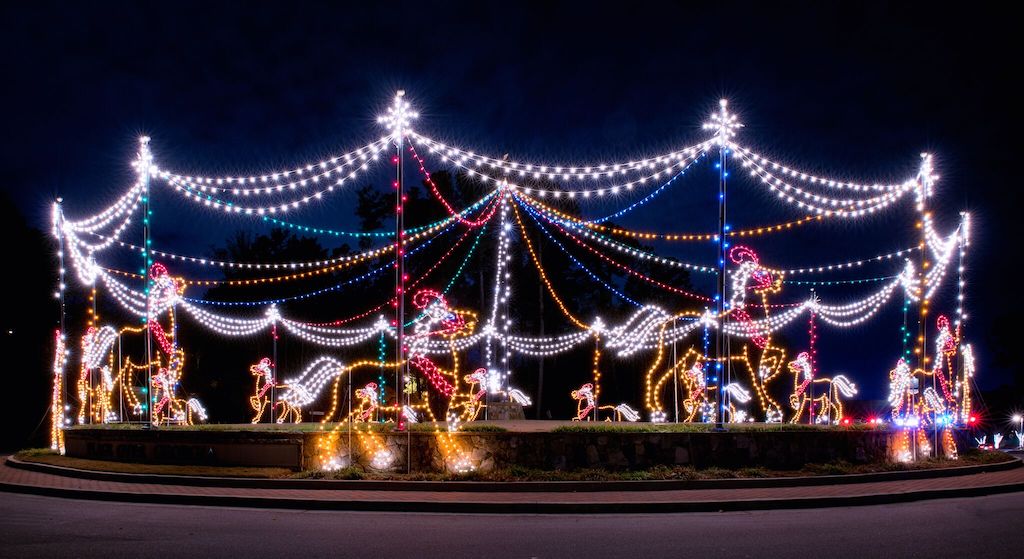 Atlanta's Cheeriest Homes
A Whole Lot of Christmas. Don't forget to stop by the columned wonder at 1833 Smokerise Summit in Stone Mountain to view thousands of Christmas lights, glowing snowmen and icicle lights. The traditional display is all to raise money for the Make-a-Wish Foundation. Look closely and you'll spot Santa on the roof!
Christmas at the Stack's. Featuring 75,000 lights, this Alpharetta family puts on a spectacular display as a fundraiser for Children's Healthcare of Atlanta.
Christmas in Castille. Located in Alpharetta at 4220 Tivoli Way, this display created by a self-admitted tech geek is an LED-powered light show with some inflatables thrown in for good measure.
Christmas on Amberwood. What could be better than this Lawrenceville yard chock-full of lights, 70 inflatables, 23 trees and periodic visits from Santa and his ladylove Mrs. Claus — all to benefit Daffy's Pet Soup Kitchen.
Christmas in the Grove. Supporting the ALS Association, this spectacular, choreographed light show features some of the world's most popular holiday tunes. While you're in the neighborhood, drive around and see some of the other beautiful homes inspired by the Decorate Decatur contest.
Christmas on the Hill. The Hathcock family of Flowery Branch loves to show off their Christmas spirit with an animated light show at their home at 6711 Willowbrook Trail. Stop by for their modern take on Santa and his reindeer.
Holiday Magic Christmas Lights. Featuring 50,000 LED bulbs synchronized to holiday music, this year's light show will be a tribute to the Purple One — Prince! Located near Piedmont Park, the Woodruff Family Christmas will feature a 10-minute Prince audio mix, a custom-made LED Prince symbol and a showstopping Purple Rain finale featuring — you guessed it — purple rain!
Meckley Family Christmas. Located at 4291 Edgewater Drive in Kennesaw, this synchronized light show features more than 30,000 lights timed to music.
Vinyard Christmas. This Lawrenceville home specializes in psychedelic Christmas trees, icicle lights and traditional Christmas statuary all synchronized to holiday tunes. Grab some hot chocolate, roll up in your PJs and watch the show!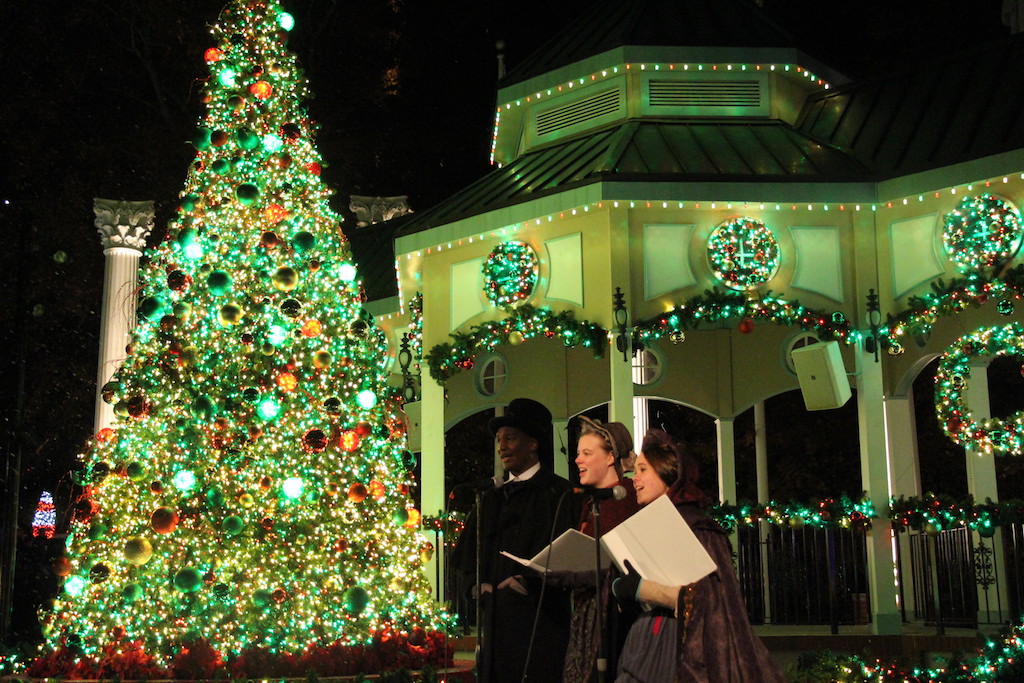 Holiday Oddities
The Inflatable House. Journey to the corner of Buckhead's Peachtree Dunwoody and Winall Downs to see a yard populated by whimsical inflatables, including Santas, puffy Christmas trees, snowmen, candy canes and smiling Disney characters. All proceeds benefit the Genesis Shelter, a group that works with homeless infants and their families.
Netherworld Haunted Holiday with Monsters. If Santa and his reindeer are a bit too saccharine for your taste, enjoy a little nightmare before Christmas at Netherworld, where terrifying live actors, incredible monsters and amazing special effects will haunt your dreams for the entire winter.