Sunrise beauty at Arabia Mountain. Photo by Bradley Huchteman.
In the City of Trees, it's no surprise that we Atlantans love our green space. Come spring and summer, we flock to our favorite neighborhood parks. But stray from the bustling paths of the BeltLine and Piedmont, and you'll discover a whole world of green you never knew existed. From Mason Mill to the Suwanee Greenway, escape the crowd with our list of the best parks you've never heard of.
While Kennesaw and Stone Mountain are Atlanta's most famous peaks, the lesser-known Arabia Mountain offers scenic views unlike any other in the city. More of a slope than a mountain, Arabia Mountain boasts over 30 miles of relatively easy hiking trails inhabited by unique wildlife. As spring showers pool in the many nooks and crannies of the rock formation, the mountain's unusual lichen blooms — giving the mountain its signature crimson flora.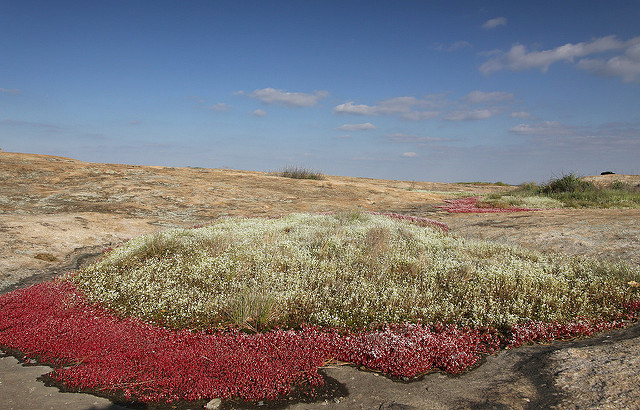 Tucked away down an old city alley, Mulberry Fields is truly a hidden gem. Not only does this community space grow organic foods and host frequent educational activities, it also has a rich history. Originally a Civil War battlefield, the land became a dairy farm in 1906 and was preserved by Candler Park residents as a communal greenspace. Historical markers and the original farmhouse remain to this day.
Equipped with nearly every amenity you can imagine, this photogenic park has a surprise around every corner: barbecue grills, pagodas, a swimming pool and a pond complete with ducks (and duck food!) Plus, the paved trails have workout stations along the way for upper body exercises like dips and flys.
If you enjoy the BeltLine but find it a bit too crowded, head over to Mason Mill Park. The winding, shady trails are dotted with graffitied curiosities and paved for biking, strollers and more. The park is also equipped with a large playground and great facilities for tennis, basketball and more.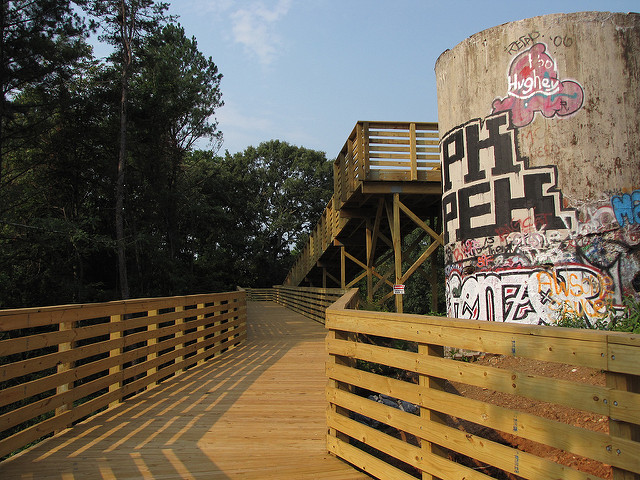 Running alongside Suwanee Creek, the interconnected Suwanee and Ivy Creek Greenways boast six miles of boardwalks and paved paths along some of Atlanta's most beautiful scenery. Winding through marshland and tall woods, the shady trails and riverside breeze make these greenways perfect for running and long walks.
If you're in the mood for a quiet stroll through the towering, deep green foliage that is characteristic of the Emory area, head to Kittredge. It's rare to see a crowd here, which makes this park perfect for a peaceful walk or a little quiet contemplation. This oft-overlooked green space may be on the smaller side, but it still has plenty of amenities: a playground, a public pool, a baseball diamond and shady trails.
This expansive green space hosts festivals and events, but few know that it's the best (and biggest) unofficial dog park in the city. With sprawling green space, a small creek, picnic pavilions and lots of tennis balls, Brookhaven Park is truly a paradise for both dogs and their human friends.
If you're looking for a park in Midtown without the Piedmont crowds, Winn Park is the answer. Complete with open spaces, ponds and a playground, this low-key park provides an ideal place for children to run and play, and for adults to sit back and relax in the sunshine.